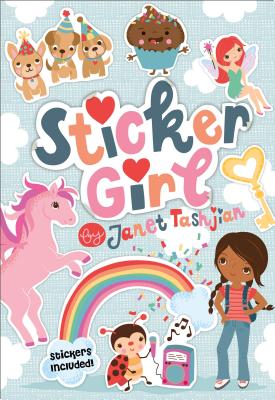 Sticker Girl (Hardcover)
Henry Holt and Co. (BYR), 9781627793353, 176pp.
Publication Date: October 11, 2016
Other Editions of This Title:
Paperback (10/10/2017)
* Individual store prices may vary.
Description
Martina Rivera has a remarkable imagination. But with two extroverted brothers at home, she's always struggled to make a big impression on those around her. Life soon takes an exciting turn when Martina discovers the secret power of her sticker collection: They come to life! Among her magical sticker friends are Craig, a rambunctious talking cupcake; Nora, a karaoke-singing ladybug; and Lucinda, a very sleepy fairy. Will her new sticker friends help her overcome her shyness? Or will they get Martina in lots of trouble? Or both?! It's time to meet Sticker Girl!
Bonus feature: sticker sheet featuring all the magic stickers from Book 1 packaged with the book!
A Christy Ottaviano Book
This title has Common Core connections.
About the Author
Janet Tashjian is a middle-grade and young adult novelist who's been writing books for children for over two decades. Her first novel Tru Confessions was made into a critically acclaimed Disney TV movie starring Clara Bryant and Shia LaBeouf. The Gospel According to Larry series is a cult favorite and Fault Line is taught in many middle and high schools. Her bestselling My Life As a Book series is illustrated by her son, Jake. They also collaborated on the Einstein the Class Hamster series.
Janet collaborated with fellow Macmillan author Laurie Keller on the chapter book series Marty Frye, Private Eye. Janet currently lives in Los Angeles and made her new home city the setting of the Sticker Girl series, which details the adventures of Martina who overcomes being shy with the help of her magical stickers that come to life.
Inga Wilmink is a freelance illustrator and surface pattern designer whose quirky, colorful designs and illustrations have appeared in products by American Greetings, Disney, Hallmark, and Macmillan Children's Publishing.
Inga illustrated Janet Tashjian's Sticker Girl book series, including Sticker Girl Rules the School and Sticker Girl Bakes Up Trouble.
Praise For Sticker Girl…
"Tashjian introduces a smart, young Latina protagonist in a strong series opener for young readers.. .With humor, delicacy, and creativity, Tashjian folds in cultural and socioeconomic references to develop Martina and her family while also inserting fun and informative scientific facts gleaned from Martina's lessons at school. Clouds, confetti, stars, and bubble-shaped letters accompany Wilmink's grayscale depictions and match the sticker motif. . . Readers will be eager for the follow-up adventures of Sticker Girl."-Kirkus Reviews
"Magical stickers yield an offbeat set of characters including a lazy fairy, a blunt cupcake, and a karaoke-singing ladybug, all of whom help Marti find the strength to make friends and come out of her shell. Tashjian sympathetically portrays the fears that can derail an otherwise confident girl like Marti, whose emotional journey is both realistic and humorous, as when Craig the cupcake impersonates Marti's voice to invite her entire class to a party. Newcomer Wilmink's emoji-cute illustrations play well with the upbeat tone of this satisfying series kickoff."-Publishers Weekly
"Tashjian's peppy story is packed with adorably upbeat illustrations of Martina and her stickers, as well as jaunty sound-effect words and doodled accents. In her easy-to-read first-person narrative, Latina Martina reveals not only her passion for cute stickers but also her struggle with social anxiety . . . a healthy dose of emotional heft."-Booklist
"Martina is an appealing character and expresses her thoughts and fears in an intelligent and approachable manner [. . .]with a cascade of confetti and a bang . . . A fun tale for similarly shy youngsters or those who like a lighthearted story about overcoming adversity."-School Library Journal