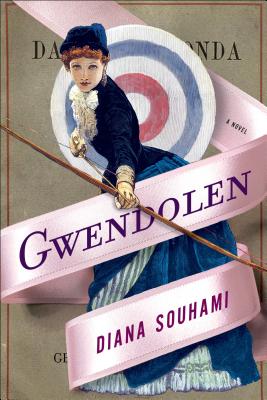 Gwendolen (Paperback)
A Novel
Holt Paperbacks, 9781627793407, 336pp.
Publication Date: March 3, 2015
* Individual store prices may vary.
Description
"A bold feat of imagination . . . . Intriguing and moving: a fictional recovery of the woman's interior experience . . . and a powerful meditation upon the nature of creativity. Both an arresting interpretation of George Eliot's work and a compelling fiction in its own right." -Rebecca Mead, author of My Life in Middlemarch
Gwendolen, an exceptionally beautiful, young upper-class Englishwoman, is gambling boldly at a German resort (winning big, then losing just as soundly) when she learns from her twice-widowed mother that their fortune has been lost. The eldest in a family of sisters, Gwendolen is now responsible for all of them, and, though a fine archer and rider, she has little more than her good looks to offer. When an extraordinarily wealthy aristocrat proposes marriage, she accepts, despite her discovery of an alarming secret about his past.
This novel is Gwendolen's passionate later-life letter to the man she did not marry, and reveals what happened across the brutal and transformative years of her early twenties. That she is also the heroine of George Eliot's novel Daniel Deronda (and is writing to Deronda) will intrigue and delight legions of Eliot fans, but debut novelist Diana Souhami has brilliantly and movingly breathed fresh life into a classic in ways that will appeal to readers entirely unfamiliar with Eliot's fictions.
About the Author

Diana Souhami is the author of 12 critically acclaimed nonfiction and biography books, including Selkirk's Island (winner of the Whitbread Biography Award), The Trials of Radclyffe Hall (winner of the Lambda Literary Award and shortlisted for the James Tait Black Prize for Biography), the bestselling Mrs. Keppel and Her Daughter (winner of the Lambda Literary Award and a New York Times Notable Book of the Year), Gertrude and Alice, and Wild Girls: Paris, Sappho, and Art. She lives in London.
Praise For Gwendolen: A Novel…
"In Gwendolen, Diana Souhami performs a bold feat of imagination: what would happen if George Eliot's final novel were retold from the perspective of its beautiful, complicated, circumscribed heroine? The result is intriguing and moving: a fictional recovery of the woman's interior experience that lies untold behind the man's journey to fulfillment, and a powerful meditation upon the nature of creativity. Both an arresting interpretation of George Eliot's work and a compelling fiction in its own right, Gwendolen will be whispering in my ear next time I go back to Daniel Deronda, reminding me to look for the story behind the story." —Rebecca Mead, author of My Life in Middlemarch
"Subverts expectations . . . . Souhami invents a complex narcissistic interior life for Gwendolen, and she does it with a rhythm of observation and language that stand proudly beside the original. It's possible to love Gwendolen without having read Daniel Deronda-but Souhami cheekily invites comparison by bringing Gwendolen and a fictionalized George Eliot together at the same dinner party." —The New York Times Book Review
"Audaciously puts a modern spin on a literary classic." —Kirkus
"Compelling and humorous . . . . Replete with unexpected plot twists and turns . . . . In reinventing Eliot's classic, Souhami gives us a delightful work of fiction." —Star Tribune
"When Gwendolen becomes a widow, Souhami gives her a new and liberated life, one filled with friendship, adventure, and possibility. Even George Eliot purists will find something satisfying in the imagining of a much improved future for one of literature's most troubled heroines. " —Booklist
"As Souhami is the author of 12 critically acclaimed nonfiction and biography books . . . expect good writing and authentic detail." —Library Journal
"Gwendolen seeks to give a deeper understanding to the flighty, sharp, and wholly self-absorbed girl and does so with sympathy and clarity. Gwendolen's redeeming quality is her own self-loathing; she knows she is a bad person who will be punished for her misdeeds. She resigned to this fate but eventually determined to become a better person for it. . . . A fascinating literary novel that attempts to breathe humanity into one of literature's maligned heroines." —Historical Novels Review
"In her first novel, highly regarded biographer Diana Souhami . . . gives Eliot's beautiful, headstrong anti-heroine her own first-person narrative. This is an act of breathtaking chutzpah . . . to assume creative responsibility for [Gwendolen] is not for the faint-hearted . . . . It is intriguing, and it is brave." —The Guardian
"Souhami takes to the form as nimbly as galloping Gwendolen might to a fast hunter over bumpy ground. . . . [And] the novel truly catches fire when Eliot's gaps and silences open the door to re-invention. . . . When Eliot drops the thread, Souhami comes into her own. . . . Eliot neglected to find a proper home for Gwendolen. Souhami, with sympathy, mischief and imagination, gives her one." —The Independent
"Good biography lets the voice of its subject emerge through the writing. Souhami takes her skills in this area and applies them admirably to her fictional protagonist. . . . Souhami's elegant writing provides a captivating voice from the beginning . . . . With strong feminist undertones, Souhami vividly depicts the dangers of an insular mind and how trapped women of that era really were." —The Irish Times
"The story is strong and there is much in here to appeal both to lovers of the original and to new readers." —We Love This Book Book of the Week
or
Not Currently Available for Direct Purchase