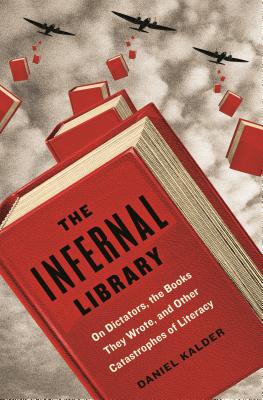 The Infernal Library (Hardcover)
On Dictators, the Books They Wrote, and Other Catastrophes of Literacy
Henry Holt and Co., 9781627793421, 400pp.
Publication Date: March 6, 2018
Other Editions of This Title:
Digital Audiobook (3/5/2018)
Paperback (4/2/2019)
* Individual store prices may vary.
Description
"A mesmerizing study of books by despots great and small, from the familiar to the largely unknown."
—The Washington Post
A darkly humorous tour of "dictator literature" in the twentieth century, featuring the soul-killing prose and poetry of Hitler, Mao, and many more, which shows how books have sometimes shaped the world for the worse
Since the days of the Roman Empire dictators have written books. But in the twentieth-century despots enjoyed unprecedented print runs to (literally) captive audiences. The titans of the genre—Stalin, Mussolini, and Khomeini among them—produced theoretical works, spiritual manifestos, poetry, memoirs, and even the occasional romance novel and established a literary tradition of boundless tedium that continues to this day.
How did the production of literature become central to the running of regimes? What do these books reveal about the dictatorial soul? And how can books and literacy, most often viewed as inherently positive, cause immense and lasting harm? Putting daunting research to revelatory use, Daniel Kalder asks and brilliantly answers these questions.
Marshalled upon the beleaguered shelves of The Infernal Library are the books and commissioned works of the century's most notorious figures. Their words led to the deaths of millions. Their conviction in the significance of their own thoughts brooked no argument. It is perhaps no wonder then, as Kalder argues, that many dictators began their careers as writers.
About the Author
Daniel Kalder is the author of Lost Cosmonaut and Strange Telescopes. He is also a journalist who has contributed to the BBC as well as to Esquire, The Guardian, The Times, The Dallas Morning News, and many other publications. Originally from Fife, Scotland, he lived in Moscow for ten years and currently resides in Central Texas.
Praise For The Infernal Library: On Dictators, the Books They Wrote, and Other Catastrophes of Literacy…
Named a Best Book of the Year by The Times and The Sunday Times
"With a nimble style and an eye for leaden prose . . . Kalder's work is quite an accomplishment, and is the one book people interested in the terrible writing of dictators should read."
—Publishers Weekly (starred review)
"Kalder turns indigestible beef jerky into foie gras. . . . In addition to being highly entertaining, [The Infernal Library] is a cautionary tale about the capacity of societies to be wooed by foolish demagogues spouting gibberish."
—The Times (UK)
"A compelling examination of why bad minds create bad writing, and therefore a valuable read for anyone interested in literature—or the world, in fact. Every writer is certainly a little dictator, and every dictator, it seems, a little writer. Kalder's dry humour makes The Infernal Library a fun tour de force through the mad history of the 20th century and the present."
—Norman Ohler, New York Times bestselling author of Blitzed
"[Kalder] renders his highly compelling narrative in a cheeky yet erudite tone that will keep readers smirking despite the monstrousness of the book's protagonists. Dictators have never looked so educated."
—Kirkus Reviews

"An overwhelmingly powerful reminder of 20th-century misrule, and of just how delusional human beings can be—especially if they're literate."
—The Telegraph
"This about the most discomforting book I've read in the past year. Never mind Trump and never mind Twitter: Daniel Kalder demonstrates that words themselves, and the escapist spells we weave with them, are our riskiest civic gift. Kalder's claim—that he has read the deathless prose of tyrants so we don't have to—does not go nearly far enough. The Infernal Library sweeps aside the ideas and intentions of its subjects (Mao, Hitler, Stalin, and their imitators) and reveals what's really been going on: an epic, world-transforming battle between words and reality, between people as they are and people as we would like them to be."
—Simon Ings, author of Stalin and the Scientists
"A perverse feat of literary endurance."
—Wisconsin Public Radio
"A fascinating study. . . . Partly an enjoyable romp, but mostly a somber sidelong-glance history of 20th-century totalitarianism."
—The Sunday Telegraph
"Kalder delivers with this entertaining and highly informative book."
—BookPage
"Kalder spent years reading the works of dictators . . . teasing out some fresh insights and analysis . . . [which now] seem all too relevant at a time when authoritarianism is on the upswing and terrible people keep writing (or getting ghost writers to write) terrible books."
—Foreign Policy
"I enjoyed this book a great deal. . . . A rather snappy read."
—The Guardian
"Hugely compelling. . . . Kalder has really dug deep into the minds of these infernal texts' creators, and thus delivers some truly entertaining insights."
—The Irish Independent