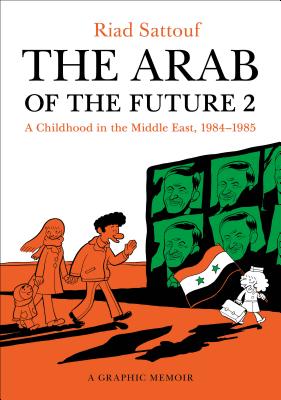 The Arab of the Future 2
A Childhood in the Middle East, 1984-1985: A Graphic Memoir
Paperback

* Individual store prices may vary.
Description
The highly anticipated continuation of Riad Sattouf's internationally acclaimed, #1 French bestseller, which was hailed by The New York Times as "a disquieting yet essential read"
In The Arab of the Future: Volume 1, cartoonist Riad Sattouf tells of the first years of his childhood as his family shuttles back and forth between France and the Middle East. In Libya and Syria, young Riad is exposed to the dismal reality of a life where food is scarce, children kill dogs for sport, and his cousins, virulently anti-Semitic and convinced he is Jewish because of his blond hair, lurk around every corner waiting to beat him up.
In Volume 2, Riad, now settled in his father's hometown of Homs, gets to go to school, where he dedicates himself to becoming a true Syrian in the country of the dictator Hafez Al-Assad. Told simply yet with devastating effect, Riad's story takes in the sweep of politics, religion, and poverty, but is steered by acutely observed small moments: the daily sadism of his schoolteacher, the lure of the black market, with its menu of shame and subsistence, and the obsequiousness of his father in the company of those close to the regime. As his family strains to fit in, one chilling, barbaric act drives the Sattoufs to make the most dramatic of changes.
Darkly funny and piercingly direct, The Arab of the Future, Volume 2 once again reveals the inner workings of a tormented country and a tormented family, delivered through Riad Sattouf's dazzlingly original talent.
Praise For The Arab of the Future 2: A Childhood in the Middle East, 1984-1985: A Graphic Memoir…
"Sattouf's story and storytelling [are] irresistible. . . . Living betwixt and between cultures may be Sattouf's destiny. It was hard on him as a child, and it may remain so in adulthood. But it makes for exceptionally good art."
—The New York Times

"A deft and devastating graphic memoir . . . both sensitive and biting . . . Along the way, we get a fine-grained, first-person account of the brutality of Syria under Hafez al-Assad and Libya under Muammar Qaddafi."
—New York Review of Books

"Sattouf is a master of visual storytelling, capable of compressing a great deal of human emotion and contradictions within a few panels. He creates a searing depiction of growing up poor in a country ruled by corruption and religious zealotry."
—Publishers Weekly

"Nothing escapes Sattouf's curious and vigilant eyes. . . . Using the magic of his visual storytelling, Sattouf becomes a darkly humorous, poignant, and vivid guide into the mind of Syrians."
—Christian Science Monitor

"Darkly ironic . . . Sattouf's father is the same immature, posturing figure familiar from volume 1—the family can only trail along in the mercurial patriarch's wake. Under Sattouf's pen, this state of affairs becomes an ingeniously apt microcosm of the larger world he grew up in."
—NPR

"A darker book than its predecessor, though it's still drily funny, Sattouf never failing to make the most of the aching gap between his father's fantasies and reality."
—The Guardian (Graphic Novel of the Month)
"The scope of Sattouf's comic is remarkable, taking in the complicated landscape of politics and religion, but it is in the small, human moments that he shines as an artist. . . . The Arab of the Future is essential read that deserves such a phenomenal sequel."
—Largehearted Boy

"This work will undoubtedly win more accolades as the author continues the proposed five-volume series. Readers familiar with Marjane Satrapi's Persepolis will be well rewarded when they pick up this similarly engrossing book."
—Library Journal
Metropolitan Books, 9781627793513, 160pp.
Publication Date: September 20, 2016
About the Author
Riad Sattouf is a best-selling cartoonist and filmmaker who grew up in Syria and Libya and now lives in Paris. The author of four comics series in France and a former contributor to the satirical publication Charlie Hebdo, Sattouf is now a weekly columnist for l'Obs. He also directed the films The French Kissers and Jacky in the Women's Kingdom.