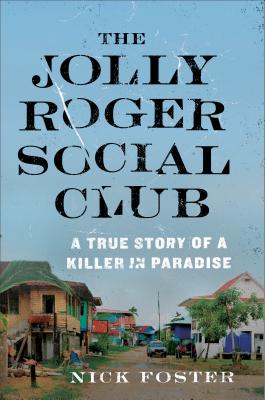 The Jolly Roger Social Club
A True Story of a Killer in Paradise
Hardcover

* Individual store prices may vary.
Other Editions of This Title:
Compact Disc (7/12/2016)
Compact Disc (7/12/2016)
MP3 CD (7/12/2016)
Description
The true story of a series of bold killings which took place in a shadowy American ex-pat community in Panama--a tale of greed, political history, and murder
In the remote Bocas del Toro, Panama, William Dathan Holbert, aka "Wild Bill," is awaiting trial for the murder of five fellow American ex-patriots. Holbert's first victims were the Brown family, who lived on a remote island in the area's Darklands. There, Holbert turned their home into the "Jolly Roger Social Club," using drink- and drug-fueled parties to get to know other ex-pats. The club's tagline was: "Over 90% of our members survive." Those odds were not in his victims' favor.
The Jolly Roger Social Club is not just a book about what Holbert did and the complex financial and real estate motives behind the killings; it is about why Bocas del Toro turned out to be his perfect hunting ground, and why the community tolerated-even accepted-him for a time. Told through the fascinating history of the country of Panama, a paradise with sinister ties to the political and economic interests of the United States, journalist Nick Foster brings this uniquely bizarre place to life; shedding light on a community where many live under assumed names, desperate to leave their old lives behind-and sometimes people just disappear.
Praise For The Jolly Roger Social Club: A True Story of a Killer in Paradise…
"Nick Foster follows a twisted path into a tropical paradise—or is it a tropical Hades?—where no one goes by his real name, pasts are forgotten, and identities are as shifty as the tides. The Jolly Roger Social Club is noir reporting at its best, a true crime tale for our age, a deftly guided tour into a shadowy netherworld where the phrase 'last call' can be taken quite literally."—Susan Casey, author of Voices in the Ocean, The Wave, and The Devil's Teeth
"The world has never seen a killer quite like William Dathan Holbert. Nick Foster's shrewdly told, rum-soaked, all-too-true tale of serial murder in the tropics is simply stunning."—Robert Kolker, author of Lost Girls: An Unsolved American Mystery
"The Jolly Roger Social Club is a gripping, enervating read—sharply written, excellently observed and assiduously researched. In William 'Wild Bill' Cortez, Foster has found not only a larger-than-life character, but a back door into an expat island community. What emerges is a fascinating portrait of an under-reported corner of the world that balances the best of crime writing and pavement-pounding reportage. Keeping so many plates spinning is no easy task, yet Foster carries it off with enviable expertise. A Panamanian Cocaine Nights, only grounded in fact."—Oliver Balch, author of Viva South America
"If you've ever yearned to flee civilization for a tropical Caribbean hideaway, pick up Nick Foster's frightening The Jolly Roger Social Club before you do. It's like a nightmare version of 'House Hunters International'--a lovely Panamanian resort town, happy American expats, and one crazed murderer who seemingly wants to kill them all."—Bryan Burrough, author of Days of Rage and Public Enemies
"William 'Wild Bill' Holbert could be a character drawn straight out of fiction: a diabolical killer who comes to the beaches of Panama, one of the most beautiful settings in the world, to wreak his special brand of havoc. What's especially amazing is that he was able to go for so long before other expats realized just what kind of man he was. The Jolly Roger Social Club is a fascinating tale of terror and madness."—Skip Hollandsworth, author of The MidnightAssassin
Henry Holt and Co., 9781627793728, 288pp.
Publication Date: July 12, 2016
About the Author
Nick Foster was born in Liverpool, UK in 1966, and educated at University College London. He worked for several years as a European Union diplomat, and as a stringer working out of Caracas, Venezuela, filing news stories and research to the UK's broadsheets. He now writes features for the Financial Times and the International New York Times, among other outlets. He is also producing a documentary film on France's highest-profile cold case. Foster is married with two young sons and lives in Belgium.
or
Not Currently Available for Direct Purchase