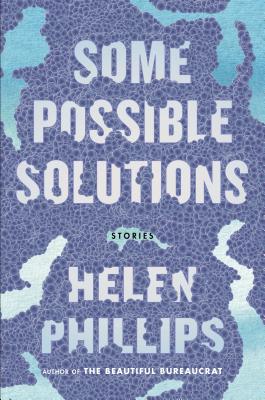 Some Possible Solutions
Stories
Hardcover

* Individual store prices may vary.
Other Editions of This Title:
Paperback (6/13/2017)
Description
In a spine-tingling new collection, the "unique"(NPR) and "wickedly funny" (New York Times) Helen Phillips offers an idiosyncratic series of "what-ifs" about our fragile human condition.

Some Possible Solutions offers an idiosyncratic series of "What ifs": What if your perfect hermaphrodite match existed on another planet? What if you could suddenly see through everybody's skin to their organs? What if you knew the exact date of your death? What if your city was filled with doppelgangers of you?

Forced to navigate these bizarre scenarios, Phillips' characters search for solutions to the problem of how to survive in an irrational, infinitely strange world. In dystopias that are exaggerated versions of the world in which we live, these characters strive for intimacy and struggle to resolve their fraught relationships with each other, with themselves, and with their place in the natural world. We meet a wealthy woman who purchases a high-tech sex toy in the shape of a man, a rowdy, moody crew of college students who resolve the energy crisis, and orphaned twin sisters who work as futuristic strippers--and with Phillips' characteristic smarts and imagination, we see that no one is quite who they appear.

By turns surreal, witty, and perplexing, these marvelous stories are ultimately a reflection of our own reality and of the big questions that we all face. Who are we? Where do we fit? Phillips is a true original and a treasure.
Praise For Some Possible Solutions: Stories…
"Some stories make you feel you're in the planned world of a conscientious architect, and others are more like wandering through someone else's dream. That Phillips can take us into her dreams without losing us in the fog is to her huge credit....Parenthood is a subject especially suited to Phillips strange and profound gifts." —The New York Times Book Review

"Phillips plays out for us what might happen if the impossible were possible. . .She is a master at building slightly askew worlds that resemble our own but allow for the inexplicable, the astonishing, the surreal. She drops you in these worlds with just enough of a flotation device to keep you bobbing above water, but avoids excessive explanation and exposition."—Los Angeles Times (interview)

"Phillips's gift is for making the peculiar seem like it's happening down the street...Just when you think you're on to Phillips's game, here comes another little fable, postmodernist puzzle, or sly revelation."—O, The Oprah Magazine

"Startling, refreshing...[Phillips's] characters...signal the comfort and safety of love, family and relationships in the midst of strange, discomfiting realities."—Houston Chronicle

"Beautiful...completely captivating...Part of what is so delightful about this book is the way the stories surprise you...Every single [story] is exquisite...Warm, generous...incredibly humane" —Jaime Green, appearing on WBUR 'OnPoint'

"Some Possible Solutions. . . presents us with a surreal, disturbing assemblage of worlds, each complete and somehow totally convincing despite their strangeness. . .a delight—there is joy in its darkness, and pleasure in its exuberant imagination." —BuzzFeed, The 24 Best Fiction Books of 2016

"I love Helen Phillips's wild, brilliant, eccentric brain. Her vision flashes down like a lightning bolt into everyday terrors--having a baby, caring for a sick relative, raising a child in a city suffocating for lack of green space--but in a way so wonderfully awry that every single story in Some Possible Solutions has a freshness to it that comes as a shock to the reader's system." —Lauren Groff, author of Fates and Furies

"This stunning collection establishes Helen Philips as one of the most interesting and talented writers working today. In atmosphere and setting, her stories are often reminiscent of Kafka and Atwood, yet her voice and style are entirely her own. A fascinating, unsettling, and beautifully written work." —Emily St. John Mandel, author of Station Eleven

"Helen Phillips sings like a Siren on the page (if a Siren also had a killer sense of humor). The short stories in Some Possible Solutions feature doppelgangers and sister-savants, impossible staircases and surreal city parks; they swing open like doors onto rich, strange worlds, which, on closer inspection, reveal themselves to be our own...These tales are true originals, shining their eerie, lovely lights on the water and asking questions that linger."—Karen Russell, author of Swamplandia!

"Things happen that cannot happen. Marriages, motherhood, dinner parties, the future — Helen Phillips shows us the uncanny seams of ordinary lives and wishes. What is the purpose of stories as strange, as lovely, as unsettling as these? There's the joy the reader takes in Phillips's sentences, of course, and her way of seeing. But there's also the sense that we have been invited on a desperately needed tour of our own dreams, nightmares, premonitions in which Phillips will be our guide. I recommend the experience to any and all — this is an essential collection." —Kelly Link, author of Get in Trouble

"The short stories in this darkly absorbing collection remind us of the hope and humanity, the warmth, joy, and love that can be found in even the bleakest circumstances. One of the many remarkable things about Phillips' fiction is that, even as she conjures unsettlingly grim dystopian futures, which seem to be an unfortunate extension of today's urban reality, or fixes her focus on untidy aspects of the here and now, she reveals something essential, enduring, and glitteringly beautiful about our most personal relationships...Darkly delicious collection."—Kirkus Reviews (starred review)

"High concepts and sly emotion animate this solid collection of allegorical fiction...A feel of the fantastic...playfulness and discovery...characterizes the collection as a whole."—Publishers Weekly

"An uncanny but captivating read...[Some Possible Solutions is] tremendously hopeful. At times hope arrives in the form of new technology; elsewhere it's transmitted through the tenderness of other human beings. Perhaps, then, the key word in the book's title is not "solutions", but "possible"—because within these pages, anything is." —The Rumpus

"Proving herself a master at a specific brand of sci-fi surreal, Phillips's latest short story collection is filled with eerie and captivating tales of alien children, clone mothers, human-like dolls; all existing in a world just a few degrees off ours, revealing our own idiosyncrasies as if in a fun-house mirror from another planet." —Brooklyn Magazine

"Like Margaret Atwood and Lorrie Moore, Phillips has a knack for combining the strange, the speculative, and the mundane into an unpredictablearray of stories. Like our best thinkers and futurists, she has the audacity to extrapolate the perhaps-possible, to explore potential answers to some of our deepest, unspoken questions." —The Chicago Review of Books

The eerie "what if?" scenarios that Helen Phillips animates in Some Possible Solutions (a world in which people can learn the exact day they will die, or a woman convinced her children are really aliens, for example), are brought to life with Phillips' unique blend of spooky conviction, pitch-perfect language, and emotional insight."—The Kenyon Review

"This collection is hyper-imaginative yet it is set in a familiar reality...Phillips takes the mundane elements of being a wife, mother, sister, woman, human and plays out these roles in settings and situations that are emotionally familiar yet often disturbing and disorienting...Intelligent, witty, subversive."—Coachella Valley Weekly Review

Praise for Helen Phillips and The Beautiful Bureaucrat

"Unusual . . .deeply interesting . . .It's an irresistible setup and if that's all there were, it would be enough . . . [But] Mrs. Phillips has a wickedly funny eye, a fine sense of pacing, a smooth, winning writing style and a great gift for a telling detail . . . breathtaking and wondrous."—Sarah Lyall, The New York Times

"Riveting. . . .Phillips's thrillerlike pacing and selection of detail as the novel unfolds is highly skilled...What makes The Beautiful Bureaucrat a unique contribution to the body of existential literature is its trajectory, as the story telescopes in two directions, both outward to post macro questions about Gd and the universe, and inward to post intimate inquiries about marriage and fidelity. Ultimately, The Beautiful Bureaucrat succeeds because it isn't afraid to ask the deepest questions."—Jamie Quatro, The New York Times Book Review

"Equal parts mystery, thriller, and existential inquiry, Phillips's book evokes the menace of the mundane...The Beautiful Bureaucrat asks uneasy questions about work and life, love and power, and where the whole enterprise of one's own small life is swiftly headed."—Anna Weiner, The New Republic

"Kafka would love The Beautiful Bureaucrat...Bizarre and painfully human. . . a surprising revelation of a book from an uncompromising author as unique as she is talented."—Michael Schaub, NPR

"Told with the light touch of a Calvino and the warm heart of a Saramago, this brief fable-novel is funny, sad, scary, and beautiful. I love it." —Ursula K. Le Guin

"Part dystopian fantasy, part thriller, part giddy literary-nerd wordplay, Helen Phillips' The Beautiful Bureaucrat is both a page-turner and a novel rich in evocative, starkly philosophical language…eerie, stomach-dropping…this novel ultimately proves both clever and impossible to put down."—Los Angeles Times

"The Beautiful Bureaucrat is a thrillingly original debut, formally inventive and emotionally complex. Helen Phillips is one of the most exciting young writers working today, and I envy those who get to discover her work here for the first time."—Jenny Offill, author of Dept. of Speculation

"Helen Phillips' The Beautiful Bureaucrat has the compulsive quality of a mystery and the furious urgency of a fever dream. I picked it up and read it everywhere: on the subway, over breakfast, in bed when I should have been sleeping, at work when I should have been working. It will coax you into its world with the crystalline precision of its prose, so full of heart and strangeness it might even crawl into your own dreams and find you there." —Leslie Jamison, author of The Empathy Exams
Henry Holt and Co., 9781627793797, 224pp.
Publication Date: May 31, 2016
About the Author
Helen Phillips is the recipient of a Rona Jaffe Foundation Writer's Award and the Italo Calvino Prize and more. She is the author of the widely acclaimed The Beautiful Bureaucrat. Her debut collection And Yet They Were Happy was named a notable book by The Story Prize. Her work has appeared in Tin House, Electric Literature, and The New York Times. An assistant professor of creative writing at Brooklyn College, she lives in Brooklyn with her husband and children.
or
Not Currently Available for Direct Purchase