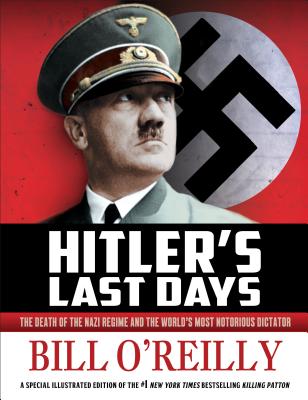 Hitler's Last Days: The Death of the Nazi Regime and the World's Most Notorious Dictator (Hardcover)
The Death of the Nazi Regime and the World's Most Notorious Dictator
Henry Holt & Company, 9781627793964, 320pp.
Publication Date: June 9, 2015
Description
By early 1945, the destruction of the German Nazi State seems certain. The Allied forces, led by American generals George S. Patton and Dwight D. Eisenhower, are gaining control of Europe, leaving German leaders scrambling. Facing defeat, Adolf Hitler flees to a secret bunker with his new wife, Eva Braun, and his beloved dog, Blondi. It is there that all three would meet their end, thus ending the Third Reich and one of the darkest chapters of history.
"Hitler's Last Days" is a gripping account of the death of one of the most reviled villains of the 20th century a man whose regime of murder and terror haunts the world even today. Adapted from Bill O'Reilly's historical thriller "Killing Patton," this book will have young readers and grown-ups too hooked on history.
This thoroughly-researched and documented book can be worked into multiple aspects of the common core curriculum.
About the Author
Bill O'Reilly's success in broadcasting and publishing is unmatched. The iconic anchor of The O'Reilly Factor led the program to the status of the highest rated cable news broadcast in the nation for sixteen consecutive years. His website BillOReilly.com is followed by millions all over the world.In addition, he has authored an astonishing 12 number one ranked non-fiction books including the historical "Killing" series. Mr. O'Reilly currently has 17 million books in print.Bill O'Reilly has been a broadcaster for 42 years. He has been awarded three Emmy's and a number of other journalism accolades. He was a national correspondent for CBS News and ABC News as well as a reporter-anchor for WCBS-TV in New York City among other high profile jobs.Mr. O'Reilly received two other Emmy nominations for the movies "Killing Kennedy" and "Killing Jesus."He holds a history degree from Marist College, a masters degree in Broadcast Journalism from Boston University, and another masters degree from Harvard's John F. Kennedy School of Government.Bill O'Reilly lives on Long Island where he was raised. His philanthropic enterprises have raised tens of millions for people in need and wounded American veterans.
Advertisement