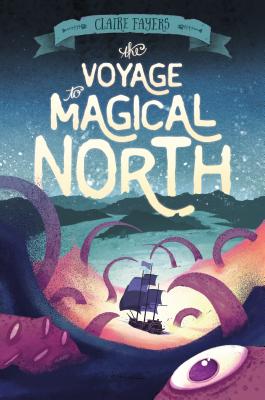 The Voyage to Magical North (The Accidental Pirates #1)
Hardcover

* Individual store prices may vary.
Other Editions of This Title:
Paperback (5/16/2017)
Description
Twelve-year-old Brine Seaborne is a girl with a past--if only she could remember what it is. Found alone in a rowboat as a child, clutching a shard of the rare starshell needed for spell-casting, she's spent the past years keeping house for an irritable magician and his obnoxious apprentice, Peter.
When Brine and Peter get themselves into a load of trouble and flee, they blunder into the path of the legendary pirate ship the Onion. Before you can say "pieces of eight," they're up to their necks in the pirates' quest to find Magical North, a place so shrouded in secrets and myth that most people don't even think it exists. If Brine is lucky, she'll find her place in the world. And if she's unlucky, everyone on the ship will be eaten by sea monsters. It could really go either way.
Praise For The Voyage to Magical North (The Accidental Pirates #1)…
"A robust debut, well stocked with heroic exploits, monsters, pirates, explosions, magical transformations, and life-changing adventures, and a promising series starter." —Kirkus Reviews, starred review, on The Voyage to Magical North
"Welsh author Claire Fayers buoys her seaworthy series debut The Voyage to Magical North with agreeably understated humor, over-the-top sea monsters and nuanced characters. This finely spun adventure is the very definition of swashbuckler, but also thoughtfully examines ideas of story, good vs. evil, instinct vs. rules and self-discovery. A treasure." —Shelf Awareness, starred review, on The Voyage to Magical North
"The beautiful cover design reflects the charming adventure within; this multilayered fantasy handles a variety of themes, including the meaning of family, the ability of power to corrupt, and the importance of stories. Upper elementary and younger middle grade fans of Lynne Jonell's The Sign of the Cat will be enchanted by Brine's high seas adventure." —School Library Journal, on The Voyage to Magical North
Henry Holt and Co. (BYR), 9781627794206, 320pp.
Publication Date: July 5, 2016
About the Author
Claire Fayers is the author of The Voyage to Magical North and its sequel, The Journey to Dragon Island. She lives in South Wales with her husband and as many cats as she can get away with.