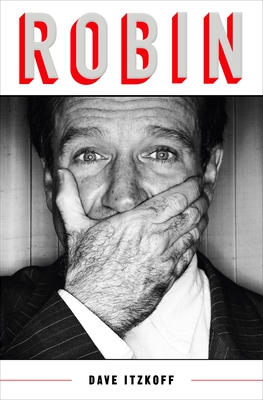 Robin
Hardcover

* Individual store prices may vary.
Other Editions of This Title:
Digital Audiobook (5/14/2018)
Paperback (5/14/2019)
Library Binding, Large Print (6/27/2018)
Description
A NEW YORK TIMES BESTSELLER
A NEW YORK TIMES BOOK REVIEW EDITOR'S CHOICE
A SAN FRANCISCO CHRONICLE BEST BOOK OF THE YEAR
A VULTURE BEST BOOK OF THE YEAR

"A generous, appreciative biography of Robin Williams by a New York Times culture reporter. The author, who had access to Williams and members of the comedian's family, is an unabashed fan but doesn't shy away from the abundant messiness in his subject's personal life."—The New York Times Book Review

From New York Times culture reporter Dave Itzkoff, the definitive biography of Robin Williams – a compelling portrait of one of America's most beloved and misunderstood entertainers.

From his rapid-fire stand-up comedy riffs to his breakout role in Mork & Mindy and his Academy Award-winning performance in Good Will Hunting, Robin Williams was a singularly innovative and beloved entertainer. He often came across as a man possessed, holding forth on culture and politics while mixing in personal revelations – all with mercurial, tongue-twisting intensity as he inhabited and shed one character after another with lightning speed.

But as Dave Itzkoff shows in this revelatory biography, Williams's comic brilliance masked a deep well of conflicting emotions and self-doubt, which he drew upon in his comedy and in celebrated films like Dead Poets Society; Good Morning, Vietnam; The Fisher King; Aladdin; and Mrs. Doubtfire, where he showcased his limitless gift for improvisation to bring to life a wide range of characters. And in Good Will Hunting he gave an intense and controlled performance that revealed the true range of his talent.

Itzkoff also shows how Williams struggled mightily with addiction and depression – topics he discussed openly while performing and during interviews – and with a debilitating condition at the end of his life that affected him in ways his fans never knew. Drawing on more than a hundred original interviews with family, friends, and colleagues, as well as extensive archival research, Robin is a fresh and original look at a man whose work touched so many lives.
Praise For Robin…
A New York Times Bestseller

Named a Best Book of the Year by Vulture, San Francisco Chronicle, AARP The Magazine, Mental Floss, The Sunday Times, and Writer's Bone

"A must-read."—Vogue

"Dave Itzkoff allows readers a rare intimate look at Robin Williams in this honest and emotional biography of the late entertainer. . . . Robin is a fresh look at a man loved by many but truly understood by few."—Time

"Will make you weep in missing him just as much as you laugh in remembering him."—Entertainment Weekly

"Immersive, intimate and incredibly detailed. . . . A revealing, warts-and-all portrait of a man of great talent trying to design a career and a life while being buffeted around by a cacophony of contradictory voices and impulses. . . . The result of exhaustive research and fan-like devotion."—Merrill Markoe, Washington Post

"A breathtakingly good biography, exhilarating a lot of the time, yet disturbing, too, and one of the best books ever written about anyone who sees no way out of life except by trying to make people laugh. Or is it weeping? Who can tell in a storm?"—David Thomson, San Francisco Chronicle

"A generous, appreciative biography of Robin Williams by a New York Times culture reporter. The author, who had access to Williams and members of the comedian's family, is an unabashed fan but doesn't shy away from the abundant messiness in his subject's personal life."—The New York Times Book Review (editor's choice)

"Terrific. . . . Itzkoff captures the ebb and flow of Williams's career beautifully, with respect and with honesty. . . . [Here is] a life that was both miraculous and troubled, told in an artfully shaped, fact-filled book that honors the truth of his life."—Boston Globe

"There will never be anyone quite like Robin Williams, and there may never be another celebrity profile or biography quite like this again either. It's not hyperbole to say that New York Times correspondent Dave Itzkoff's engrossing and all-encompassing biography of one of the most beloved actors of the second half of the 20th century will change you."—Fortune

"The biography we've been waiting for. . . . [A] meaty, well-researched, moving story of a man who could never quite come to terms with his own brilliance."—Booklist

"This well-written page-turner is the definitive biography of the genius of Robin Williams, whose life redefines the highs and lows of the American dream."—Steve Martin

"[A] page-turner. . . . [Itzkoff keeps] us clued into so many aspects of Williams' life, with finesse and foreboding, but no showy sentiment. His writing is simply imbued with Williams' special intimate connection."—Newsday

"[Williams'] life was one of compulsive creativity and genuine kindness and perpetual insecurity and frequent infidelity and uniquely electric imagination. Dave Itzkoff's biography 'Robin' gets its hands around as much of that life as possible. It's an incisive, comprehensive, very fine book. . . and the author captures it with grace and evenhanded perception."—Chicago Tribune

"Reveals the heart and soul of an icon."—Christian Science Monitor

"In Robin, Dave Itzkoff manages to straddle the man and the myth of Robin Williams, all the while helping us see why we fell in love with both. He has written a book about the truth and pain that lies in comedy, and the price paid by a sensitive soul."—Amy Poehler

"[A] really great book - a living chronicle & secret history of 50 years of American pop culture - and you should pick it up!"—Colson Whitehead, Pulitzer Prize- and National Book Award-winning author of The Underground Railroad and The Nickel Boys

"Dave Itzkoff's Robin is much like the man himself—warm, funny, frenetic, with a core of darkness and empathy. It gets at that darkness, and shows how it fueled, beautifully, the manic brain and kinetic body of the man himself. An amazing read."—Patton Oswalt

"Thoughtful and devoted. . . .a must-read."—Harper's Bazaar

"This book should be on everyone's summer reading list. It's certainly on mine."—James Corden

"Many who never knew [Robin Williams] were hit hard by the loss — how could someone so dizzyingly funny encompass such darkness? Dave Itzkoff's well-researched, thoughtful biography fills in some of those shadows."—Seattle Times

"Captures the magic and the sadness of Robin Williams' life ... a well-researched and solidly written biography."—Dallas Morning News

"A revealing portrait of the motivations of a quiet comic genius whose explosive persona moved millions."—Kirkus

"Meticulously sourced and comprehensive in scope, Itzkoff's work gives Williams's many fans a rare glimpse of the man behind the celebrity."—Publishers Weekly

"Williams may well be one of those people who are impossible to fully understand, but this book is as close as anyone will ever come."—Chuck Klosterman, author of But What If We're Wrong?

"Dave Itzkoff has produced a remarkable and empathetic portrait, packed with satisfying detail, of a comic whirligig who could break your heart."—Julie Salamon, author of The Devil's Candy and Wendy and the Lost Boys

"In his probing and compassionate biography, Dave Itzkoff does justice to both the blazing light and the dark corners in his work and life. Robin is deeply reported, finely attuned to the ebb and flow of a long and singular career, and ultimately very moving."—Mark Harris, author of Pictures at a Revolution and Five Came Back

"This engrossing book paints a stunningly complete picture of both the man and the comedian. A triumph, and a tragedy."—Alan Sepinwall, coauthor of TV (The Book) and author of The Revolution Was Televised

Henry Holt and Co., 9781627794244, 544pp.
Publication Date: May 15, 2018
About the Author
Dave Itzkoff is the author of Mad as Hell, Cocaine's Son, and Lads. He is a culture reporter at The New York Times, where he writes regularly about film, television, theater, music, and popular culture. He previously worked at Spin, Maxim, and Details, and his work has appeared in GQ, Vanity Fair, Wired, and other publications. He lives in New York City.
Coverage from NPR
or
Not Currently Available for Direct Purchase