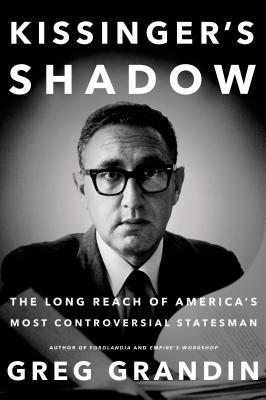 Kissinger's Shadow (Hardcover)
The Long Reach of America's Most Controversial Statesman
Metropolitan Books, 9781627794497, 288pp.
Publication Date: August 25, 2015
Other Editions of This Title:
Paperback (9/13/2016)
* Individual store prices may vary.
Description
A new account of America's most controversial diplomat that moves beyond praise or condemnation to reveal Kissinger as the architect of America's current imperial stance
In his fascinating new book Kissinger's Shadow, acclaimed historian Greg Grandin argues that to understand the crisis of contemporary America—its never-ending wars abroad and political polarization at home—we have to understand Henry Kissinger.
Examining Kissinger's own writings, as well as a wealth of newly declassified documents, Grandin reveals how Richard Nixon's top foreign policy advisor, even as he was presiding over defeat in Vietnam and a disastrous, secret, and illegal war in Cambodia, was helping to revive a militarized version of American exceptionalism centered on an imperial presidency. Believing that reality could be bent to his will, insisting that intuition is more important in determining policy than hard facts, and vowing that past mistakes should never hinder future bold action, Kissinger anticipated, even enabled, the ascendance of the neoconservative idealists who took America into crippling wars in Afghanistan and Iraq.
Going beyond accounts focusing either on Kissinger's crimes or accomplishments, Grandin offers a compelling new interpretation of the diplomat's continuing influence on how the United States views its role in the world.
About the Author
Greg Grandin is the author of Fordlandia, a finalist for the Pulitzer Prize, the National Book Award, and the National Book Critics Circle Award. A professor of history at New York University, Grandin has published a number of other widely acclaimed books, including Empire's Workshop, Kissinger's Shadow, and The Empire of Necessity, which won the Bancroft Prize.
Praise For Kissinger's Shadow: The Long Reach of America's Most Controversial Statesman…
"This lucid, insightful analysis of the foreign policy legacy of Henry Kissinger [and] the shadow he casts on the world scene today is a must-read for politicos, students of history, and Americans of all political persuasions."
—The Christian Science Monitor
"A tour de force. Greg Grandin exposes Kissinger's vaunted approach to statecraft as little more than compulsive activism, typically relying on the threat or use of force, ignorant of history, devoid of any moral or ethical component, and discounting serious analysis in favor of intuition. Some realism. The field of Kissinger studies begins here, with this book."
—Andrew J. Bacevich, author of Washington Rules: America's Path to Permanent War
"Stirring . . . With an unassailable command of the facts -- is it possible that he's read every word ever written about his subject? -- Grandin explains how Kissinger's more baleful tactics have imprinted themselves on presidents and policymakers from both parties. . . . this is the sort of book that will always be timely, because it asks us to consider the link between today's politics and tomorrow's unanticipated consequences."
—San Francisco Chronicle
"Grandin is unsparing in his criticism of Kissinger and his theories, but his aims go beyond polemic . . . Ever the marvelous thinker, Grandin will have even the most ardent Kissinger foe enthralled."
—Publisher's Weekly (starred review)
"Nearly forty years after leaving government Henry Kissinger still casts an improbably vast shadow: puppet master of détente, shuttle diplomatist as canny magician, statesman as superstar. But as Greg Grandin shows, Kissinger casts a much more immediate—and malign—shadow over the country's foreign policy, one in which acts of overwhelming violence are deemed vital to American 'leadership' and 'credibility'. Hovering over the Iraq War, no less than over Vietnam, is the spirit of Henry Kissinger. Grandin, with scrupulous research and impassioned prose, lets us see it. An essential and most timely book."
—Mark Danner, author of Stripping Bare the Body
"An important book and an unsparing portrait of Kissinger's legacy." —Minneapolis Star-Tribune
"Greg Grandin's brilliant account of Kissinger strips Kissinger's vaunted realism to the bone, revealing a skeleton of romantic American exceptionalism and a loving embrace of the will to power for power's sake. Kissinger's Shadow reveals the inbuilt denial mechanism of our all-pervasive national security state, which will never let past catastrophe get in the way of bold action in the future."
—Marilyn Young, author of The Vietnam Wars
"Grandin's brilliant, original, carefully researched, and wide-ranging book will change the way we understand the United States' role in the world during the past half century."
—Ben Kiernan, author of Blood and Soil: A World History of Genocide and Extermination from Sparta to Darfur
"Grandin takes in the full sweep of American foreign policy under Kissinger's "shadow" through the present-day quagmires in Iraq and Afghanistan . . . A trenchant and succinct depiction of the ongoing artful dodging of the nonagenarian statesman"
—Kirkus Reviews
"Grandin writes with literary flair and a sharp eye for the absurdities of politics."
—The Washington Post
"Niall Ferguson, Kissinger's authorized biographer, begins the arduous task of rolling his subject's fallen reputation back up the hill. The historian Greg Grandin kicks it right back down again."
—Washington Monthly
"Admirably lucid, even lively… Grandin, whose previous books include a winner of the Bancroft Prize and a finalist for both the Pulitzer and the National Book Award, is an elegant, forceful writer."
—Boston Globe
or
Not Currently Available for Direct Purchase