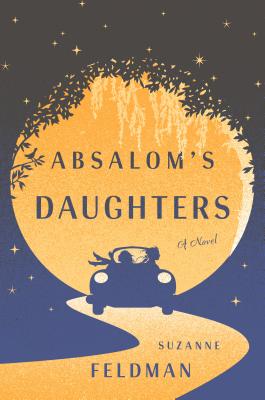 Absalom's Daughters
A Novel
Hardcover

* Individual store prices may vary.
Other Editions of This Title:
Digital Audiobook (7/4/2016)
Description
A spellbinding debut about half sisters, one black and one white, on a 1950s road trip through the American South

Self-educated and brown-skinned, Cassie works full time in her grandmother's laundry in rural Mississippi. Illiterate and white, Judith falls for "colored music" and dreams of life as a big city radio star. These teenaged girls are half-sisters. And when they catch wind of their wayward father's inheritance coming down in Virginia, they hitch their hopes to a road trip together to claim what's rightly theirs.

In an old junk car, with a frying pan, a ham, and a few dollars hidden in a shoe, they set off through the American Deep South of the 1950s, a bewitchingly beautiful landscape as well as one bedeviled by racial strife and violence. Suzanne Feldman's Absalom's Daughters combines the buddy movie, the coming-of-age tale, and a dash of magical realism to enthrall and move us with an unforgettable, illuminating novel.
Praise For Absalom's Daughters: A Novel…
"Magnificent . . . . reminiscent of both William Faulkner and Toni Morrison, but her voice is entirely her own and utterly original. Feldman's prose blisters and pops with sparks. . . . [T]here is a tart sweetness to Judith and Cassie's interactions. In this novel, most things are not as they seem, and Feldman doesn't hew too close to reality . . . . Searing and magical . . . by a monumental new talent."—Kirkus Reviews (starred review)

"This willingness to take on difficult subjects makes Feldman a writer to watch....the two main characters are so endearing, Absalom's Daughters is an engrossing read."—Dallas Morning News

"An amazing road trip novel for readers of The Help or The Kitchen House."—Jane Green's "Summer Reading" Book Bub

"Sparkling . . . combines magic and identity in breathtaking ways."—Bustle

"Unforgettable."—Refinery29

"A thrilling, compulsively readable first novel. . . . The warmth that's generated . . . calls to my mind a writer who's great in a radically different way: Harper Lee."—The Shawangunk Journal

"A joy to read for Faulkner-philes . . . . Absalom's Daughters is a fresh take on the Southern novel . . . . Feldman does justice to the place and its people."—PopMatters

"Well within the culture of its time . . . . Ideal for fans of historical fiction and those interested in learning about the grim realities of Jim Crow and the harshness of poverty in the 1950s."—School Library Journal

"Resonant and engrossing . . . . The book breathes new life into the road trip story both with its inclusion of magical realism and with its memorable pairing of two teenagers. . . .This warm story with two endearing leads offers a new frame of understanding for what it means to seek freedom, and what the seeker must give up in exchange."—Publishers Weekly

"Will appeal to Faulkner fans . . . and to all who are intrigued by how two girls who discover their true identities in a place determined to limit their options."—Booklist

"Absalom's Daughters combines the buddy movie, the coming-of-age tale, and a dash of magical realism to enthrall and move readers with an unforgettable, illuminating novel."—Washington Independent Review of Books

"Beautiful, funny, and wise, Absalom's Daughters is a moving adventure and a powerful evocation of the Jim Crow South. Judith and Cassie's odyssey embodies America's long struggle to achieve compassion and justice despite our deep racial divide. By turns sweet and sly, the story of these two perfectly realized sisters inspired me and gave me hope. It could not be timelier, but it also achieves the timelessness of truly great fiction."—Dennis Danvers, author of Wilderness and Circuit of Heaven

"In Absalom's Daughters, we are taken into that place where only a really good novel is capable of going—a world that completely absorbs us. Starting in the rural segregated south of the 1950s, the novel drops us into a setting where we taste the dust off the back roads, and breathe in the fear and hope of those who travel along them. This is nothing we are just reading about; this is a space we are a part of. Through her styling, vernacular, and storytelling, Suzanne Feldman has created in Absalom's Daughters a novel that engages, entertains, provokes, and ultimately reminds us of the complexity and fragility of being human in a world overcrowded with expectation and agenda."—Adam Braver, author of Mr. Lincoln's Wars

"Absalom's Daughters is a beautiful and compelling story, written with utmost authority."—Hannah Pittard, author of Listen to Me

"Sharp-eyed and witty, Absalom's Daughters is a delightful recipe consisting of one part girls' road trip, one part family saga, and one part good old-fashioned Southern yarn. The path from Mississippi to Virginia is full of danger and Jim Crow bigotry, but Cassie and Judith are the perfect heroines to take it on. An absorbing read, full of heart!"—Suzanne Rindell, author of Three-Martini Lunch and The Other Typist
Henry Holt and Co., 9781627794534, 272pp.
Publication Date: July 5, 2016
About the Author
Suzanne Feldman, a recipient of the Missouri Review Jeffrey E. Smith Editors' Prize and a finalist for the Bakeless Prize in fiction, holds an MA in fiction from Johns Hopkins University and a BFA in art from the Maryland Institute College of Art. She is the author of award-winning science fiction titles like Speaking Dreams and The Annunciate, published under the pen name Severna Park. Her short fiction has appeared in Narrative, The Missouri Review, Gargoyle, and other literary journals. She lives in Frederick, Maryland.
or
Not Currently Available for Direct Purchase