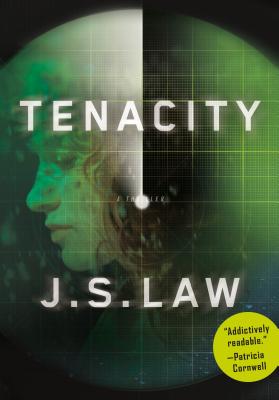 Tenacity (Hardcover)
A Thriller
Henry Holt and Co., 9781627794565, 320pp.
Publication Date: November 3, 2015
* Individual store prices may vary.
Description
"J.S. Law is a powerful new voice, and his heroine Dan Lewis lives up to the title. She is fearless and doesn't quit in the faces of all odds. The murky world of submarines and murder make Tenacity addictively readable, and memories of it linger like dreams." -#1 New York Times bestselling author, Patricia Cornwell

Two hundred meters below the ocean's surface, you can't run, you can't hide, and the truth won't set you free.
An officer hangs himself in the engine room of naval submarine HMS Tenacity. A woman's murder bears disturbing similarities to an old case. Lieutenant Danielle "Dan" Lewis grasps for the truth before it submerges in the gray waters of the English Channel.
Cramped, claustrophobic, and under strict command, the confines of HMS Tenacity are unwelcoming in the best of circumstances. For Dan, the only female aboard, who must methodically interrogate a tightknit and hostile crew, it's her own special place in hell.
Recently reassigned to the Special Investigation Branch's Kill Team, Dan's hardheaded reputation precedes her. But facing an obstinate ship's company, a commanding officer too eager to close the case, and a constant threat of unfriendly male interest, she learns that under enough pressure everyone has their breaking point.
About the Author
J. S. Law served in the Royal Navy Submarine Service, rising through the ranks to become a senior nuclear engineer. Tenacity is his first novel. He lives in Portsmouth, England.
Praise For Tenacity: A Thriller…
"The confining, restricted, and very male atmosphere of a submerged submarine becomes vividly real as this stubborn lieutenant alienates nearly everyone around her…The unusual setting, skilled writing, and obvious veracity make this a bold first effort worth awaiting a second."
—Library Journal
"Law ups the tension significantly as he brilliantly re-creates the claustrophobic feel of living on a submarine"—and concluding, "this fast-paced nail-biter starring a flawed but dynamic character. A very promising series."
—Booklist

"If you shuddered through Larsson's The Girl with the Dragon Tattoo, and fell in love with Lisbeth Salander, you will adore Tenacity's protagonist, Danielle "Dan" Lewis...J.S. Law can swagger with justified authorial pride, for Tenacity is a crime novel that soups up intelligent and strong characters tingling with authenticity. Throw in a Royal Navy that undulates and oscillates within the deep labyrinth of a nuclear submarine and Tenacity consorts with the best of the best crime novels to date. Want an all night read? This stunner reels with tension and plot...Pure and simply, astoundingly good!"
—The Review Broads
"J.S. Law is a powerful new voice, and his heroine Dan Lewis lives up to the title. She is fearless and doesn't quit in the faces of all odds. The murky world of submarines and murder make Tenacity addictively readable, and memories of it linger like dreams."
—#1 New York Times bestselling author Patricia Cornwell
"Now and again, a debut novel comes along that makes you hold your breath. Tenacity by J.S. Law is one such book. Its authenticity rings true with not a false note throughout. Tense, claustrophobic, and totally absorbing, this book should be on every thriller reader's radar-or should that be sonar? Absolutely superb."
—Matt Hilton, author of Blood and Ashes
"A taut, tense thriller with a fantastic female lead. The prose is crisp, the humor dark, and there's just the right amount of detail to ensure this has a massively broad appeal. Hard to believe this is a debut. J.S. Law is one to watch."
—SJI Holliday, author of Black Wood
"Pacy, claustrophobic, and utterly thrilling, with a heroine you'll happily follow to the bottom of the ocean.Tenacity is a highly original debut by a major new talent."
—Eva Dolan, author of Long Way Home
"Tenacity by J.S. Law is a brilliant debut. Breathlessly plotted. Deeply disturbing. The perfect thriller to dive into this summer."
—Emlyn Rees, author of Wanted
"J.S. Law's taut crime novel oozes authenticity. I read this in a day and can't wait for the next in what will undoubtedly be an explosive series."
—Clare Mackintosh, author of I Let You Go
or
Not Currently Available for Direct Purchase