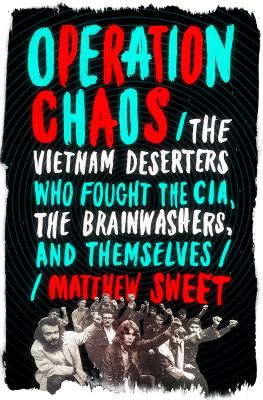 Operation Chaos
The Vietnam Deserters Who Fought the CIA, the Brainwashers, and Themselves
Hardcover

* Individual store prices may vary.
Other Editions of This Title:
Digital Audiobook (2/12/2018)
CD-Audio (2/27/2018)
Description
An untold Cold War story: how the CIA tried to infiltrate a radical group of U.S. military deserters, a tale that leads from a bizarre political cult to the heart of the Washington establishment

Stockholm, 1968. A thousand American deserters and draft-resisters are arriving to escape the war in Vietnam. They're young, they're radical, and they want to start a revolution. Some of them even want to take the fight to America. The Swedes treat them like pop stars—but the CIA is determined to stop all that.

It's a job for the deep-cover men of Operation Chaos and their allies—agents who know how to infiltrate organizations and destroy them from inside. Within months, the GIs have turned their fire on one another. Then the interrogations begin—to discover who among them has been brainwashed, Manchurian Candidate-style, to assassinate their leaders.

When Matthew Sweet began investigating this story, he thought the madness was over. He was wrong. Instead, he became the confidant of an eccentric and traumatized group of survivors—each with his own theory about the traitors in their midst.

All Sweet has to do is find out the truth. And stay sane. Which may be difficult when one of his interviewees accuses him of being a CIA agent and another suspects that he's part of a secret plot by the British royal family to start World War III. By that time, he's deep in the labyrinth of truths and half-truths, wondering where reality ends and delusion begins.
Praise For Operation Chaos: The Vietnam Deserters Who Fought the CIA, the Brainwashers, and Themselves…
"In this meld of history and reportage, the deserters' stories, and those of dozens of revolutionaries, hosts, and spies, coalesce into an often moving examination of loyalty and dissent. Sweet details an undercover C.I.A. mission to disrupt defection, and sheds light on the exiles' complex motives. His quest to track down all the major players in the story takes him, variously, to a maximum-security prison, a cannabis refinery, and Paris cafés."—The New Yorker

"As humorously fascinating as it is deeply disturbing....Operation Chaos offers a new look at the era and the war that forgoes the usual combat and political narratives in favor of something truly strange and bizarre, rife with countless rabbit holes, plot twists and questionable characters and motives." —Spectrum Culture

"[Sweet] has reassuringly inserted himself into the narrative as a sane and rational guide down a weird rabbithole...Keeping a foot in the real world, he tries kindly but firmly to extract the truth concealed among buried memories and long-cherished fantasies." —The Arts Desk

"Sweet evocatively sketches his quest....He injects himself into the narrative from the beginning, diligently recording how he tracked down and interviewed many of his subjects...Fascinating." —Publishers Weekly

"A surprising, tragic, and, in many places, angry story of a country's paranoia inflicting itself upon its own citizens." —Booklist

"Operation Chaos is a wild ride—a deeply reported and gracefully written account of a fascinating piece of contemporary Cold War history."
—Susan Orlean, author of The Orchid Thief, Saturday Night, and Rin Tin Tin

"From his book's opening pages, Matthew Sweet lured me into a looking-glass world of deserters, radicals, spies, and cultists, following them from Vietnam to Sweden to America, with many improbable stops along the way. Operation Chaos tells an American story that had been lost to history, one where people are not always who they seem to be and suspicions have a hard time keeping pace with reality."
—Bryan Burrough, author of Days of Rage and Public Enemies

"Operation Chaos adds a new and fascinating chapter to the story of the Vietnam War. It will amaze anyone who thinks the war was fought only in Vietnam, that it was fought only with guns and bombs, or that it is truly over."
—Stephen Kinzer, author of All the Shah's Men, The Brothers, and The True Flag

Henry Holt and Co., 9781627794633, 384pp.
Publication Date: February 13, 2018
About the Author
Matthew Sweet is the author of Inventing the Victorians, Shepperton Babylon, and The West End Front. He is a columnist for Art Quarterly and a contributing editor for Newsweek International, and he presents the BBC radio programs Free Thinking, Sound of Cinema, and The Philosopher's Arms. He was series consultant on the Showtime drama Penny Dreadful and played a moth from the planet Vortis in the BBC2 drama An Adventure in Space and Time. He lives in London.
or
Not Currently Available for Direct Purchase