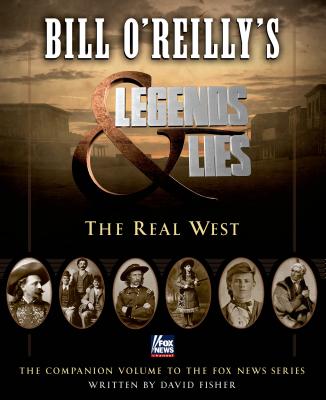 Bill O'Reilly's Legends and Lies (Hardcover)
The Real West
Henry Holt & Company, 9781627795074, 304pp.
Publication Date: April 7, 2015
Description

The must-have companion to Bill O'Reilly's historic series Legends and Lies: The Real West, a fascinating, eye-opening look at the truth behind the western legends we all think we know

How did Davy Crockett save President Jackson's life only to end up dying at the Alamo? Was the Lone Ranger based on a real lawman-and was he an African American? What amazing detective work led to the capture of Black Bart, the "gentleman bandit" and one of the west's most famous stagecoach robbers? Did Butch Cassidy and the Sundance Kid really die in a hail of bullets in South America? Generations of Americans have grown up on TV shows, movies and books about these western icons. But what really happened in the Wild West? All the stories you think you know, and others that will astonish you, are here--some heroic, some brutal and bloody, all riveting. Included are the legends featured in Bill O'Reilly's ten week run of historic episodic specials-from Kit Carson to Jesse James, Wild Bill Hickok to Doc Holliday-- accompanied by two bonus chapters on Daniel Boone and Buffalo Bill and Annie Oakley.
Frontier America was a place where instinct mattered more than education, and courage was necessary for survival. It was a place where luck made a difference and legends were made. Heavily illustrated with spectacular artwork that further brings this history to life, and told in fast-paced, immersive narrative, Legends and Lies is an irresistible, adventure-packed ride back into one of the most storied era of our nation's rich history.
About the Author
Bill O'Reilly's success in broadcasting and publishing is unmatched. The iconic anchor of The O'Reilly Factor led the program to the status of the highest rated cable news broadcast in the nation for sixteen consecutive years. His website BillOReilly.com is followed by millions all over the world.In addition, he has authored an astonishing 12 number one ranked non-fiction books including the historical "Killing" series. Mr. O'Reilly currently has 17 million books in print.Bill O'Reilly has been a broadcaster for 42 years. He has been awarded three Emmy's and a number of other journalism accolades. He was a national correspondent for CBS News and ABC News as well as a reporter-anchor for WCBS-TV in New York City among other high profile jobs.Mr. O'Reilly received two other Emmy nominations for the movies "Killing Kennedy" and "Killing Jesus."He holds a history degree from Marist College, a masters degree in Broadcast Journalism from Boston University, and another masters degree from Harvard's John F. Kennedy School of Government.Bill O'Reilly lives on Long Island where he was raised. His philanthropic enterprises have raised tens of millions for people in need and wounded American veterans.David Fisher is the author of eighteen New York Times bestsellers, writing about a wide variety of topics. He is the only writer ever to have a novel, a work of non-fiction, and a reference book offered simultaneously by the Book-of-the-Month club, as well as the only reporter ever given complete access to the FBI's forensic laboratory. His work has also appeared in most major magazines and many newspapers. He lives in New York with his wife, two sons, and the exuberant Chihuahua, Willy.
Advertisement