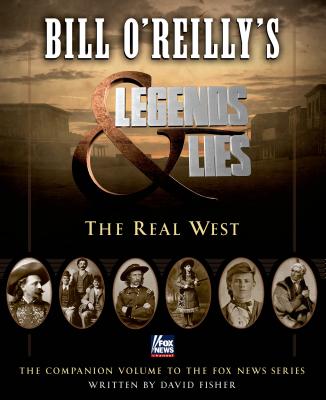 Bill O'Reilly's Legends and Lies
The Real West: The Real West
Hardcover

* Individual store prices may vary.
Other Editions of This Title:
Hardcover (6/6/2017)
Hardcover (5/24/2016)
CD-Audio (6/6/2017)
Multiple copy pack (10/25/2016)
Description

The must-have companion to Bill O'Reilly's historic series Legends and Lies: The Real West, a fascinating, eye-opening look at the truth behind the western legends we all think we know

How did Davy Crockett save President Jackson's life only to end up dying at the Alamo? Was the Lone Ranger based on a real lawman-and was he an African American? What amazing detective work led to the capture of Black Bart, the "gentleman bandit" and one of the west's most famous stagecoach robbers? Did Butch Cassidy and the Sundance Kid really die in a hail of bullets in South America? Generations of Americans have grown up on TV shows, movies and books about these western icons. But what really happened in the Wild West? All the stories you think you know, and others that will astonish you, are here--some heroic, some brutal and bloody, all riveting. Included are the legends featured in Bill O'Reilly's ten week run of historic episodic specials-from Kit Carson to Jesse James, Wild Bill Hickok to Doc Holliday-- accompanied by two bonus chapters on Daniel Boone and Buffalo Bill and Annie Oakley.

Frontier America was a place where instinct mattered more than education, and courage was necessary for survival. It was a place where luck made a difference and legends were made. Heavily illustrated with spectacular artwork that further brings this history to life, and told in fast-paced, immersive narrative, Legends and Lies is an irresistible, adventure-packed ride back into one of the most storied era of our nation's rich history.
Henry Holt and Co., 9781627795074, 304pp.
Publication Date: April 7, 2015
About the Author
David Fisher is the author of more than twenty New York Times bestsellers and coauthor of Bill O'Reilly's Legends and Lies series. His work has also appeared in most major magazines and many newspapers. He lives in New York with his wife and two sons.

Bill O'Reilly is a trailblazing TV journalist who has experienced unprecedented success on cable news and in writing fifteen national bestselling nonfiction books. (There are currently more than seventeen million books in the Killing series in print.) Mr. O'Reilly does a daily podcast on BillOReilly.com, and his daily radio program, The O'Reilly Update, is heard on hundreds of stations across the country. He lives on Long Island.