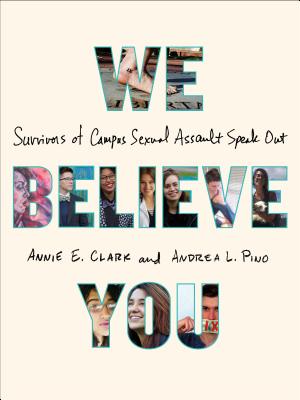 We Believe You (Paperback)
Survivors of Campus Sexual Assault Speak Out
Holt McDougal, 9781627795333, 368pp.
Publication Date: April 12, 2016
* Individual store prices may vary.
Description
"Me too. It happened to me too."
More than one in five women and 5 percent of men are sexually assaulted while at college. Some survivors are coming forward; others are not. In We Believe You, students from every kind of college and university--large and small, public and private, highly selective and less so--share experiences of trauma, healing, and everyday activism, representing a diversity of races, economic and family backgrounds, gender identities, immigration statuses, interests, capacities, and loves. Theirs is a bold, irrefutable sampling of voices and stories that should speak to all.
About the Author
In 2013, Annie E. Clark and Andrea L. Pino, along with others, filed a federal complaint against the University of North Carolina at Chapel Hill for mishandling sexual assault reports; since then, students across the nation have filed similar complaints and the government has opened more than 200 investigations. Clark and Pino are two of the founders of End Rape of Campus, an organization providing support for survivors and working to end campus sexual assault. Their stories are prominently featured in the award-winning documentary The Hunting Ground. They are two among many, tirelessly seeking justice on behalf of survivors.