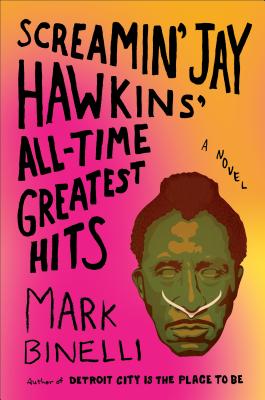 Screamin' Jay Hawkins' All-Time Greatest Hits
A Novel
Hardcover

* Individual store prices may vary.
Other Editions of This Title:
Paperback (5/2/2017)
MP3 CD (9/27/2016)
Description
Mark Binelli turns his sharp, forceful prose to fiction, in an inventive retelling of the outrageous life of Screamin' Jay Hawkins, a bluesman with one hit and a string of inflammatory guises
He came on stage in a coffin, carried by pallbearers, drunk enough to climb into his casket every night. Onstage he wore a cape, clamped a bone to his nose, and carried a staff topped with a human skull. Offstage, he insisted he'd been raised by a tribe of Blackfoot Indians, that he'd joined the army at fourteen, that he'd defeated the middleweight boxing champion of Alaska, that he'd fathered seventy-five illegitimate children.
The R&B wildman Screamin' Jay Hawkins only had a single hit, the classic "I Put a Spell On You," and was often written off as a clownish novelty act -- or worse, an offense to his race -- but his myth-making was legendary. In his second novel, Mark Binelli embraces the man and the legend to create a hilarious, tragic, fantastical portrait of this unlikeliest of protagonists. Hawkins saw his life story as a wild picaresque, and Binelli's novel follows suit, tackling the subject in a dazzling collage-like style.
At Rolling Stone, Binelli has profiled some of the greatest musicians of our time, and this novel deftly plays with the inordinate focus on "authenticity" in so much music writing about African-Americans. An entire novel built around a musician as deliberately inauthentic as Screamin' Jay Hawkins thus becomes a sort of subversive act, as well as an extremely funny and surprisingly moving one.
Praise For Screamin' Jay Hawkins' All-Time Greatest Hits: A Novel…
"Unexpectedly strange, haunting, funny and magical . . . A spectacular exploration into the ways one black musician negotiated racial and gender expectations onstage."
—The New York Times Book Review
"A stylish new novel [that] continues a formidable and distinctive career. . . . Binelli's magpie approach is deeply rewarding. By the end, this series of brief fictionalized impressions feels as true to life, or more so, than a conventional biography might."
—The New York Times
"Binelli's book is half-biography, half-fiction, and its best parts combine both into impressionistic imaginings of Hawkins' bizarre life, adding emotional complexity to the shock-rock cult-fave . . . Hawkins never had another hit like 'I Put a Spell on You,' and he spent time in prison after being found with a 15-year-old girl (and drugs) in a hotel room. In his final years, he drank heavily and churned through wives, resentful of his rock & roll peers. But Binelli makes him sympathetic. As Hawkins told an interviewer, 'I wish I could be who I was before I was me.'"
—Rolling Stone
"The real-life 'I Put a Spell on You' singer created an outrageous biography for himself . . . Binelli mines it all for a rollicking romp of a tale."
—New York Post
"Mark Binelli is the only contemporary writer with enough courage, imagination, and sheer brilliance to wrestle the story of Screamin' Jay Hawkins out of myth and legend and into a novel. The portrait of Hawkins that emerges is subtle, profound, and heroic, and, like all great fiction, utterly indelible."
—Dinaw Mengestu, author of All Our Names
"Mark Binelli makes this novel play like a jukebox loaded up with the B-sides of American history. Brilliantly mixing up the facts and the myths into an audaciously original, bleakly comic tale, he turns one old blues song into a casket big enough to contain all the country's most bizarre nightmares."
—Rob Sheffield, author of Love is a Mix Tape
"Mark Binelli, like Screamin' Jay himself, shouts, shimmies, and self-reinvents on the fly, with no concern for any genre besides 'classic.' Few books about music have had so much prose-music. Few books about race have had so much nose-jewelry and sex in phone booths. Read and be moved, grooved, baited, and blued."
—Joshua Cohen, author of Book of Numbers
"Mark Binelli conjures the theatrical props and mortal remains of Screamin' Jay Hawkins and brings the master out of the coffin alive and screaming."
—Gary Panter, artist
Metropolitan Books, 9781627795357, 224pp.
Publication Date: May 3, 2016
About the Author
Mark Binelli is the author of Detroit City Is the Place to Be and the novel Sacco and Vanzetti Must Die! as well as a contributing editor at Rolling Stone and Men's Journal. Born and raised in the Detroit area, he lives in New York City.
or
Not Currently Available for Direct Purchase