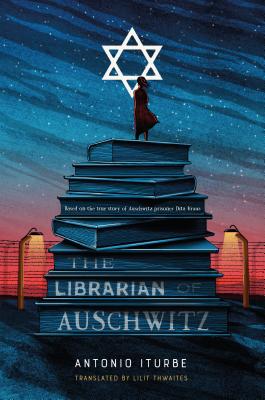 The Librarian of Auschwitz
Hardcover

* Individual store prices may vary.
Other Editions of This Title:
Digital Audiobook (10/9/2017)
Paperback (1/5/2021)
Library Binding, Large Print (2/21/2018)
CD-Audio (11/7/2017)
Description
Based on the experience of real-life Auschwitz prisoner Dita Kraus, this is the incredible story of a girl who risked her life to keep the magic of books alive during the Holocaust.

Fourteen-year-old Dita is one of the many imprisoned by the Nazis at Auschwitz. Taken, along with her mother and father, from the Terezín ghetto in Prague, Dita is adjusting to the constant terror that is life in the camp. When Jewish leader Freddy Hirsch asks Dita to take charge of the eight precious volumes the prisoners have managed to sneak past the guards, she agrees. And so Dita becomes the librarian of Auschwitz.

Out of one of the darkest chapters of human history comes this extraordinary story of courage and hope.

This title has Common Core connections.

Godwin Books
Praise For The Librarian of Auschwitz…
"an unforgettable, heartbreaking novel." —Publishers Weekly, starred review, on The Librarian of Auschwitz

"Like Markus Zusak's The Book Thief, it's a sophisticated novel with mature themes, delivering an emotionally searing reading experience. An important novel that will stand with other powerful testaments from the Holocaust era." —Booklist, starred review, on The Librarian of Auschwitz

"This novel is one that could easily be recommended or taught alongside Elie Wiesel's Night and The Diary of Anne Frank and a text that, once read, will never be forgotten. VERDICT A hauntingly authentic Holocaust retelling; a must for YA collections." —School Library Journal, starred review, on The Librarian of Auschwitz

"Though no punches are pulled about the unimaginable atrocity of the death camps, a life-affirming history." —Kirkus Reviews, starred review, on The Librarian of Auschwitz

"The Librarian of Auschwitz is a heartbreaking and ultimately inspiring work of art." —Shelf Awareness, starred review, on The Librarian of Auschwitz

"Iturbe's remarkable account uses an immediate present tense to immerse readers in Dita's story as she goes about what constitutes daily life in Auschwitz, all the while risking everything to distribute and hide the library's books." —The Horn Book, starred review, on The Librarian of Auschwitz
Henry Holt and Co. (BYR), 9781627796187, 432pp.
Publication Date: October 10, 2017
About the Author
Antonio Iturbe is a novelist and journalist. He interviewed Dita Kraus, the real-life librarian of Auschwitz, for The Librarian of Auschwitz.

Lilit Žekulin Thwaites is an award-winning Melbourne-based literary translator (Spanish>English), and an honorary research fellow in contemporary Spanish literature at La Trobe University. Her book-length translations include the bestselling The Librarian of Auschwitz (Antonio Iturbe, 2017), Australian Connection (multiple authors, 2019), and two futuristic novels by Rosa Montero, Tears in Rain (2012), and Weight of the Heart. (2016). Her translations of short stories, essays and the occasional poem have been published in journals and anthologies. She presents sessions at writers' festivals, gives talks on Spain-related and translation topics, and organises visits to Australia by Spanish-speaking writers. In 2016, she was awarded Spain's Order of Civil Merit for her promotion of Spanish culture in Australia.
1. Discuss chapter one and why the author chose to open the book with these scenes. What does the chapter convey about Auschwitz, Block 31, Fredy Hirsch, Dita's personality, and Dita's past? How do the different scenes in this chapter foreshadow important themes and later developments in the book?
2. "You have to have a childhood to be a child!" Dita thinks at one point. (p. 41) What was Dita's life like before the Nazis? What aspects of a typical childhood did she and other Jewish children lose due to the war and the concentration camps? Why was it so important to Fredy "to convey a certain sense of normalcy" to the children of Block 31? (p. 112)
3. Analyze the power of books in Dita's life before the war and in the concentration camps. Discuss specific books as well as the role of books for her in general. What were the "living books" in the camp, and how did they affect her and others in Block 31?
4. Describe Fredy Hirsch—who, like Dita, was a real person—and why he is so important to the people around him, including Dita. What is his past? What is the secret that Dita learns about him? How does she react at first to the secret and why does she change her viewpoint? Talk about his death and why the way he dies matters so much to Dita.
5. "Brave people are the ones who can overcome their own fear," Fredy tells Dita. (p. 25) He also tells her that the strongest athlete isn't the fastest one but rather "the one who gets up again every time he falls." (p. 46) Talk about his words and about the courage shown in the story by Dita, Fredy, and others.
6. Describe Professor Morgenstern and his strange actions. What does Dita think of him when she first knows him? What causes her opinion to change, and what is her new opinion? What character in one of the library books does he resemble, and how? Talk about their final encounter and what it means to Dita.
7. Describe some of the people who are important to Dita besides Fredy and the professor. How did they help her survive physically and emotionally? Give specific examples. How did her relationship with each of them change over the course of the story?
8. Why did the Nazis in charge of Auschwitz want the family camp to exist, and why did they end it? Why did they let Fredy create a special place for the children in Block 31? What usually happened to children at Auschwitz? Describe Block 31, including its official activities and its secret ones.
9. Who is Dr. Mengele? What do the prisoners think about him? What does he do in his lab? Why does Dita think he's watching her? How is he used in the novel to symbolize the Nazi regime? Discuss what could cause someone to be so evil and how conditions could exist that encourage such evil.
10. The prisoners discover over the years "that horror is bottomless." (p. 367) How does the author convey the horrors of the concentration camps? How does the book's pacing reflect Dita's own experience of the horrors? Point to details and incidents that help readers understand what it was like to be a prisoner in such brutal conditions.
11. Consider some of the literary elements of the novel. Why do you think the author uses a third-person, present-tense narrative voice? Find examples of foreshadowing in the story, such as hints about Fredy's secret, and discuss their effect on the reader. Discuss, too, the use of flashbacks about Dita and other characters, and the purpose they serve.
12. Professor Morgenstern says to Dita, "Our hatred is a victory for them." (p. 184) Describe the circumstances in which he says it. What does he mean by it? Do you agree? Why or why not? How do Dita and those she loves keep from giving into hatred? Discuss examples of love and kindness in the story.