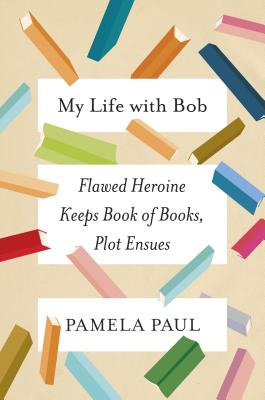 My Life with Bob
Flawed Heroine Keeps Book of Books, Plot Ensues
Hardcover

* Individual store prices may vary.
Other Editions of This Title:
Paperback (5/1/2018)
MP3 CD (12/5/2017)
Description
People Pick • O Magazine Title to Pick Up Now • Vanity Fair Hot Type • Glamour New Book You're Guaranteed to Love This Summer • LitHub.com Best Book about Books • Buzzfeed Book You Need to Read This Summer • Seattle Times Book for Summer Reading • Warby Parker Blog Book Pick • Google Talks • Harper's Bazaar • Vogue •The Washington Post • The Economist • The Christian Science Monitor • Salon • The Atlantic

Imagine keeping a record of every book you've ever read. What would this reading trajectory say about you? With passion, humor, and insight, the editor of The New York Times Book Review shares the stories that have shaped her life.

Pamela Paul has kept a single book by her side for twenty-eight years – carried throughout high school and college, hauled from Paris to London to Thailand, from job to job, safely packed away and then carefully removed from apartment to house to its current perch on a shelf over her desk – reliable if frayed, anonymous-looking yet deeply personal. This book has a name: Bob.

Bob is Paul's Book of Books, a journal that records every book she's ever read, from Sweet Valley High to Anna Karenina, from Catch-22 to Swimming to Cambodia, a journey in reading that reflects her inner life – her fantasies and hopes, her mistakes and missteps, her dreams and her ideas, both half-baked and wholehearted. Her life, in turn, influences the books she chooses, whether for solace or escape, information or sheer entertainment.

But My Life with Bob isn't really about those books. It's about the deep and powerful relationship between book and reader. It's about the way books provide each of us the perspective, courage, companionship, and imperfect self-knowledge to forge our own path. It's about why we read what we read and how those choices make us who we are. It's about how we make our own stories.
Praise For My Life with Bob: Flawed Heroine Keeps Book of Books, Plot Ensues…
"[Pamela Paul] is reflective, open and at times achingly funny. My Life with Bob is the book that she was put on this Earth to write." —The Economist

"Pamela Paul recalls the stories that have given shape to her own narrative in her appealingly roving memoir.... which includes...undersung marvels that boldly take measure of the world—and challenge us to write our own story." —Vogue

"An engaging and…funny memoir…. a delightfully gushing love letter to books — books as a medium that can connect us, transport us and transform us."—Washington Post

"Bob becomes a memory keeper, not so much of the books...as of the personal associations they hold for her, such as the place where she read them or the people she was with at the time. Paul approaches books with tenderness, desire, insecurity, and, always, ambition."—The New Yorker

"A rollicking, intimate expedition through a brilliant booklover's heart, mind, and life…. 'My Life With Bob' is a fun, accessible, well-written bookalogue; the kind of memoir Pamela Paul would have raved about in the venerable New York Times Book Review if she hadn't written it."—The Christian Science Monitor

"A heartwarming reminiscence of the books that reflected and shaped her state of mind at every stage of life. By the end, you'll be hard pressed to not start keeping a 'Bob'…of your own."—Harper's Bazaar

"A bibliophile's treasure trove of insights."—O, The Oprah Magazine

"Reading Paul, I began to see how much the books you gravitate towards reveal about your truest loves, your most instinctive urges, as well as more thoughtful, curated appetites…. She displays true bravery by listing all of the books she's finished reading… [it's] a baring of one's soul that merits respect."—Financial Times

"The ultimate book about reading books.... an intimate look into [Paul's] interior life and the ways in which the stories she has read have changed her own story. Clever and heartfelt, My Life With Bob will appeal to anyone with a deep love for reading."—Buzzfeed

"Downright delightful.... a thoroughly agreeable voice to spend time with: energetic, resolute, self-ironic and always passionate about books.... A plot really does ensue — and it's not strained for — in the form of Paul's life. And what a life that has been."—San Francisco Chronicle

"A smart, beautifully written memoir about the relationship we have with books and how the books we read frame our lives. This charmer is a must for every beach bag this Summer."—PopSugar

"Compelling, authentic, and every dream of every woman who puts reading before eating, the stories offer a perspective on life.... Perfection in a book, My Life with Bob is a love story for readers and woman who love books too much!"—The Review Broads

"Pamela Paul's My Life with Bob is absolutely essential for those of us to whom
books are more or less everything. This is a book I was born to read!"—Robert Gottlieb

"My Life with Bob is a sweet and heady book that casts a serious charm. Our lively and fetching heroine's journey becomes more thrilling by the page as Pamela Paul perfectly captures the joys of a lifetime devoted to books, as well as the attendant pressure, doubt, and insecurity. Reading this memoir is pure pleasure — funny, brainy, far-reaching— but more than anything, it feels like a call to arms to recommit to our best self: the book person."—Maria Semple

"In this hilarious, wise, and elegiac account of a life led half in the world and half in books, Pamela Paul writes with courage and exuberance about the bumpy road to maturity. Her voice—tender, moral, madcap, nostalgic, generous—will captivate all but the most stony reader. My Life with Bob is full of hope, full of love, a joyful and poignant reflection on the well-written sentence and the well-lived life."—Andrew Solomon

"Any book that helps me remember reading the Betsy-Tacy-Tib series as well as A Portrait of the Artist as a Young Man, is a book I like. Pamela Paul's My Life With Bob is an absorbing, delightful amalgam — it's a recommended reading list, a personal reflection, and a paean to reading. I'm sorry I never wrote down all the books I read (or even practically any), but I'm so glad Pamela Paul did."—Meg Wolitzer

"Paul is inspired to question why we read, how we read, what we read, and how reading helps us create our own narratives. Readers will be drawn to this witty and authentic tribute to the extraordinary power of books."—Publishers Weekly (starred review)

"A witty, heartfelt, deeply optimistic narrative...Titles about reading and books abound, but this memoir stands in a class by itself. Bibliophiles will treasure, but the addictive storytelling and high-quality writing will vastly increase its audience."—Library Journal (starred review)

"Intelligent, unique, and wise, Paul's book not only remembers a life lived among and influenced by books. It also reveals how the most interesting stories existless as words printed on pages and more as 'stories that lie between book and reader.' A thoughtfully engaging memoir of a life in books."—Kirkus Reviews

"What makes Paul's narrative absorbing and resonant is her determination: we observe her journeying towards the life she always wanted to have, by reading her way through it." —The Times Literary Supplement
Henry Holt and Co., 9781627796316, 256pp.
Publication Date: May 2, 2017
About the Author
Pamela Paul is the editor of The New York Times Book Review and oversees books coverage at The New York Times. She is also the host of the weekly podcast, Inside The New York Times Book Review. Prior to joining the Times, she was a contributor to Time magazine and The Economist; her work has appeared in The Atlantic, The Washington Post, Slate, and Vogue.

She is the author of My Life with Bob: Flawed Heroine Keeps Book of Books, Plot Ensues; By the Book; Parenting, Inc.; Pornified; and The Starter Marriage and the Future of Matrimony.
Coverage from NPR
or
Not Currently Available for Direct Purchase