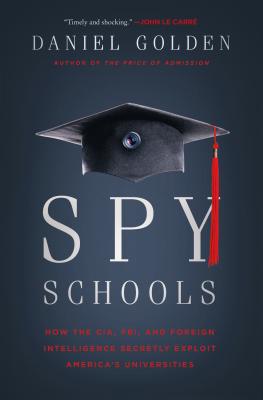 Spy Schools: How the CIA, FBI, and Foreign Intelligence Secretly Exploit America's Universities (Hardcover)
How the CIA, FBI, and Foreign Intelligence Secretly Exploit America's Universities
Henry Holt & Company, 9781627796354, 352pp.
Publication Date: October 10, 2017
About the Author
Daniel Golden won a Pulitzer Prize in 2004 for his Wall Street Journal series on admissions preferences at elite colleges, which became the basis for his bestselling book, The Price of Admission. He edited a series about how U.S. companies dodge taxes by moving their headquarters overseas, which won Bloomberg News's first and only Pulitzer Prize in 2015. In 2011, he was named a finalist for the Pulitzer Prize for Public Service for his Bloomberg News series about for-profit colleges exploiting veterans, low-income students, and the homeless. He is currently a senior editor at ProPublica.
Advertisement