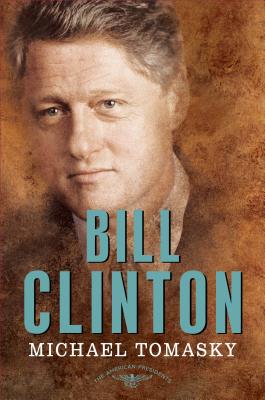 Bill Clinton
The American Presidents Series: The 42nd President, 1993-2001
Hardcover

* Individual store prices may vary.
Other Editions of This Title:
Digital Audiobook (1/23/2017)
Description
The president of larger-than-life ambitions and appetites whose term defined America at the close of the twentieth century
Bill Clinton: a president of contradictions. He was a Rhodes Scholar and a Yale Law School graduate, but he was also a fatherless child from rural Arkansas. He was one of the most talented politicians of his age, but he inspired enmity of such intensity that his opponents would stop at nothing to destroy him. He was the first Democrat since Franklin Roosevelt to win two successive presidential elections, but he was also the first president since Andrew Johnson to be impeached.
In this incisive biography of America's forty-second president, Michael Tomasky examines Clinton's eight years in office, a time often described as one of peace and prosperity, but in reality a time of social and political upheaval, as the culture wars grew ever more intense amid the rise of the Internet (and with it, online journalism and blogging); military actions in Somalia, Iraq, Bosnia, and Kosovo; standoffs at Waco and Ruby Ridge; domestic terrorism in Oklahoma City; and the rise of al-Qaeda. It was a time when Republicans took control of Congress and a land deal gone bad turned into a constitutional crisis, as lurid details of a sitting president's sexual activities became the focus of public debate.
Tomasky's clear-eyed assessment of Clinton's presidency offers a new perspective on what happened, what it all meant, and what aspects continue to define American politics to this day. In many ways, we are still living in the Age of Clinton.
Praise For Bill Clinton: The American Presidents Series: The 42nd President, 1993-2001…
"Michael Tomasky's short biography of Clinton, the latest in a series edited by Arthur Schlesinger Jr. and Sean Wilentz, is an excellent capsule version of his career, and a good place to get a feeling for the concerns that drove his economic vision."--New York Review of Books

"Excellent.... [An] entertaining biography of a virtuoso politician"--Kirkus Reviews
Times Books, 9781627796767, 208pp.
Publication Date: January 24, 2017
About the Author
Michael Tomasky is a special correspondent for The Daily Beast and the editor in chief of Democracy, as well as a regular contributor to The New York Review of Books. He was previously executive editor of The American Prospect and the founding editor of Guardian America. He is the author of Left for Dead: The Life, Death, and Possible Resurrection of Progressive Politics in America and Hillary's Turn: Inside Her Improbable, Victorious Senate Campaign. He lives outside Washington, D.C.

Arthur M. Schlesinger, Jr., (1917-2007) was the preeminent political historian of our time. For more than half a century, he was a cornerstone figure in the intellectual life of the nation and a fixture on the political scene. He won two Pulitzer prizes for The Age of Jackson (1946) and A Thousand Days (1966), and in 1988 received the National Humanities Medal. He published the first volume of his autobiography, A Life in the Twentieth Century, in 2000.

Sean Wilentz, a professor of history at Princeton University, is the author or editor of several books, including Chants Democratic and The Rise of American Democracy. He has also written for The New York Times, the Los Angeles Times, The New Republic, and other publications. He lives in Princeton, New Jersey.