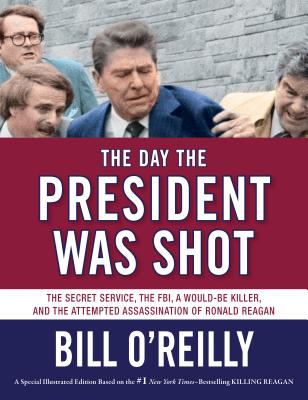 The Day the President Was Shot (Hardcover)
The Secret Service, the FBI, a Would-Be Killer, and the Attempted Assassination of Ronald Reagan
Henry Holt & Company, 9781627796996, 256pp.
Publication Date: June 21, 2016
Description
The year was 1981. Just two months into his presidency, Ronald Reagan was shot after leaving a speaking engagement in Washington, D. C. The quick action of the Secret Service and medical professionals saved the president's life. Mere days after his near-death experience, Reagan's personal strength propelled him back into his presidential duties.
Adapted from Bill O'Reilly's historical thriller Killing Reagan, with characteristically gripping storytelling, this story explores the events of the day Reagan was shot. From the scene of the shooting and the dramatic action of the Secret Service, to the FBI's interrogation of the shooter, the life-saving measures of the medical professionals and the president's extraordinary recovery, this is a page-turning account of an attempted assassination and its aftermath.
This title has Common Core connections.
About the Author
Bill O'Reilly's success in broadcasting and publishing is unmatched. The iconic anchor of The O'Reilly Factor led the program to the status of the highest rated cable news broadcast in the nation for sixteen consecutive years. His website BillOReilly.com is followed by millions all over the world.In addition, he has authored an astonishing 12 number one ranked non-fiction books including the historical "Killing" series. Mr. O'Reilly currently has 17 million books in print.Bill O'Reilly has been a broadcaster for 42 years. He has been awarded three Emmy's and a number of other journalism accolades. He was a national correspondent for CBS News and ABC News as well as a reporter-anchor for WCBS-TV in New York City among other high profile jobs.Mr. O'Reilly received two other Emmy nominations for the movies "Killing Kennedy" and "Killing Jesus."He holds a history degree from Marist College, a masters degree in Broadcast Journalism from Boston University, and another masters degree from Harvard's John F. Kennedy School of Government.Bill O'Reilly lives on Long Island where he was raised. His philanthropic enterprises have raised tens of millions for people in need and wounded American veterans.
Advertisement