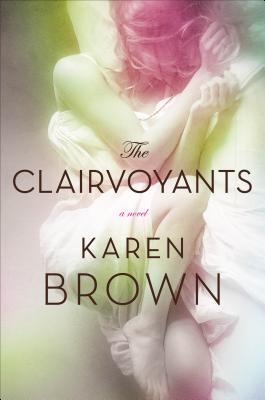 The Clairvoyants (Hardcover)
A Novel
Henry Holt and Co., 9781627797054, 352pp.
Publication Date: February 7, 2017
Other Editions of This Title:
Paperback (2/20/2018)
Hardcover, Large Print (5/3/2017)
* Individual store prices may vary.
Description
"A deliciously modern classic ghost story" —Chloe Benjamin, New York Times bestselling author of The Immortalists

The Clairvoyants is Karen Brown's most hypnotic novel to date--gothic-inflected psychological suspense that unmasks the secret desires of a young woman with a mystical gift
On the family homestead by the sea where she grew up, Martha Mary saw ghosts. As a young woman, she hopes to distance herself from those spirits by escaping to an inland college town. There, she is absorbed by a budding romance, relieved by separation from an unstable sister, and disinterested in the flyers seeking information about a young woman who's disappeared—until one Indian summer afternoon when the missing woman appears beneath Martha's apartment window, wearing a down coat, her hair coated with ice.
About the Author
Karen Brown's Little Sinners and Other Stories was named a Best Book of 2012 by Publisher's Weekly, her previous collection Pins and Needles received AWP's Grace Paley Prize for Short Fiction, and her first novel, The Longings of Wayward Girls, was published in 2013 by Washington Square Press to rave reviews. Her work has been featured in The PEN/O. Henry Prize Stories, Best American Short Stories, The New York Times, and Good Housekeeping. She teaches creative writing and literature at the University of South Florida.
Praise For The Clairvoyants: A Novel…
"Brown takes her time drawing readers into the perspective of Martha Mary, a character who makes for the best kind of unreliable narrator . . . . A suspensefully ambiguous story, one where the twists aren't so much shocking as harrowing confirmations of what the story's been trying to say against our narrator's will the whole time."
—Romantic Times Book Review
"A complex, chilling ghost story. . . Compelling . . . Brown paces the plot deliberately, building dread in both the present and past time lines as she switches between them . . . A thrilling read."
—Tampa Bay Times
"A master of intrigue, Brown has crafted a haunting mystery that will . . . push readers until the very end."
—Booklist (starred review)
"Weaves a complex narrative with a lyrical thread of memoires; [An] arresting, unsettling, and beautiful tale. Brown enchants and haunts by making the reader question every voice, every truth."
—Kirkus Reviews (starred review)
"Gripping . . . . Brown's novel is a riveting page-turner."
—Publishers Weekly
"Karen Brown deftly manages to make the occult ordinary and the strange familiar in this surprising and suspenseful novel."
—Lily Tuck, National Book Award-winning author of The News from Paraguay
"Karen Brown draws us effortlessly into the mysterious world of The Clairvoyants, where the line between the dead and the living falls away. An enchanting novel that will keep you turning pages!"
—Wendy Walker, bestselling author of All Is Not Forgotten
"Karen Brown's The Clairvoyants is an eerie and affecting dose of Gothic fiction. Martha Mary would've been right at home in a Shirley Jackson novel. Martha sees ghosts, and by the end of the twisting, quietly unnerving story, you will swear you do too."
—Paul Tremblay, author of A Head Full of Ghosts and Disappearance at Devil's Rock
"With an insightful and poetic voice, Karen Brown creates a mystical world filled with suspense, desire and lastly acceptance. Her sophomore novel, The Clairvoyants, simmers from beginning to end and will leave readers wondering if ghosts might be lingering just outside the door."
—Lori Roy, Edgar Award-winning author of Bent Road and Until She Comes Home
"The Clairvoyants is a deliciously modern classic ghost story, full of snowstorms and sly sisters and sorrowful, dangerous parties. Karen Brown has created a world in which the dead are as real as the living and the living cannot be trusted. I was haunted by my visit there and, like the ghosts that populate this taut and magnetic novel, I didn't want to leave."
—Chloe Benjamin, New York Times bestselling author of The Immortalists
"The Clairvoyants is a beautiful, spookily atmospheric, ridiculously accomplished novel. Karen Brown's writing is so rich with detail, eroticism, and psychological insight that I really would read anything with her name on it—grocery list, instruction manual, casserole recipe, brilliant new novel."
—Christine Sneed, author of Paris, He Said
or
Not Currently Available for Direct Purchase