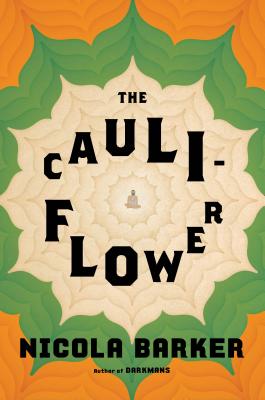 The Cauliflower
A Novel
Hardcover

* Individual store prices may vary.
Other Editions of This Title:
MP3 CD (8/9/2016)
Compact Disc (8/9/2016)
Compact Disc (8/9/2016)
Description
"Maddening, funny, playful and beautiful…Barker has once again invigorated an old form -- the historical biographical novel -- through electric wit and sheer bedazzlement."
--The Washington Post
To the world, he is Sri Ramakrishna--godly avatar, esteemed spiritual master, beloved guru. To Rani Rashmoni, she of low caste and large inheritance, he is the brahmin fated to defy tradition. But to Hriday, his nephew and longtime caretaker, he is just Uncle--maddening, bewildering Uncle, prone to entering trances at the most inconvenient of times, known to sneak out to the forest at midnight to perform dangerous acts of self-effacement, who must be vigilantly safeguarded not only against jealous enemies and devotees with ulterior motives, but also against that most treasured yet insidious of sulfur-rich vegetables: the cauliflower.
Rather than puzzling the shards of history and legend together, Barker shatters the mirror again and rearranges the pieces. The result is a biographical novel viewed through a kaleidoscope. Dazzlingly inventive and brilliantly comic, irreverent and mischievous, The Cauliflower delivers us into the divine playfulness of a twenty-first-century literary master.
Praise For The Cauliflower: A Novel…
"Maddening, funny, playful and beautiful…Barker has once again invigorated an old form — the historical biographical novel — through electric wit and sheer bedazzlement."
—The Washington Post
"[Barker's] prophet's tale is peppered with ironic asides, haikus, dizzying all-caps, and transcribed sound effects to create a kind of antiquarian post-modernism, a contemporary Tristram Shandy."
—New York Magazine
"While matters of religion generally carry an impression of weightiness, Barker deftly juggles reverence and humor. . . . An experiment in reordering time, with which Kali is traditionally associated, Barker's The Cauliflower is as multi-lobed and densely clustered as the vegetable from which it takes its name. A nutritious treat for the intellect and the funny bone."
—Shelf Awareness, (starred review)
"Irreverent ... Beneath the jaunty surface, the novel explores important questions about the nature of religious experience."
—Publishers Weekly
"Respectful, playful, and often entertaining—though just as often puzzling. Barker's fans will enjoy the outing, forgiving her quirks."
—Kirkus Reviews
"[An] imaginative tour de force … [Barker] throws a literary hand grenade into the form of the historical novel as we know it … Barker seems to want to undermine the very core of the historical novel: the idea that an act of imaginative empathy can give us access to what things were like in the past … The result is typically atypical, expectedly unexpected and inexplicably good. She really is a genius."
–Guardian
"[A] vibrant, funny, garrulous and lovely book. It is a celebration of spirituality and faith ... Perfectly balanced between clownish irreverence and hushed respect for the numinous."
–Sunday Times
"Tristram Shandy meets magical realism … This is an extremely ambitious book, playful, maddening, overlong, thought-provoking and rich. As an investigation of faith – which is what is must surely be – that's not a bad way to go."
– Financial Times
"A confection . . . . Comic and elaborate . . . . A vivid panorama."
—Times Literary Supplement
"The Cauliflower brims with rich delicacies of arcana and ephemera...Throughout Barker's novel, the present is laid strangely over the past, forcing the reader to peer askance at the action from an angle, like a historical voyeur ... [Barker] has created a zany, frustrating, brilliant work."
–Telegraph
"Typically audacious … These pages showcase Barker at her best: the hairpin, full-throttle flight of an audacious imagination … Intriguing, exhilarating, perplexing."
–Observer
"One of the most excitingly and exhaustively non-linear novelists around ... She opens up a mind-set usually incomprehensible to secular westerners ...This exuberantly imaginative novel about mysticism takes flight with panache."
–Herald
"Nicola Barker makes her own rules…In the tale of a man who utterly rejected not just conventional society but the structure of time and space itself, she has found a wonderful reflection of her own boggling talent."
–Literary Review
"Nicola Barker is both prodigiously talented and admirably fearless … Barker describes her book as 'truly little more than the sum of its many parts.' It turns out to be far more than that; a freehand, jokey sort of spiritual journey, an admiration, and a parody of faith, orchestrated by Barker with an unfailing eye for the comic opportunity … Strange, febrile and utterly unique … A story packed with vitality, wit, sly charm and astonishing energy."
–Spectator
"Here, as everywhere else in her work, this most brilliantly unhinged of British writers does whatever the hell she likes. . . . Illuminating, tiresome, joyful, exhausting and hilarious . . . Deeply researched . . . . Watching Barker's garrulous, profound, silly and bitingly intelligent mind at play is one of the greatest and most contagious delights in modern British fiction."
–New Statesman
Henry Holt and Co., 9781627797191, 304pp.
Publication Date: August 9, 2016
About the Author
Nicola Barker is the author of a dozen novels, including The Yips (longlisted for the Man Booker Prize), Darkmans (shortlisted for the Booker and the Ondaatje Prize and winner of the Hawthornden Prize), Clear (longlisted for the Booker), and Wide Open (winner of the International IMPAC Dublin Literary Award), and three story collections, including Love Your Enemies (winner of the PEN/Macmillan Silver Pen Award). Two of her stories, "Dual Balls" and "Symbiosis," have been adapted for British television, and the former was shortlisted for a BAFTA. Barker was named on Granta's Best of Young British Novelists list in 2003, and her work has been translated into over a dozen languages. She lives in London.