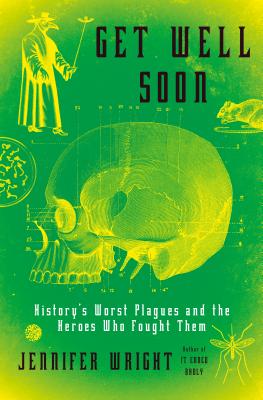 Get Well Soon
History's Worst Plagues and the Heroes Who Fought Them
Hardcover

* Individual store prices may vary.
Other Editions of This Title:
Digital Audiobook (2/6/2017)
MP3 CD (2/7/2017)
Compact Disc (2/7/2017)
Compact Disc (2/7/2017)
Description
A witty, irreverent tour of history's worst plagues—from the Antonine Plague, to leprosy, to polio—and a celebration of the heroes who fought them

In 1518, in a small town in Alsace, Frau Troffea began dancing and didn't stop. She danced until she was carried away six days later, and soon thirty-four more villagers joined her. Then more. In a month more than 400 people had been stricken by the mysterious dancing plague. In late-seventeenth-century England an eccentric gentleman founded the No Nose Club in his gracious townhome—a social club for those who had lost their noses, and other body parts, to the plague of syphilis for which there was then no cure. And in turn-of-the-century New York, an Irish cook caused two lethal outbreaks of typhoid fever, a case that transformed her into the notorious Typhoid Mary.

Throughout time, humans have been terrified and fascinated by the diseases history and circumstance have dropped on them. Some of their responses to those outbreaks are almost too strange to believe in hindsight. Get Well Soon delivers the gruesome, morbid details of some of the worst plagues we've suffered as a species, as well as stories of the heroic figures who selflessly fought to ease the suffering of their fellow man. With her signature mix of in-depth research and storytelling, and not a little dark humor, Jennifer Wright explores history's most gripping and deadly outbreaks, and ultimately looks at the surprising ways they've shaped history and humanity for almost as long as anyone can remember.
Praise For Get Well Soon: History's Worst Plagues and the Heroes Who Fought Them…
"Jaunty, lively, and filled with references to contemporary cultural history, making this work a well-researched page-turner. Readers will get an intense dose of history, written in a not-hard-to-swallow style."—Library Journal

"Wright brings a reliably sane and bitingly funny voice to a topic we never realized we wanted to know so much about: historically devastating plagues! Read this. . . .so that you can soon amuse your friends with the best dinner party conversation ever." —NYLON, '50 Books We Can't Wait to Read in 2017'

"Wright doesn't simply state gross-out facts or hold up solitary individuals as heroes. Instead, she highlights the issues that impacted our understanding of and response to medical nightmares. Leadership, religiosity, power structures, and science collide...Written with Wright's signature humorous tone, this is a grim but engaging look at some of humanity's most feared foes." —Bust

"Jennifer has a rare ability to make history funny, titillating, and relevant, in way I've not come across before. Her passion and enthusiasm jumps off the page and makes her most recent book Get Well Soon: History's Worst Plagues and the Heroes Who Fought Them, a most compelling and important read." —Angela Ledgerwood, Lit Up


Additional Praise for Jennifer Wright and It Ended Badly

"Wright combines a deep knowledge of her subjects with an abiding love for their depravity; she chronicles their breakups with a wit as sharp as a guillotine's blade."—People

"The tone—intimate, whimsical, smart, and silly at once—continues through two millennia of stories of love lost and found... Wright dishes dirt on all of them...with the gleeful irreverence of your wittiest friend recapping a particularly juicy episode of reality television."—The Boston Globe

"Immensely entertaining... If you've gone through a breakup, stock up on Haagen-Daz, block your ex's number, get drunk with your friends and buy this book."—BUST Magazine

"This is balm for the brokenhearted: we are laughing! We are learning!...Above all, It Ended Badly offers hope: for the late-night drunk texters, the doughnut smashers, and everyone else currently exhibiting bad breakup behavior."—Kirkus

"Although the 13 stories feature heartbreaking and horrific tales, Wright leaves the reader with positive and hopeful thoughts on love... The writing fits right in with the work of comedian authors Tina Fey and Chelsea Handler."—Library Journal (starred review)

"Delightful... funny, irreverent... The book teaches even as it entertains, and applies modern psychology to the behavior of its subjects, providing both amusements and consolation to people likely in need of both." —Publishers Weekly (starred review)
Henry Holt and Co., 9781627797467, 336pp.
Publication Date: February 7, 2017
About the Author
Jennifer Wright is a columnist for the New York Observer and the New York Post, covering sex and dating. She was one of the founding editors of TheGloss.com, and her writing regularly appears in such publications as Cosmopolitan, Glamour, and Maxim. Her breakup cure is gin, reruns of 30 Rock, and historical biographies. She lives and loves in New York City.