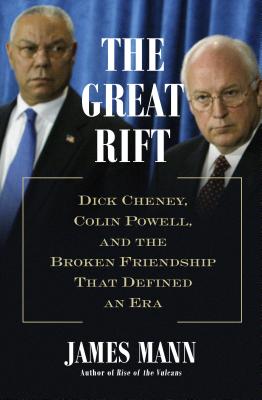 The Great Rift
Dick Cheney, Colin Powell, and the Broken Friendship That Defined an Era
Hardcover

* Individual store prices may vary.
Other Editions of This Title:
Digital Audiobook (1/13/2020)
MP3 CD (1/14/2020)
Compact Disc (1/14/2020)
Description
The Great Rift is a sweeping history of the intertwined careers of Dick Cheney and Colin Powell, whose rivalry and conflicting views of U.S. national security color our political debate to this day.

Dick Cheney and Colin Powell emerged on the national scene more than thirty years ago, and it is easy to forget that they were once allies. The two men collaborated closely in the successful American wars in Panama and Iraq during the presidency of George H. W. Bush--but from this pinnacle, conflicts of ideology and sensibility drove them apart. Returning to government service under George W. Bush in 2001, they (and their respective allies within the administration) fell into ever-deepening antagonism over the role America should play in a world marked by terrorism and other nontraditional threats.

In a wide-ranging, deeply researched, and dramatic narrative, James Mann explores each man's biography and philosophical predispositions to show how and why this deep and permanent rupture occurred. Through dozens of original interviews and surprising revelations from presidential archives, he brings to life the very human story of how this influential friendship turned so sour and how the enmity of these two powerful men colored the way America acts in the world.
Praise For The Great Rift: Dick Cheney, Colin Powell, and the Broken Friendship That Defined an Era…
"Illuminating [and] insightful . . . A significant work of American history." —Kirkus Reviews (starred review)

"Pick up this engaging book for its insights into Cheney and Powell, but take away the two visions for American leadership they embodied." —The New York Times Book Review

"In his excellent recounting of the rise and fall of the friendship of two major figures in the two Bush presidencies, James Mann tells, in a vivid and compelling way, the story of the American response to twenty years of earthshaking global events: the end of the Cold War, the terrorist attacks of September 11, 2001, and especially the two wars against Saddam Hussein." —Michael Mandelbaum, author of The Rise and Fall of Peace on Earth

"The Great Rift cements James Mann's reputation as an essential historian of U.S. foreign policy in modern times. This riveting character study shows how two of the Bush family's foremost advisers went from allies to adversaries—and what their split tells us about the Republican party in the age of Trump. Mann has done that rare thing: he has captured history in motion." —David Greenberg, author of Republic of Spin and Nixon's Shadow

"In James Mann's powerful new book, The Great Rift, Iraq bookends the fraught and consequential relationship between Colin Powell and Dick Cheney. Deftly using their cooperation and competition as his lens, Mann provides a trenchant, engrossing, and ultimately sad chronicle of the rise and fall of American global leadership after the Cold War." —Timothy Naftali, author of George H. W. Bush and founding director of the federal Richard Nixon Presidential Library and Museum

"More than an account of an intimate Washington partnership that degenerated into mutual loathing, this is a study of the limits of unswerving conviction on the one hand, and anti-conceptual pragmatism on the other. As such, it is a warning for the future no less than an account of the past." —Eliot A. Cohen, former counselor of the Department of State and author of The Big Stick and Supreme Command

"James Mann's gripping account of the rise and fall of Dick Cheney and Colin Powell is almost Shakespearean in its pitch-perfect portrayal of two close friends turned bitter foes, whose ambition and internecine warfare played a key role in America's disastrous involvement in the war in Iraq, with grievous effects that continue to this day." —Lynne Olson, bestselling author of Madame Fourcade's Secret War and Citizens of London

"In this brisk, penetrating narrative, James Mann offers a thoroughly original way of understanding critical events at the highest levels of government over the last three decades. The Great Rift is outstanding." —Jonathan Alter, author of The Defining Moment: FDR's Hundred Days and the Triumph of Hope and The Center Holds: Obama and His Enemies
Henry Holt and Co., 9781627797559, 432pp.
Publication Date: January 14, 2020
About the Author
James Mann is the author of several books on American politics and national security issues, including Rise of the Vulcans: The History of Bush's War Cabinet and The Obamians: The Struggle Inside the White House to Redefine American Power. A longtime correspondent for the Los Angeles Times, he is currently a fellow in residence at the Johns Hopkins University School of Advanced International Studies. He lives in Washington, D.C.
or
Not Currently Available for Direct Purchase