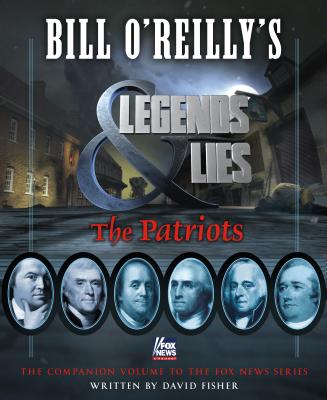 Bill O'Reilly's Legends and Lies (Hardcover)
The Patriots: The Patriots
Henry Holt & Company, 9781627797894, 320pp.
Publication Date: May 24, 2016
Description
The must-have companion to Bill O'Reilly's historical docudrama Legends and Lies: The Patriots, an exciting and eye-opening look at the Revolutionary War through the lives of its leaders
The American Revolution was neither inevitable nor a unanimous cause. It pitted neighbors against each other, as loyalists and colonial rebels faced off for their lives and futures. These were the times that tried men's souls: no one was on stable ground and few could be trusted. Through the fascinating tales of the first Americans, Legends and Lies: The Patriots reveals the contentious arguments that turned friends into foes and the country into a warzone.
From the riots over a child's murder that led to the Boston Massacre to the suspicious return of Ben Franklin, the "First American;" from the Continental Army's first victory under George Washington's leadership to the little known southern Guerilla campaign of "Swamp Fox" Francis Marion, and the celebration of America's first Christmas, The Patriots recreates the amazing combination of resourcefulness, perseverance, strategy, and luck that led to this country's creation.
Heavily illustrated with spectacular artwork that brings this important history to vivid life, and told in the same fast-paced, immersive narrative as the first Legends and Lies, The Patriots is an irresistible, adventure-packed journey back into one of the most storied moments of our nation's rich history.
About the Author
Bill O'Reilly's success in broadcasting and publishing is unmatched. The iconic anchor of The O'Reilly Factor led the program to the status of the highest rated cable news broadcast in the nation for sixteen consecutive years. His website BillOReilly.com is followed by millions all over the world.In addition, he has authored an astonishing 12 number one ranked non-fiction books including the historical "Killing" series. Mr. O'Reilly currently has 17 million books in print.Bill O'Reilly has been a broadcaster for 42 years. He has been awarded three Emmy's and a number of other journalism accolades. He was a national correspondent for CBS News and ABC News as well as a reporter-anchor for WCBS-TV in New York City among other high profile jobs.Mr. O'Reilly received two other Emmy nominations for the movies "Killing Kennedy" and "Killing Jesus."He holds a history degree from Marist College, a masters degree in Broadcast Journalism from Boston University, and another masters degree from Harvard's John F. Kennedy School of Government.Bill O'Reilly lives on Long Island where he was raised. His philanthropic enterprises have raised tens of millions for people in need and wounded American veterans. David Fisher is the author of eighteen New York Times bestsellers. His work has also appeared in most major magazines and many newspapers. He lives in New York with his wife and two sons.
Advertisement