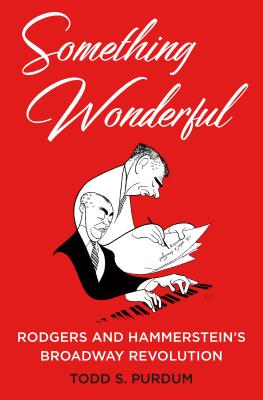 Something Wonderful
Rodgers and Hammerstein's Broadway Revolution
Hardcover

* Individual store prices may vary.
Other Editions of This Title:
Digital Audiobook (4/2/2018)
Paperback (5/14/2019)
MP3 CD (4/3/2018)
Compact Disc (4/3/2018)
Compact Disc (4/3/2018)
Description
A revelatory portrait of the creative partnership that transformed musical theater and provided the soundtrack to the American Century

They stand at the apex of the great age of songwriting, the creators of the classic Broadway musicals Oklahoma!, Carousel, South Pacific, The King and I, and The Sound of Music, whose songs have never lost their popularity or emotional power. Even before they joined forces, Richard Rodgers and Oscar Hammerstein II had written dozens of Broadway shows, but together they pioneered a new art form: the serious musical play. Their songs and dance numbers served to advance the drama and reveal character, a sharp break from the past and the template on which all future musicals would be built.


Though different in personality and often emotionally distant from each other, Rodgers and Hammerstein presented an unbroken front to the world and forged much more than a songwriting team; their partnership was also one of the most profitable and powerful entertainment businesses of their era. They were cultural powerhouses whose work came to define postwar America on stage, screen, television, and radio. But they also had their failures and flops, and more than once they feared they had lost their touch.


Todd S. Purdum's portrait of these two men, their creative process, and their groundbreaking innovations will captivate lovers of musical theater, lovers of the classic American songbook, and young lovers wherever they are. He shows that what Rodgers and Hammerstein wrought was truly something wonderful.
Praise For Something Wonderful: Rodgers and Hammerstein's Broadway Revolution…
Named a Best Book of the Year by The Christian Science Monitor and Playbill
Sarasota Herald-Tribune Holiday Book Guide

"Affectionate and richly researched. . . . Something Wonderful offers a fresh look at the milieu and circumstances that contributed to the creation of some of the musical theater's greatest and most enduring treasures. . . . In giving us access to the world that gave birth to them, Purdum's authoritative and ultimately moving book brings these masterpieces to life with bracing clarity."—The New York Times Book Review (Editor's Choice)

"A veteran political reporter, Purdum goes moonlighting to delightful effect in Something Wonderful. His journalistic skills are evident in this affectionate tribute to the team that rewrote the rules for American musical theater. Something Wonderful is thoroughly researched and briskly written, seamlessly blending a chronological narrative of the productions with cogent analyses of their effect on American culture."—The Washington Post

"Todd Purdum's skillful dual biography…strips away the accretions of time and reputation to retrieve the craft and dynamism with which his subjects created a new kind of musical."—The Economist

"[A] brisk, thoroughly reported, very readable new account of the Rodgers-Hammerstein partnership. . . . Purdum gives the pair far more complexity and feeling than they are generally credited for."—Corby Kummer, The Atlantic

"A revelatory portrait. . . detailed and sharp."—Time

"Todd Purdum's timely examination of the life and works of Rodgers and Hammerstein is a beautifully balanced accounting of two complicated men, the theater artists who surrounded them, and the quite astounding works they created. Purdum writes with grace and care about the creation of their best and their least achievements, and he subtly points to their differences and difficulties as human beings without ever stooping to gossip or nastiness. Like the R&H catalog itself, he takes on his subject with taste, relish, fairness, and a clear sense of the importance of the subject matter. A wonderful read."—Jack Viertel, author of The Secret Life of the American Musical

"Fresh. . . . A neatly proportioned study . . . perhaps most helpful [in] reminding us of the bold breadth of the business—in the broadest sense—of the Rodgers and Hammerstein partnership" [whose] "melodies . . . ventured sprawlingly across the planet, all day and deep into the night." —The Wall Street Journal, lead review

"Something Wonderful is above all a marvelous book about the arts and the artistic process. Todd S. Purdum provides a more than satisfying biography of Rodgers and Hammerstein, their successes and failures, their marriages, their money. But he's just as comfortable, and very acute, writing about their craft. . . . On top of everything else, Something Wonderful has soul. . . . I'm happy to have read this book, and I was also extremely happy while I was reading it. It's a very happy book, and you can't say that about everything we read." —Nick Hornby, The Believer

"Purdum is a lifelong fan of musical theater, and that passion shows in 400 pages that fly by in double-time. . . . [He] has a gift for scene painting, making us feel like we're in the room when some of the most memorable moments in musical theater history take place. . . . Such a pleasure to read."—DC Metro Theater Arts

"[A] delightful new book. . . . Broadway magic if anything is, and Todd Purdum has given readers the most elaborate and entertaining exploration of that magic they're ever likely to read."—The Christian Science Monitor

"Purdum's excellent book continues an argument that is well worth having. . . . Bloom and grow forever, indeed."—America Magazine

"A fresh and revelatory look at the personalities of these legendary figures, their relationship with each other, their creative process, and their groundbreaking innovations....Full of illuminating anecdotes about the biggest stars of the day....A celebration of the lives and legacy of one of the most iconic partnerships in artistic history, sure to please anyone who loves musical theater." —Broadway World

"This brisk and lively biography of the greatest team in musical-theater history remains happily focused on what matters most: the shows. . . . A solid, affectionate description of artists who look more important today than at any time since, oh, 1945."—BroadwayDirect.com

"Purdum keeps his well-researched book zipping along in concise, crystalline prose. . . . [Something Wonderful] serves as an excellent reminder of the startling ways in which these classic musicals were boundary-pushing."—American Theatre

"Unapologetic in its appreciation of the team's talents but inclusive enough to consider their darker moments as well."—Dallas News

"Readers will learn the stories behind the music and how this most successful of writing duos crafted some of the finest musicals to grace the American stage...Something wonderful, indeed." —Booklist (starred review)

"Joyous, brisk, and gossipy...An exuberant celebration of musical genius." —Kirkus Reviews

"Purdum's anecdote-filled account is a sterling primer on the influential duo, both for newcomers to their work and to those looking to rekindle an old flame." —Publishers Weekly

"A scrupulously researched and infinitely fascinating history of the collaboration of Rodgers & Hammerstein—two giants who propelled the musical theater to uncharted heights. Todd Purdum acknowledges the contribution of directors, orchestrators, composers of incidental music, designers, and performers who helped produce the seamless integration that influenced those of us who were their disciples. His book is a fair-minded appreciation of these gods but acknowledges that they had feet of clay. It is an impressive addition to the literature celebrating the American musical theater." —Harold Prince

"Rodgers and Hammerstein drew pictures, made lists. They understood and rewrote the longings of the heart. My favorite of their songs happens to be the book's title: 'Something Wonderful.' I have sung it live, on stage, on recordings, and with the man I felt the same way about. I love the intimacy of the stories Todd Purdum tells—he shows himself to be especially sensitive to Oscar Hammerstein's special connection with Richard Rodgers." —Carly Simon

"Before there was Netflix and Hulu, some of the most gifted writers on the cultural landscape wrote beautiful and clever songs. And of the composers who bundled those songs together to accompany a story and thus gave us the Broadway musical, none have had more of an impact on the genre, or the business, than Rodgers and Hammerstein. Todd Purdum's book is a piece of American history you should devour, as nothing tells us about our times and ourselves quite like our songs." —Alec Baldwin

"Engaging. . . . A lively, sometimes gossipy narrative."—Forward

"A reminder in these tribalized times that musical theater, once so central to our culture, is still vividly alive – and that the art's twin titans, Rodgers and Hammerstein, still matter deeply. Clear, precise, and passionate, this is a necessary book, and even better, one that is a joy to read." —James Kaplan, author of Frank: The Voice and Sinatra: The Chairman

"Come backstage...It's all here in Purdum's book. From describing the real-life moment that inspired 'Some Enchanted Evening' to detailing the drafts for 'Edelweiss,' Purdum has produced Something Wonderful indeed."—BookPage
Henry Holt and Co., 9781627798341, 400pp.
Publication Date: April 3, 2018
About the Author
Todd S. Purdum is the author of An Idea Whose Time Has Come and A Time of Our Choosing. He is a staff writer for The Atlantic, having previously worked for more than twenty years at The New York Times, where he covered beats from City Hall to the White House and served as Los Angeles bureau chief. He has also been a contributing editor at Vanity Fair and a senior writer at Politico. A native of Macomb, Illinois, and a graduate of Princeton University, he lives in Los Angeles with his wife, Dee Dee Myers, and their two children.
Coverage from NPR
or
Not Currently Available for Direct Purchase