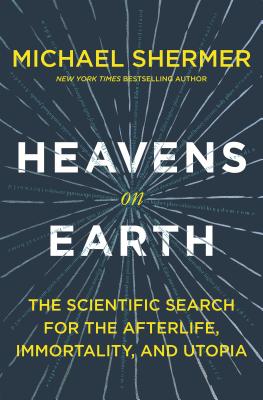 Heavens on Earth
The Scientific Search for the Afterlife, Immortality, and Utopia
Hardcover

* Individual store prices may vary.
Other Editions of This Title:
Paperback (1/8/2019)
Description
A scientific exploration into humanity's obsession with the afterlife and quest for immortality from the bestselling author and skeptic Michael Shermer

In his most ambitious work yet, Shermer sets out to discover what drives humans' belief in life after death, focusing on recent scientific attempts to achieve immortality along with utopian attempts to create heaven on earth.

For millennia, religions have concocted numerous manifestations of heaven and the afterlife, and though no one has ever returned from such a place to report what it is really like—or that it even exists—today science and technology are being used to try to make it happen in our lifetime. From radical life extension to cryonic suspension to mind uploading, Shermer considers how realistic these attempts are from a proper skeptical perspective.

Heavens on Earth concludes with an uplifting paean to purpose and progress and how we can live well in the here-and-now, whether or not there is a hereafter.
Praise For Heavens on Earth: The Scientific Search for the Afterlife, Immortality, and Utopia…
"[A] fascinating book…Shermer visits…utopian theories with detail and considered analysis, drawing readers along increasingly unrealistic (or are they?) possibilities for our future evolution. It's a journey as boggling as it is engrossing." —Maria Konnikova, The New York Times Book Review

"[An] intriguing study." —Nature

"[An] ambitious, erudite volume…bringing the high evidentiary standards of science to bear on heavenly claims."—The Washington Post

"[An] inviting and informative tour of human kind's various conceptions of where God locates himself…In bringing so many heavens together, Mr. Shermer does us a service. Among other things, he shows us why we are lucky that not everything can be fully grasped by our limited capacities." —The Wall Street Journal

"Faulty religious reasoning and sloppy secular arguments earn a skeptic's side-eye....Michael Shermer aims to deconstruct systems of irrational beliefs." —Science Magazine

"This is fascinating stuff."—St. Louis Post-Dispatch

"[T]he author delivers a moving essay on the meaning of life… an ingenious popular-science account of how we deal with mortality."—Kirkus Reviews

"Michael Shermer is a beacon of reason in an ocean of irrationality." —Neil deGrasse Tyson, director of the Hayden Planetarium, host of Cosmos and StarTalk, and author of Astrophysics for People in a Hurry

"This book's theme is the one of greatest practical importance to all of us: does some heaven or afterlife await us after we die? Most Americans, and even many atheists, believe that the answer is 'yes.' If there is no heaven, how can we find purpose in life? Michael Shermer explores these big questions with the delightful, powerful style that made his previous books so successful—but this is his best book." —Jared Diamond, professor of geography at UCLA and Pulitzer Prize-winning author of Guns, Germs, and Steel and other books

"Thank goodness for Michael Shermer's sound and inspired mindfulness and for this importantly useful volume. Truly a delicious read. Ten Goldblums out of a possible ten Goldblums!" —Jeff Goldblum, actor

"Heavens on Earth is absolutely brilliant, filled with profundity, startling facts, and mind-expanding ideas. Michael Shermer somehow manages to be entertaining and scientifically erudite at the same time. He also brings some of history's greatest thinkers to life and makes their ideas accessible. This is one of the most fascinating books I've read in a long time." —Amy Chua, Yale Law professor and author of Battle Hymn of the Tiger Mother and The Triple Package

"[A] refreshing change. Most takedowns of religion simply preach to the unconverted, so to speak, and they hardly ever convince true believers to recant. Heavens might not convince them, either, but Shermer listens to people with spiritual leanings and engages them in legitimate debate."—The American Scholar

"How do you convincingly dismiss most of civilization's beliefs in the hereafter and still arrive at fresh optimism about the meaning of our all-too-human existence? …Michael Shermer does a fine job of it – and much more – in his absorbing 15th book."—Book Page

"Shermer argues compellingly that awareness of our mortality leads us to live purpose-driven lives, since our legacy may be the only thing that survives our deaths." —Booklist

"Shermer succeeds not only in analyzing human beings' efforts to live forever in a utopian existence, but he ends the journey by encouraging readers to seek the forms of heaven which exist around us, in our own lives." —Library Journal

"I appreciate every evolutionary step skepticism takes toward openness. Heavens on Earth is an affirmation that other world views deserve respect and understanding. In this book science may actually be catching up with the world's wisdom traditions." —Deepak Chopra, M.D., author War of the Worldviews and You Are the Universe
Henry Holt and Co., 9781627798570, 320pp.
Publication Date: January 9, 2018
About the Author
Michael Shermer is the author of The Moral Arc, Why People Believe Weird Things, The Believing Brain, and several other books on the evolution of human beliefs and behavior. He is the founding publisher of Skeptic magazine, the editor of Skeptic.com, a monthly columnist for Scientific American, and Presidential Fellow at Chapman University. He lives in Southern California.
or
Not Currently Available for Direct Purchase