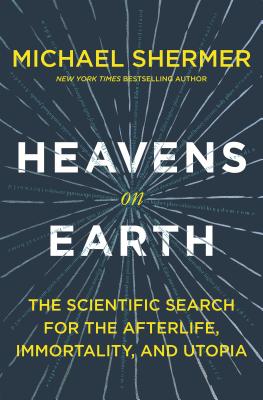 Heavens on Earth (Hardcover)
The Scientific Search for the Afterlife, Immortality, and Utopia
Henry Holt & Company, 9781627798570, 320pp.
Publication Date: January 9, 2018
* Individual store prices may vary.
Description
A scientific exploration into humanity's obsession with the afterlife and quest for immortality from the bestselling author and skeptic Michael Shermer
In his most ambitious work yet, Shermer sets out to discover what drives humans' belief in life after death, focusing on recent scientific attempts to achieve immortality along with utopian attempts to create heaven on earth.
For millennia, religions have concocted numerous manifestations of heaven and the afterlife, and though no one has ever returned from such a place to report what it is really like--or that it even exists--today science and technology are being used to try to make it happen in our lifetime. From radical life extension to cryonic suspension to mind uploading, Shermer considers how realistic these attempts are from a proper skeptical perspective.
Heavens on Earth concludes with an uplifting paean to purpose and progress and how we can live well in the here-and-now, whether or not there is a hereafter.
About the Author
Michael Shermer is the publisher of Skeptic magazine, a monthly columnist for Scientific American, and a Presidential Fellow at Chapman University. He is the author of The Moral Arc, The Believing Brain, and many other bestselling titles.