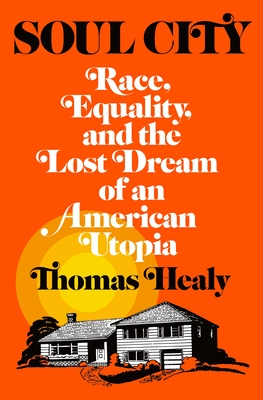 Soul City
Race, Equality, and the Lost Dream of an American Utopia
Hardcover

* Individual store prices may vary.
Other Editions of This Title:
Paperback (1/25/2022)
Description
A New York Times Book Review Editors' Choice

The fascinating, forgotten story of the 1970s attempt to build a city dedicated to racial equality in the heart of "Klan Country"

In 1969, with America's cities in turmoil and racial tensions high, civil rights leader Floyd McKissick announced an audacious plan: he would build a new city in rural North Carolina, open to all but intended primarily to benefit Black people. Named Soul City, the community secured funding from the Nixon administration, planning help from Harvard and the University of North Carolina, and endorsements from the New York Times and the Today show. Before long, the brand-new settlement – built on a former slave plantation – had roads, houses, a health care center, and an industrial plant. By the year 2000, projections said, Soul City would have fifty thousand residents.

But the utopian vision was not to be. The race-baiting Jesse Helms, newly elected as senator from North Carolina, swore to stop government spending on the project. Meanwhile, the liberal Raleigh News & Observer mistakenly claimed fraud and corruption in the construction effort. Battered from the left and the right, Soul City was shut down after just a decade. Today, it is a ghost town – and its industrial plant, erected to promote Black economic freedom, has been converted into a prison.

In a gripping, poignant narrative, acclaimed author Thomas Healy resurrects this forgotten saga of race, capitalism, and the struggle for equality. Was it an impossible dream from the beginning? Or a brilliant idea thwarted by prejudice and ignorance? And how might America be different today if Soul City had been allowed to succeed?
Praise For Soul City: Race, Equality, and the Lost Dream of an American Utopia…
"The Soul City project was a fascinating one, and Healy does a wonderful job explaining how and why it ultimately failed. The book is meticulously researched, and Healy expertly provides ample context; he paints an excellent, and accurate, picture of America in the 1970s, a country still in denial about the racism that was poisoning the nation to its core. He also manages to craft a deft, readable narrative out of the ups and downs of the project."
—NPR

"One of the greatest least-told stories in American history... Healy does an excellent job recounting the details."
—The New York Times Book Review

"Deeply moving... The tale of Soul City stands as a powerful – particular, vivid, and easily grasped – rebuke to narratives that deny the effects of structural racism."
—The New Republic

"Evocative... Paints a haunting picture of a broken dream and the loss of what might have been."
—The Atlanta Journal-Constitution

"A lively narrative... What makes the book successful is that Healy threads the needle between presenting a realistic take on a highly quixotic endeavor without making his protagonist out to be some kind of wooly idealist whose dreams foundered on the rocky shoals of realism."
—PopMatters

"A sympathetic, deeply researched, and heartbreaking account."
—New York Journal of Books

"Wistful and well-documented history... Full of incisive character sketches and thought-provoking insights into the politics of Black empowerment, this is a worthy elegy for what might have been."
—Publishers Weekly

"Succeeds admirably... An engrossing and often heartbreaking look at a singular attempt to achieve some measure of racial equality in the US."
—Kirkus Reviews (starred review)

"An absorbing account of a visionary project... Healy engages with issues of race and segregation and provides insightful analysis of the project's successes and failures."
—Library Journal (starred review)

"A meticulously researched and engagingly written history of Soul City, Floyd McKissick's utopian 1970s vision for a new city providing Black economic empowerment. In tracing its demise, Thomas Healy brilliantly unpacks the attacks on the town by North Carolina's politicians and the press. As well as providing a detailed exploration of the power of institutional racism, Healy also celebrates the courage of the Soul City residents, 'pursuing their dream and refusing to accept falling short as a sign of failure.'"
—Henry Louis Gates Jr., author of Stony the Road and host of Finding Your Roots

"Thomas Healy tells a gripping, revealing, and ultimately tragic story of Black dreams of freedom derailed by false promises of capitalism and conservative white allies. One need not share Floyd McKissick's faith that a Black utopia could be underwritten by corporate power to feel his pain, as the dream of Soul City—and all the hope it represented—unravels before his eyes."
—Michelle Alexander, author of The New Jim Crow

"For those seeking a better understanding of the racial divide that faces America today, Thomas Healy's Soul City is a must-read. Planned in the late 1960s as a haven for African Americans seeking both political autonomy and a piece of the American dream, the Soul City project became a depressing example of the obstacles that arise to confront progressive change. Sometimes, a largely forgotten story like this one sheds more light on our history than a famous, familiar tale. An elegantly written, razor-sharp account, Soul City should stir the conscience of us all."
—David Oshinsky, Pulitzer Prize–winning author of Bellevue and "Worse Than Slavery"

"Out in the North Carolina countryside sit the decaying remains of the predominantly Black town that civil rights icon Floyd McKissick dreamt of building half a century ago. In his compelling and moving new book, Thomas Healy recovers Soul City's long-lost story of radical imagination, political ambition, and the devastating costs of America's enduring racial regime."
—Kevin Boyle, author of Arc of Justice

Metropolitan Books, 9781627798624, 448pp.
Publication Date: February 2, 2021
About the Author
Thomas Healy is the author of The Great Dissent, which won the Robert F. Kennedy Book Award. He is a professor at Seton Hall Law School and has received fellowships from the Guggenheim Foundation and the Hutchins Center for African & African American Research at Harvard University. A native of North Carolina, he lives in New York City with his wife and two daughters.