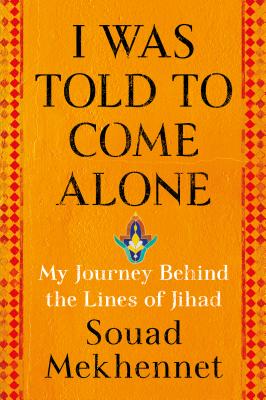 I Was Told to Come Alone
My Journey Behind the Lines of Jihad
Hardcover

* Individual store prices may vary.
Other Editions of This Title:
Digital Audiobook (6/12/2017)
Paperback (6/26/2018)
Compact Disc (6/13/2017)
Compact Disc (6/13/2017)
MP3 CD (6/13/2017)
Compact Disc (6/13/2017)
MP3 CD (6/13/2017)
Description
"I was told to come alone. I was not to carry any identification, and would have to leave my cell phone, audio recorder, watch, and purse at my hotel. . . ."

For her whole life, Souad Mekhennet, a reporter for The Washington Post who was born and educated in Germany, has had to balance the two sides of her upbringing – Muslim and Western. She has also sought to provide a mediating voice between these cultures, which too often misunderstand each other.

In this compelling and evocative memoir, we accompany Mekhennet as she journeys behind the lines of jihad, starting in the German neighborhoods where the 9/11 plotters were radicalized and the Iraqi neighborhoods where Sunnis and Shia turned against one another, and culminating on the Turkish/Syrian border region where ISIS is a daily presence. In her travels across the Middle East and North Africa, she documents her chilling run-ins with various intelligence services and shows why the Arab Spring never lived up to its promise. She then returns to Europe, first in London, where she uncovers the identity of the notorious ISIS executioner "Jihadi John," and then in France, Belgium, and her native Germany, where terror has come to the heart of Western civilization.

Mekhennet's background has given her unique access to some of the world's most wanted men, who generally refuse to speak to Western journalists. She is not afraid to face personal danger to reach out to individuals in the inner circles of Al Qaeda, the Taliban, ISIS, and their affiliates; when she is told to come alone to an interview, she never knows what awaits at her destination.

Souad Mekhennet is an ideal guide to introduce us to the human beings behind the ominous headlines, as she shares her transformative journey with us. Hers is a story you will not soon forget.
Praise For I Was Told to Come Alone: My Journey Behind the Lines of Jihad…
A Washington Post 2017 Best Book, Guardian Best Politics Book of 2017, Christian Science Monitor Best Book of 2017, Publishers Weekly Best Summer Book of 2017, and Minnesota Public Radio Best Book to Give and Get: Nonfiction Picks of 2017

Winner of the 2018 Nannen Prize

"An enthralling and sometimes shocking blend of reportage and memoir from the centers of jihadi networks in the Middle East and North Africa. . . . Mekhennet has a singular perspective on the modern crisis of terrorist violence, intimate and constantly questioning."—The New Yorker

"A work of significant merit.... One could hardly imagine a more suited writer.... [Mekhennet] is, first and foremost, a brave, resourceful, canny and tireless reporter."—The Washington Post

"Much more than a book of journalism, admirable as hers is: it is a remarkable record of a Muslim woman struggling to understand those who kill in the name of her religion, and to explain their actions to the uncomprehending Western world to which she belongs. . . . There is much wisdom in her observations."—The Economist

"Compelling and evocative.... a mediating voice between...cultures, which too often misunderstand each other."—Chicago Review of Books

"Souad Mekhennet delivers a brilliant narrative of risky first-person interviews and encounters across the Middle East, North Africa, and Europe"—Elle

"A much-needed cry of tough, informed humanism, needed now more than ever."—Christian Science Monitor

"At the top of my list: I Was Told to Come Alone: My Journey Behind the Lines of Jihad by Souad Mekhennet, a courageous Muslim journalist who risks her life to get the truth from ISIS leaders." —Gail Sheehy, Politico

"This excellent book is full of unexpected insights into the hazards of covering one of the defining issues of our age and the mechanics of Islamist terror and radicalization...Mekhennet's clear compassion, a sterling quality for a journalist, means that the book offers real insight alongside a captivating, thriller-style read."—Haaretz

"This thought-provoking memoir will keep your book club up chatting late into the night."—Bookish

"In her new book, I Was Told To Come Alone, [Mekhennet] combines memoir with in-depth stories about her reporting to create a complex portrait of identity, conflict and ideology...I Was Told to Come Alone's strongest message is that there's a need for universal understanding in the face of overwhelming flashes of hate."—Paste Magazine

"Mekhennet's book is a cri de cœur to the West to try to understand "the hearts and minds" of extremists to better defeat them."—Jewish Journal (Los Angeles)

"Souad Mekhennet imbues every chapter with passion and perspective . . . . The result is a surreal, heart-pounding story that reads more thriller than memoir. I Was Told To Come Alone is a modern-day odyssey that every reader interested in the rise of international terrorism, or in global affairs generally, should take the time to experience."—Providence Magazine

"A spellbinding fusion of history, memoir, and reportage in this enthralling account of her personal experience as a journalist and a Muslim on assignment in Europe, the Middle East, and North Africa." —Publishers Weekly (starred review)

"A riveting memoir and a literary bombshell that effectively eviscerates every preconception, misconception, and prejudice readers have about the Arab world, I Was Told To Come Alone reinforces the singular significance of journalism, especially foreign journalism, at a time when it is facing its greatest challenges...Fearless prose that reveals bracing truths...Compelling, insightful, and shockingly relevant, Mekhennet's chronicle is a must-read and nothing less than a revelation."—Booklist (starred review)

"The thrilling narrative brings up critical, persuasive insights while trying to answer the questions of where terrorism comes from and why it's so difficult to eradicate."—Library Journal (starred review)

"Revealing...Mekhennet provides an eye-opening picture." —Kirkus Reviews

"Riveting memoir.... in I Was Told to Come Alone: My Journey Behind the Lines of Jihad, [Souad Mekhennet] brings the reader along on her harrowing travels through war-torn corners of the world giving a human face to people often lost behind the headlines."—Real Simple

"More than just a great narrative, I Was Told to Come Alone is a story for our time: a penetrating look at the roots of Islamist radicalism from a gifted and extraordinarily courageous journalist. Souad Mekhennet dares to confront the issues head-on, often at great personal risk, and she weaves her own experiences into an unforgettable and deeply absorbing tale. If you want to truly understand the nature of the crisis facing the West in the twenty-first century, this is the place to start."—Joby Warrick, Pulitzer Prize-winning author of Black Flags: The Rise of ISIS

"I Was Told to Come Alone reads like a thriller, as Souad Mekhennet takes us on a journey into the heart of the Muslim world. Mekhennet is a Western journalist who is female and Muslim, which gives her access that few reporters can match. Through her eyes we see how terrorism develops and that it produces no winners on either side. Her insights are sobering but deeply wise, and especially urgent today."—Jessica Stern, coauthor of ISIS: The State of terror and author of Terror in the Name of God

"Souad Mekhennet has written a fascinating memoir that functions on two levels. In the first, she is the daughter of Muslim immigrants to Germany, seeking ways to bridge these two worlds. In the second, she is an intrepid reporter investigating some of the most dangerous and important stories of recent years, and gaining unparalleled access to leading jihadist militants. Both stories are hers, and together they are truly compelling."
—Peter Bergen, author of United States of Jihad: Who Are America's Homegrown Terrorists and How Do We Stop Them?

"If only every journalist with Souad Mekhennet's culture-straddling perspective and access would write an incisive book like this. It will haunt you, because the truth on the page is vaster than anything we're usually offered."—Azadeh Moaveni, author of Lipstick Jihad and Honeymoon in Tehran
Henry Holt and Co., 9781627798976, 368pp.
Publication Date: June 13, 2017
About the Author
Souad Mekhennet is a correspondent for The Washington Post's national security desk, and she has reported on terrorism for The New York Times, The International Herald Tribune, and NPR. She is the co-author of The Eternal Nazi,Children of Jihad, and Islam. She was a 2012 Nieman Fellow at Harvard University, and she is a visiting fellow at the Weatherhead Center for International Policy at Harvard, the Johns Hopkins School of Advanced International Studies, and the Geneva Center for Security Policy.
Coverage from NPR
or
Not Currently Available for Direct Purchase