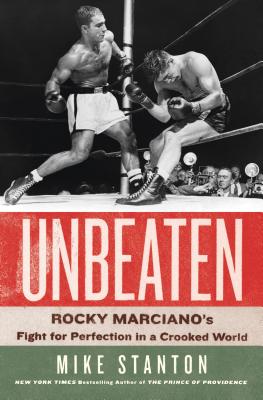 Unbeaten
Rocky Marciano's Fight for Perfection in a Crooked World
Hardcover

* Individual store prices may vary.
Other Editions of This Title:
Paperback (8/27/2019)
Compact Disc (6/26/2018)
Library Binding, Large Print (7/25/2018)
MP3 CD (6/26/2018)
Compact Disc (6/26/2018)
Description
From the bestselling author of The Prince of Providence, a revelatory biography of Rocky Marciano, the greatest heavyweight champion of all time.

The son of poor Italian immigrants, with short arms and stubby legs, Rocky Marciano accomplished a feat that eluded legendary heavyweight champions like Joe Louis, Jack Dempsey, Muhammad Ali, and Mike Tyson: He never lost a professional fight. His record was a perfect 49-0.
Unbeaten is the story of this remarkable champion who overcame injury, doubt, and the schemes of corrupt promoters to win the title in a bloody and epic battle with Jersey Joe Walcott in 1952. Rocky packed a devastating punch with an innocent nickname, "Suzie Q," against which there was no defense. As the champ, he came to know presidents and movie stars – and the organized crime figures who dominated the sport, much to his growing disgust. He may have "stood out in boxing like a rose in a garbage dump," as one sportswriter said, but he also fought his own private demons.
In the hands of the award-winning journalist and biographer Mike Stanton, Unbeaten is more than just a boxing story. It's a classic American tale of immigrant dreams, exceptional talent wedded to exceptional ambitions, compromises in the service of a greater good, astounding success, disillusionment, and a quest to discover what it all meant. Like Suzie Q, it will knock you off your feet.
Praise For Unbeaten: Rocky Marciano's Fight for Perfection in a Crooked World…
Named a Best Book of the Year by The Boston Globe and Library Journal
A Wall Street Journal 2018 "Reader Favorite"
"Mike Stanton brings back Marciano, and with him, a whole era in American social, industrial and athletic history."—David Margolick, The Wall Street Journal
"In Unbeaten, Mike Stanton aims to bring the legend to life for a new generation. He delivers a meticulously researched and eminently readable account of the only heavyweight champion who exited a savage sport with a perfect professional record — 49-0 with 43 knockouts, 26 of them in the first three rounds. . . . [He] does a deft and detailed job of recreating Marciano's journey through a violent and venal profession, with a direct style that pulls no punches."—The Boston Globe
"It's an amazing story, and it was an amazing era, and it's all captured brilliantly. . . . Stanton is so good at describing the shadowy boxing world of Providence in the late 1940s and early '50s you can almost smell the cigar smoke. For Unbeaten is far more than just a sports book, or even a biography of an iconic American sports figure."—Providence Journal
"This meticulously documented and well-written work should stand for both fans and scholars as Marciano's definitive biography."—Library Journal (starred review)
"The definitive Marciano biography. . . . [Stanton] runs down every source, providing rich detail —and fresh discoveries— about Marciano's career. . . . Engrossing and gritty."— Paul Beston, National Review
"Uniformly superb. . . . Mike Stanton has told the champ's life story in greater detail and with more pleasing complexity than any previous book has done."—Open Letters Review
"Unbeaten is one of the best sports books I've read in years. It's an irresistible story told with beautiful writing and a keen eye for detail. Like Rocky Marciano, this book hits hard and won't be easily put down." —Jonathan Eig, author of Ali: A Life

"Marciano's improbable rise to the heavyweight championship of the world is a remarkable story, and Stanton tells it well. He conducted an enormous amount of research and has woven his findings into an engaging narrative. . . . He recreates places and events in impressive detail and brings them to life. . . . People who are just names in history books come alive as vividly-drawn characters."—Thomas Hauser, The Sporting News
"A satisfying biography of the iconic boxer, the only heavyweight champion to retire undefeated. . . [and] a sturdy contribution to the literature of the sweet science, reminding readers of a bygone era of fighting." —Kirkus Reviews
"This is a story that has waited a long time to be told this well, by a gifted writer and reporter like Mike Stanton. It is a story about the way things used to be in boxing, in the sport -- and the America -- that produced the myth and the reality of Rocky Marciano. Finally, at long last, the real Rocky has met his match."
—Mike Lupica, columnist, New York Daily News
"Mike Stanton has done phenomenal work – where did he find so many great stories? Rocky Marciano was a legendary champion whose path to glory was so much more complicated than his undefeated record suggests. And his story transcends sports; it's a window into a changing America in the middle of the twentieth century. I was a big fan of Stanton's book on Buddy Cianci, and I'm an even bigger fan of this one."—Nicholas Pileggi, author of Wiseguy and Casino
"Sitting down in the ring with Muhammad Ali to share slices of grapefruit, visiting the dying mob boss Vito Genovese in a Kansas prison -- Mike Stanton's book on Rocky Marciano teems with marvelous scenes and revealing insights into the chaotic boxing world of the unbeaten heavyweight champ."—David Maraniss, author of When Pride Still Mattered: A Life of Vince Lombardi

"Take a seat in the smoky arena. (Please remove your hat.) Listen to the jabber-jabber talk around you. Make a wager, preferably on the stubby white guy from Brockton, Mass. Plug into the excitement, the jostle, the sweat and the grind, the 1950s action when boxing was important and the heavyweight champion of the world was the king of all athletes. Mike Stanton makes Rocky Marciano walk the earth again in Unbeaten and nothing is going to stand in his way. This book is wonderful." —Leigh Montville, author of Sting Like a Bee: Muhammad Ali vs. the United States of America, 1966-1971

Henry Holt and Co., 9781627799195, 400pp.
Publication Date: June 26, 2018
About the Author
Mike Stanton is the author of The Prince of Providence: The Rise and Fall of Buddy Cianci, America's Most Notorious Mayor, which was a New York Times bestseller. He is an associate professor of journalism at the University of Connecticut, having previously headed the investigative team at the Providence Journal, where he shared a Pulitzer Prize. He lives in Rhode Island with his wife and two children.
or
Not Currently Available for Direct Purchase