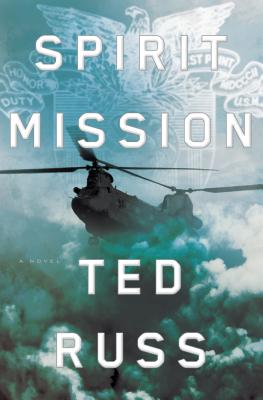 Spirit Mission
A Novel
Hardcover

* Individual store prices may vary.
Other Editions of This Title:
Compact Disc (11/1/2016)
MP3 CD (11/1/2016)
Compact Disc (11/1/2016)
Description
One of Military Times Best Books of 2016
To honor bonds forged twenty-five years ago at West Point, Lieutenant Colonel Sam Avery leads an illegal mission deep into ISIS-held territory.
An MH-47G Chinook helicopter departs formation in the Iraqi night. The mission is unauthorized. Success is unlikely. But to save a friend, Sam Avery and his crew of Night Stalkers have prepared for one last flight.
ISIS operatives in Tal Afar, Iraq, have captured American aid worker Henry Stillmont. Avery knows Stillmont as "the Guru," the West Point squad leader who taught him about brotherhood, loyalty, and when to break the rules as a young cadet twenty-five years ago. Sam will risk his career and his life to save him.
As they near their target, Sam reflects on his time in the crucible of the United States Military Academy. West Point made Sam the leader he is. But his fellow cadets made him the man that he is. The ideals of duty, honor, and country have echoed throughout his life and drive him and his comrades as they undertake their final and most audacious spirit mission.
Praise For Spirit Mission: A Novel…
"Exciting, cleverly constructed…a spirit mission against seriously deadly odds."
—Publishers Weekly
"The suspense crescendos into a satisfying surprise ending."
—Library Journal
"Russ, a West Point graduate and helicopter pilot, brings great authenticity to his account of military life...the flashbacks are outstanding....[a] promising writer."
—Booklist
"The West Point chapters prove the most compelling, turning this from a straight adventure story to a deeper psychological study of military school and its rites of passage…a fast-moving yarn with believable, three-dimensional characters."
—Kirkus Reviews
"Ted Russ has crafted a masterful thriller torn from today's headlines, yet what's more is he has written a book with an enormous soul, a novel about brotherhood, conflicted loyalties, and some of the finest writing I can remember on the topic of flying."
—Elliot Ackerman, author of Green on Blue
"The account of cadet life at West Point is absolutely fascinating in every respect. One really learns properly how the place is run and why it has the reputation it does. The story of action taking place against all the rules is riveting also, and for a first novel he has managed superbly the technique of moving backwards and forwards over the years in this story of how cadets put themselves into action."
—Jack Higgins, New York Times bestselling author of The Eagle Has Landed
"Ted Russ has written a wonderful book on West Point. Spirit Mission does a marvelous job of illuminating the humor, stress, and dilemmas of cadet life. It is a story of war and character, duty and honor, and stealing the Navy goat."
—General (ret.) Wesley K. Clark
"There's a common denominator in Ted Russ's experience as a West Point cadet and a pilot with the US Army's elite Special Operations Aviation Regiment—the bonds that develop among soldiers who share hardships. Here, in crackling prose that brings readers scenes that are full of both intense action and heartfelt emotion, Russ explores themes that have been with us since Homer's epics."
—Ed Ruggero, author of Combat Jump and The First Men In
Henry Holt and Co., 9781627799669, 336pp.
Publication Date: November 1, 2016
About the Author
Ted Russ lives in the mountains with his wife, Anna, and their dog, Henry. In a prior life, he served as an army officer after graduating from West Point. He left the military after nine years of service in 2000 with experience as a special operations helicopter pilot and a philosophy degree. Possessing no marketable skills, he went back to school and got an MBA and now balances writing with his business career.