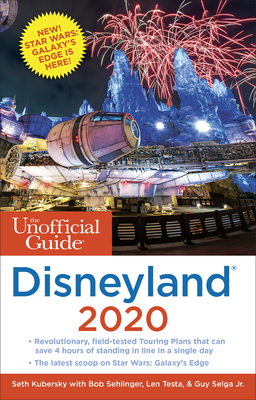 The Unofficial Guide to Disneyland 2020 (Unofficial Guides) (Paperback)
Unofficial Guides, 9781628090987, 392pp.
Publication Date: September 17, 2019
* Individual store prices may vary.
Description
The most thorough guide to Disneyland Park and Disney California Adventure
Filled with revolutionary, field-tested touring plans that can save 4 hours of waiting in line in a single day, The Unofficial Guide to Disneyland 2020 is the key to planning a perfect vacation.
Get up-to-date information on Disneyland Park and Disney California Adventure. Each attraction is described in detail and rated by age group, based on a survey of more than 20,000 families. Whether you're visiting Disneyland for a day or a week, there is a plan for any group or family. Enjoy the rides, activities, and entertainment instead of wasting time standing in line.
About the Author
Seth Kubersky is nationally recognized as an authority on theme parks and amusement attractions. He has worked for more than 20 years as a theatrical artist, culture critic, and travel journalist. In addition to writing The Unofficial Guide to Universal Orlando and coauthoring The Unofficial Guide to Disneyland, Seth also contributes to the Unofficial Guides to Walt Disney World and Las Vegas. A resident of Orlando since 1996, Seth is a former employee of Universal Orlando's entertainment department. Named Best Arts Writer in The Daily City's 2013 readers' poll, Seth covers arts and attractions for the Orlando Weekly newspaper, Attractions Magazine, AAA's Via Magazine, and other publications. You can find Seth online at sethkubersky.com or on Twitter @skubersky. Bob Sehlinger, a Lowell Thomas Award-winning journalist, is best known as the creator and producer of The Unofficial Guide series. A contributor to several top-selling guidebooks, Len Testa leads the team at TouringPlans.com, a research arm of The Unofficial Guides. Guy Selga Jr. is a passionate Disney fan, a blogger, and a researcher at TouringPlans.com.