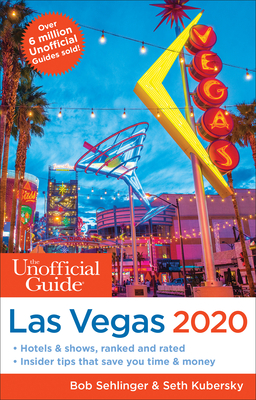 The Unofficial Guide to Las Vegas 2020 (Unofficial Guides) (Paperback)
Unofficial Guides, 9781628091021, 512pp.
Publication Date: October 8, 2019
Other Editions of This Title:
Paperback (9/18/2018)
Paperback (9/27/2016)
Paperback (9/15/2015)
Paperback (9/1/2011)
Paperback (9/16/2014)
Paperback (9/17/2013)
* Individual store prices may vary.
Description
How to have fun and understand the crazy environment of a Vegas vacation
The Unofficial Guide to Las Vegas 2020 emphasizes how to have fun and understand the crazy environment that is today's Vegas. With insightful writing, up-to-date reviews of major attractions, and a lot of local knowledge, The Unofficial Guide to Las Vegas has it all. It is the only guide that explains how Las Vegas works and how to make every minute and every dollar of your time there count.
Eclipsing the usual list of choices, the guide unambiguously rates and ranks everything from hotels, restaurants, and attractions to rental car companies. The book contains sections about the history of the town, and the chapters on gambling are fascinating.
About the Author
Bob Sehlinger, a Lowell Thomas Award-winning journalist, is best known as the creator and producer of The Unofficial Guide series. Seth Kubersky has worked for more than 20 years as a theatrical artist, culture critic, and travel journalist. Seth is the author of The Unofficial Guide to Universal Orlando and coauthor of The Unofficial Guide to Disneyland, as well as a collaborator on The Unofficial Guide to Las Vegas and The Unofficial Guide to Walt Disney World. Seth is nationally recognized as an authority on theme parks and amusement attractions, and contributes to Attractions Magazine, AAA Via, and the Unofficial Universal Orlando Podcast. Named Best Arts Writer in The Daily City's 2013 readers' poll, Kubersky writes an arts and entertainment column, "Live Active Cultures," that appears in every issue of the Orlando Weekly, central Florida's leading alternative newspaper. A native of Livingston, New Jersey, Kubersky earned a B.A. in theater from The College of William and Mary in Virginia. He has produced and directed dozens of plays through his award-winning Empty Spaces Theatre Co. and at the Orlando International Fringe Theatre Festival. As a stage technician and entertainment supervisor at Universal Orlando from 1996 to 2000, he worked on the Ghostbusters Spooktacular and Terminator 2: 3-D attractions, Mardi Gras parades, and Halloween mazes. Seth lives in Orlando with his wife, Genevieve, and their cat, Brubeck.