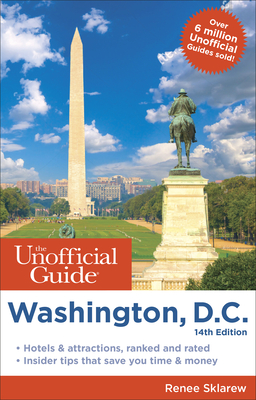 The Unofficial Guide to Washington, D.C. (Unofficial Guides) (Paperback)
Unofficial Guides, 9781628091045, 288pp.
Publication Date: December 24, 2019
* Individual store prices may vary.
Description
Honest and Outspoken Advice Helps Plan Your Next Trip
Written by Washington, D.C.'s Renee Sklarew, this is the insider's guide to Washington at its best with more than 50 restaurants and nearly 100 hotels reviewed and ranked for value and quality--plus secrets for getting the lowest rates. With advice that is direct, prescriptive, and detailed, it takes the guesswork out of travel by unambiguously rating and ranking everything from attractions to rental car companies. The Unofficial Guide to Washington, D.C., digs deeper and offers more than any other guide. With an Unofficial Guide, you know what's available in every category, from the best to the worst. Step-by-step detailed plans allow you to make the most of your time in Washington, D.C.
There's a reason why more than 6 million Unofficial Guides have sold: these books work The guides have been cited by such diverse sources as USA Today and Operations Research Forum.
About the Author
Renee Sklarew is a native Washingtonian who enjoys exploring her city's many attractions, especially its incomparable museums and national parks. As a young girl, her family lived in Switzerland, where she began her passion for travel. Renee is a Study Leader for Smithsonian Associates and leads tours of historic sites and parks in the Washington, D.C., area. She contributes travel articles and photos to newspapers and magazines, including The Washington Post, Washingtonian, Northern Virginia Magazine and AAA Traveler. Renee serves as dining editor for VivaTysons magazine and is the co-author of the popular book, 60 Hikes Within 60 Miles: Washington, D.C.