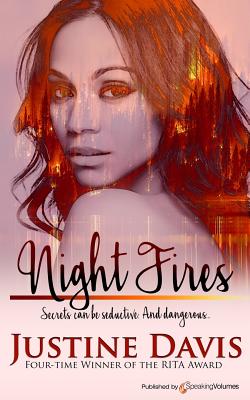 Night Fires
Paperback

* Individual store prices may vary.
Description
Secrets can be seductive. And dangerous...

A small town in the Pacific Northwest, Keating's Port is the only home Jodi Campion has ever known, the only place where she has ever felt safe. But it is also a place haunted by tragedy-where she will be forced to question what she has always believed to be true. . . .

It began with the disappearance of a young boy. Everyone in town suspected that J.T. Trager, a reclusive newcomer, was responsible-everyone, that is, except Jodi Campion. She's certain he would never harm a child.

But as she looks into his angry, wounded eyes, she senses that his secrets are deep-and possibly dangerous.

Now, walking the line between fear and desire, Jodi will discover that J.T. is no stranger to tragedy-and that Keating's Port may not be safe anymore....

Praise for Justine Davis (Dare)

"When it comes to intrigue, passion and deft characterizations, no one delivers like the incomparable Justine Dare."-Romantic Times

"A dynamite page-turner."-Catherine Coulter

"No one delivers like the incomparable Justine Dare."-Romantic Times.
Speaking Volumes, LLC, 9781628154986, 356pp.
Publication Date: August 1, 2016
About the Author
Justine Davis (Dare) was born during a snowstorm in Iowa but raised in sunny California. She began working right out of school. She worked in law enforcement which she found exciting and never, ever boring. She didn't think seriously about writing for several years. She sold her first novel in 1989. She spent the next two years selling nineteen more books. She has won the coveted RWA RITA Award four times, and has been inducted into the RWA Hall of Fame. Her books have appeared on national best-seller lists, including USA Today. Reading, music and photography are few of the pursuits she follows in her free time. Another favorite hobby is cruising around in her restored 1967 Corvette, with the top down, of course.