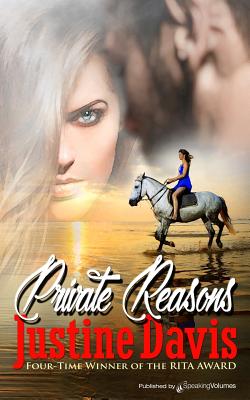 Private Reasons (Paperback)
Speaking Volumes, LLC, 9781628156836, 196pp.
Publication Date: February 27, 2017
* Individual store prices may vary.
Description
KYLIE THIS, KYLIE THAT

Riding instructor Kylie Rainwood had been getting on Tyler West's nerves. His teenage daughter chattered about Kylie morning, noon and night, so why shouldn't Ty resent the woman who'd stolen his child's affections- even as he grew more out of touch?

The moment Ty confronted Kylie, she knew she was in trouble. Every inch of his masculine body was taut with anger and frustration...all directed at her.

The painful past might have taught Ty to bottle his feelings, but for his daughter's sake, Kylie was determined to help him open up. She never bargained on uncovering his dark, long- buried secrets...or unleashing the torrent of raw passion that swiftly engulfed them both....
About the Author
Justine Davis (Dare) was born during a snowstorm in Iowa but raised in sunny California. She began working right out of school. She worked in law enforcement which she found exciting and never, ever boring. She didn't think seriously about writing for several years. She sold her first novel in 1989. She spent the next two years selling nineteen more books. She has won the coveted RWA RITA Award four times, and has been inducted into the RWA Hall of Fame. Her books have appeared on national best-seller lists, including USA Today. Reading, music and photography are few of the pursuits she follows in her free time. Another favorite hobby is cruising around in her restored 1967 Corvette, with the top down, of course.