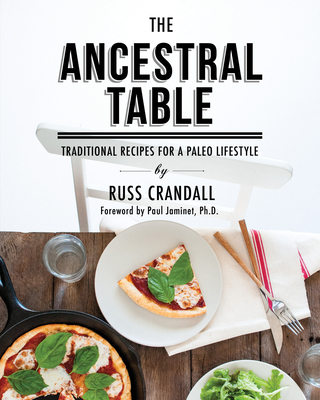 The Ancestral Table
Traditional Recipes for a Paleo Lifestyle
Paperback

* Individual store prices may vary.
Description
In The Ancestral Table, acclaimed home chef and blogger Russ Crandall (the mastermind behind The Domestic Man) combs through the pages of history and refines a selection of beloved traditional recipes, redeveloping them to complement a gluten-free, ancestral, and whole foods lifestyle.

This stunning cookbook features more than 100 recipes that will help experienced and budding chefs alike create classic, familiar, and overwhelmingly delicious feasts. Humans have been cooking for thousands of years, taking small steps and great leaps in the culinary arts. In his book, Crandall delivers time-tested recipes that incorporate wholesome, rewarding, nutrient-rich ingredients. He demystifies daunting techniques and provides unexpected preparations for a number of familiar foods. Inside, you'll find American and international classics such as:
• Chicken-Fried Steak to rival Grandma's recipe
• timeless French Onion Soup
• Bi Bim Bap with authentic, hassle-free Kimchi
• an incomparable Teriyaki Sauce
• fragrant, satisfying Butter Chicken

Perfectly crafted, beautifully photographed, and tirelessly researched, The Ancestral Table is a contemporary take on ancestral eating that is equally at home on your kitchen counter, in your book bag, or on your nightstand.
Praise For The Ancestral Table: Traditional Recipes for a Paleo Lifestyle…
"If you're tired of boring or overly restrictive Paleo recipes, this book is for you. Russ's love of traditional and international cuisine and culinary experience shine through in his delicious and satisfying recipes."
— Chris Kresser, M.S., L.AC, author of Your Personal Paleo Code and the blog ChrisKresser.com

"The Ancestral Table is a feast of lovingly crafted recipes that make the most of bold tastes and traditional cooking methods. The recipes — a world tour of international flavors – flex the paleo template to include quality starches and some dairy,while remaining true to a well-reasoned, real food philosophy. It's clear that Russ takes good food and good health seriously – but he infuses the primal acts of cooking and eating with undeniable pleasure and joy."
— Melissa Joulwan, author of the cookbooks Well Fed and Well Fed 2:More Paleo Recipes For People Who Love To Eat and the blog The Clothes Make The Girl

"I absolutely adore cookbooks that give me a sense of place, history, and flavor—along with deliciously authentic recipes. By weaving together a vibrant tapestry of words and photographs, Russ Crandall's Ancestral Table offers all of this and more, transporting and nourishing readers in both mind and palate. Bravo!"
— Michelle Tam, co-author of Nom Nom Paleo: Food for Humans and author of the blog Nom Nom Paleo

"In The Ancestral Table,Russ Crandall dispenses with the typical Paleo prohibitions against white rice, potatoes, and dairy products, choosing to embrace the wisdom of ancient culinary traditions instead. Nutrient dense broths, fermented vegetables, and layers of flavors are featured prominently in recipes that are approachable, healthful, and, perhaps most importantly, absolutely delicious. This is the kind of food that can truly be enjoyed for a lifetime!"
— Tony Federico, B.S., author of Paleo Grilling: A Modern Caveman's Guide to Cooking with Fire, host of the Paleo Magazine Radio Podcast, and author of the blog Live Caveman

"The Ancestral Table contains a beautiful collection of dishes that will really get you excited in the kitchen. Russ's recipes are in the true spirit of slow food, covering the basics to the more advanced cooking techniques. If you're a foodie, this book is for you!"
— Diana Rodgers, NTP, author of Paleo Lunches and Breakfasts on the Go and the blog Sustainable Dish

"The Domestic Man is an absolute stand-out chef in the ancestral health community. No one combines classical cooking techniques,outstanding and broad flavors, and international flair quite like Russ. With unique and unctuous recipes, The Ancestral Table is a book that will find a prominent place in our home: open, splattered, and next to my stove."
— Stacy Toth, co-author of the cookbooks Beyond Bacon: Paleo Recipes that Respect the Whole Hog and Eat Like a Dinosaur, and the blog Paleo Parents
Victory Belt Publishing, 9781628600056, 288pp.
Publication Date: February 11, 2014
About the Author
Russ Crandall is the talented home chef behind The Domestic Man, a leading food blog in the Paleo, gluten-free, and whole foods communities. In his twenties, he suffered a number of life-threatening illnesses, was diagnosed with a rare autoimmune condition, and was sent home with a lifetime's worth of medications. Disenchanted with modern medicine, Russ started searching for his own answers and quickly discovered that eating a gluten-free, nutrient-rich diet instantly alleviated most of the medical issues that had plagued him for years. Taking cues from his undergraduate studies in history and his travels around the world, Russ quickly discovered that traditional dishes—those that people ate just a few generations ago—inherently embody healthy principles because they were created at a time before processed foods existed. During the day, he serves as a Russian translator in the U.S. Navy, and in the evening, he can be found tinkering with traditional recipes. He and his family live in Baltimore but consider Hawaii home.
or
Not Currently Available for Direct Purchase