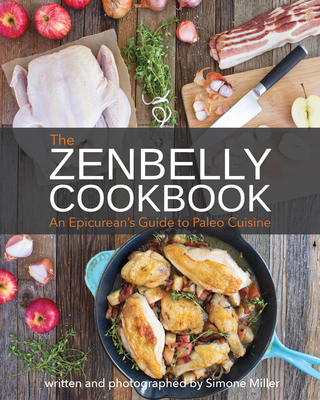 Zenbelly Cookbook
Paperback

* Individual store prices may vary.
Description
With a focus on quality ingredients, technique, and balancing flavors, this book will take the reader on a journey that will leave any feeling of restriction behind. With over 100 real food recipes, The Zenbelly Cookbook covers every course and occasion; from simple weeknight meals that can be made for the family in under 30 minutes, to elegant multiple course dinners that will impress any guest. The Zenbelly Cookbook will also offer entertainment tips such as: what can be made ahead, shortcuts that don't sacrifice quality, and menu suggestions. The goal of The Zenbelly Cookbook is to make incredible, professional quality food accessible to the home cook. Each recipe has a beautiful image of the ingredients laid out, which helps the reader easily see the "before and after". Written with the novice home cook in mind, it includes foolproof instructions. However, the flavor combinations and creativity of the book make it a great choice for the more seasoned cook, as well.
Victory Belt Publishing, 9781628600216, 256pp.
Publication Date: August 12, 2014
About the Author
Simone Miller is a self-taught chef who has been working in the food industry for 17 years. She worked at several restaurants in New York and Connecticut before relocating to San Francisco in 2007. Once in the Bay Area, Simone worked as a personal chef while working to launch a catering company. Shortly after getting Zenbelly off the ground, Simone learned whatwas behind her constant headaches and lethargy: a pretty serious sensitivity to gluten. Discovering she had food allergies put the brakes on the business, but only long enough to pivot. Simone couldn't imagine serving people food she hasn't tasted, and recognized the tremendous need for gluten-free catering. All signs pointed to turning Zenbelly into a gluten-free catering company. And who better to do it than someone who couldn't imagine living a life restricted by food allergies? Simone is a chef on a mission: To prove that gluten-free and paleo cuisine can be just as gourmet, refined, and artfully presented as what you'd find in a fine bistro. She draws on her holistic nutrition education to bring true nourishment to her cooking, and belies the notion that healthy food can't be delicious enough to impress the most serious gourmand. Simone offers a chef's perspective to paleo recipes on her blog, Zenbellyblog.com. There, she shares her grain-free recipes that have made believers out of some of the most die-hard gluten eaters, and has encouraged countless people to roll up their sleeves and have fun creating simple, delicious, healthy food.
or
Not Currently Available for Direct Purchase