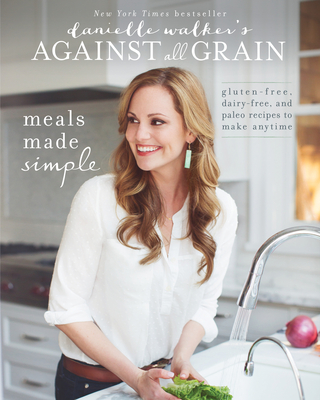 Danielle Walker'S Against All Grain
Meals Made Simple
Paperback

* Individual store prices may vary.
Other Editions of This Title:
Hardcover (9/27/2016)
Description
Diagnosed with an autoimmune disease at twenty-two, Danielle Walker spent many years in and out of the hospital and on high dosages of debilitating medications before taking her health into her own hands and drastically changing her diet. In a true lemons-to-lemonade story, Danielle transformed her adversities into opportunities and created her wildly successful blog, Against All Grain, in an effort to help those in need eat well and feel great, without feeling deprived. With recipes that make cooking for the grain-free family both easy and enjoyable, Meals Made Simple answers the age-old question: "What's for dinner?" Danielle Walker takes the guesswork out of meal planning with eight weeks' worth of dinner ideas, complete with full shopping lists and recipes for using up leftovers. Whether we're moms, students, or business owners, at the end of the day we all want fresh, home-cooked meals that are easy to prepare. And we want lots of variety. Preparing real foods can be time-consuming and monotonous, but Danielle brings both simplicity and creativity to the everyday meal with an enthusiasm for flavors and textures that are often lacking in easy weeknight dishes. Meals Made Simple includes a variety of slow cooker, one-pot, and thirty-minute meals, as well as ways to create entirely new dishes from leftovers. As in her critically acclaimed first cookbook, Against All Grain, Danielle offers special "tidbits" to help ensure that your meals turn out picture-perfect. The vibrant flavors and colors in these grain-free dishes, like slow-cooked Pork Ragu, Beef Stroganoff, Peruvian-Style Chicken, Chicken and Rice Casserole, and Barbecue Salmon with Peach Salsa, add delight to any meal and put an end to all those nights of mundane grilled chicken and steamed vegetables. Even the desserts are quick to make, should a craving or a last-minute celebration arise. Features include • make-ahead options • 8 weeks' worth of dinner ideas • nutritional facts for every recipe • shopping lists for fast grocery runs • suggestions for how best to use leftovers • slow cooker, one-pot, and 30-minute recipes
Praise For Danielle Walker'S Against All Grain: Meals Made Simple…
Meals Made Simple brings culinary excitement to the health enhancing world of low-carb and gluten-free. For anyone who embraces the notion that food matters in terms of health and longevity, this book is a treasure.
— David Perlmutter MD, - Author, #1 New York Times Bestseller:

Some of her popularity might have to do with her easy-to-follow and relatable approach—and the fact that her dairy-free, gluten-free, and Paleo recipes appeal to so many different types of people and dietary concerns...
— Molly Gallagher,

Beautifully presented and clearly explained, Meals Made Simple is a delight for Paleo newbies and longterm Paleo-ites alike. The recipes are straightforward and easy to follow, and I like that there are often tips for using leftovers from other recipes in the book. While many cookbooks leave a trail of half-used jars of obscure ingredients scattered across your kitchen, Danielle actually makes it seem easy to stock your kitchen with versatile Paleo staples, all of which can be used in countless ways....
— The Kitchn

What's healthy, uncomplicated and definitely not boring? Well, practically any of self-trained chef Danielle Walker's recipes in her newest cookbook, Meals Made Simple. In fact, all of the Against All Grain blogger's meals are gluten and dairy-free — meaning you can finally enjoy dinner without feeling too bad about going for that second helping of dessert.
— Rachel Sylvester

Danielle Walker's first book --was (and still is) a gangbuster hit, so trust me when I tell you that her second book, Against All Grain: Meals Made Simple, is just as exciting and eye-opening when it comes to eating a gluten free and/or paleo diet. I was looking to try out a recipe or two from the book but while reading it everything looked so amazing I ended up putting tabs on more than half of the pages.
— Weelicious

Danielle Walker, whose cookbook "Against All Grain" made her a celebrity with the paleo diet and gluten-free crowd, offers conscientious recipes for celebrations and holidays in her new cookbook, "Meals Made Simple." (How conscientious? Her pumpkin spice latte includes real pumpkin.)
— Denver Post

After her debut paleo recipe title Against All Grain soared to the New York Times Bestseller list in 2013, she nails it again with inspiring, beautifully photographed recipes that sound incredible—and are all made sans dairy or grains. This time around, you also get 8 weeks of meal plans and shopping lists.
— Self Magazine
Victory Belt Publishing, 9781628600421, 336pp.
Publication Date: September 2, 2014
About the Author
Food blogger and author of the New York Times best-selling cookbook, Against All Grain (www.againstallgrain.com), Danielle Walker, is the new face of grain-free cooking. A self-trained chef, Danielle tempts a range of appetites with her innovative, accessible Paleo-influenced recipes that are not only healthy and delicious, but are also credited for saving her life. Paying homage to the dishes she loved from her pre-Paleo days, she imaginatively recreates all of her favorites without grains, gluten and most times, dairy. A Diagnosis and Decision For months, Danielle suffered from drastic weight loss, joint pain and malnutrition. After countless doctor visits, she was diagnosed with a severe form of Ulcerative Colitis at age 22, just two months after getting married. Despite her expansive array of medications and prednisone steroids, Danielle found herself hospitalized numerous times each year, admitted repeatedly for multiple blood transfusions due to morbidly low hemoglobin levels. Left with a choice between surgery or a life-long weekly treatment with harsh side effects, Danielle began her own research to explore other options. A friend's success on the Specific Carbohydrate Diet (SCD) led Danielle to give it a try, only eating grain-free, sugar-free, starch-free, and unprocessed foods. Although no doctor would support a dietary change as a part of her treatment, Danielle realized that she could take things into her own hands to achieve real results. Cooking by Necessity Danielle noticed improvement, but committing to a new, drastically different diet was not easy. When her son was just 9 months old, she had an extreme setback which caused her to be hospitalized yet again and required multiple blood transfusions. She began eliminating more food groups including grains, lactose and legumes, following a plan that closely mimicked the Paleo diet. Seeing drastic progress after just 48 hours, Danielle began dedicating her free time to creating delicious comfort foods that could be enjoyed on a restricted diet. She focuses on flavors and textures, refusing to feel deprived despite her limited food choices. Sharing her Success Danielle started her blog, Against All Grain, to help others suffering from similar ailments continue to enjoy food. Her recipes are all entirely grain-free, and consequently gluten-free, free of refined sugars, and minimal to no dairy. Most are appropriate for those following the Paleo, Primal, SCD, GAPS, and gluten-free lifestyles, and more. With her acquired culinary skills, love for food, and an equal love for journalism, she has become a source of hope for others suffering from similar allergies and autoimmune diseases. Coveting a large, but loyal following on her blog, Danielle expanded beyond the internet and released her first cookbook, Against All Grain: Delectable Paleo Recipes to Eat Well & Feel Great, in July 2013. With a large social media and blog following, Danielle has become a beacon of hope in the food community. Danielle lives in San Francisco with her husband and son.