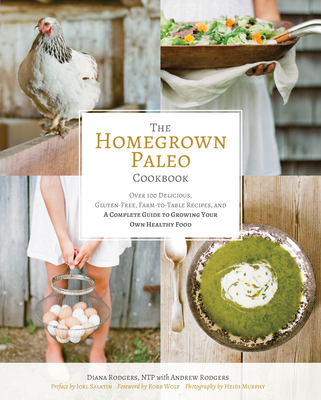 The Homegrown Paleo Cookbook (Hardcover)
Over 100 Delicious, Gluten-Free, Farm-to-Table Recipes, and a Complete Guide to Growing Your Own Healthy Food
Victory Belt Publishing, 9781628600629, 432pp.
Publication Date: March 10, 2015
* Individual store prices may vary.
Description
Seasonal, gluten-free, farm-to-table eating never tasted so good

On her farm in Massachusetts, nutritionist Diana Rodgers has found a way back to a healthy, active lifestyle with a focus on nutritious and delicious eating, raising animals, growing vegetables, and balancing work and play.

Anyone can have the same healthy, balanced lifestyle and a closer connection to their food—whether you live in a house in the suburbs, a farmhouse in the countryside, or an apartment in the city.

The Homegrown Paleo Cookbook shows you how.

With over 100 seasonal Paleo recipes, guides to growing your own food and raising animals, and inspiring how-tos for crafts and entertaining,The Homegrown Paleo Cookbook is a guide not just for better eating,
but for better living—and a better world.
About the Author
Diana Rodgers, NTP is the owner of Radiance Nutritional Therapy where she councils people across the world on the benefits of the Paleo lifestyle. Her first book, Paleo Lunches and Breakfasts on the Go, was an international bestseller. She is the nutrition consultant to several CrossFit gyms, conducts cooking classes and lectures at conferences, businesses and colleges on sustainability issues surrounding food production and human nutrition. She is also the owner of the popular blog, www.sustainabledish.com, focused on food, farming and sustainability. At the publishing of this book, she is 2 months shy of completing her coursework in the D.P.D. program at Simmons College, in order to become a Registered Dietitian. Diana lives on a working organic animal and vegetable farm west of Boston with her husband and two children.

Andrew Rodgers is the Farm Manager at Clark Organic Farm in Carlisle, Massachusetts. He left a career in high tech market research to pursue a Master's Degree in Soil Science at the University of Massachusetts in his mid-20s and has been farming for over 15 years. He runs a vegetable and meat CSA where he raises chickens, ducks, goats, sheep and pigs. Through the farm, Andrew hopes to create a community asset, a place where adults and children can have a connection to where their food comes from.

Heidi Murphy is a Boston-area photographer specializing in food and lifestyle stories and has been named one of the most sought after photographers by Rangefinder Magazine. Her medium of choice is film, and her passion is to tell a story through imagery. When she's not shooting, Heidi loves spending time with her husband and two dogs, and perusing farmer's markets.
Praise For The Homegrown Paleo Cookbook: Over 100 Delicious, Gluten-Free, Farm-to-Table Recipes, and a Complete Guide to Growing Your Own Healthy Food…
Diana Rodgers has written a book about getting your hands dirty in the best possible way. From forest to pasture to garden to table, The Homegrown Paleo Cookbook is a joyous, grateful, and gracious map to food that repairs the body as well as the planet. Directions include everything from keeping a pig to building a fairy house. This is a book to feed the soil, the soul, and the world.
— Lierre Keith, author of

The Homegrown Paleo Cookbook provides the perfect inspiration for those who want to bring the health, beauty, and the freedom of a Paleo diet into other areas of their home, family, and lifestyle.
— Dallas and Melissa Harwtig, New York Times bestselling authors of

A beautiful book that unites the Paleo diet with the sustainable homefront. Don't read this book to change your diet. Read it to change your life.
— Shannon Hayes, author of

Diana makes wholesome, fresh food both accessible and a lot of fun. She shows how to integrate sustainable eating into the life of a busy family. A perfect resource for a working mom like me.
— Emily Deans, MD, clinical instructor, Harvard Medical School

There's a lot more to health than food. Staying active, getting enough rest, spending time in nature, having fun, and experiencing a connection to the places and people around us are all vital to our sense of well-being. In The Homegrown Paleo Cookbook, Diana Rodgers reminds us that living well is the key to feeling well—and provides us with the tools we need to live a rich, fulfilling, and healthy life.
— Chris Kresser, New York Times bestselling author of

Diana Rodgers is the real deal: a passionate farmer, Paleo nutritionist, and sustainability champion. She taught me firsthand how our dietary choices impact not just our health but also the workers who grow our food and the world we live in. Filled with gorgeous, inspirational photography and delicious recipes, The Homegrown Paleo Cookbook is a one-of-kind gem that shows us how to nourish our families with the best food possible.
— Michelle Tam, New York Times bestselling author of

If Martha Stewart went Paleo, the results would look something like The Homegrown Paleo Cookbook. Diana is at the forefront of Paleo 2.0, inspiring readers to go beyond adopting a Paleo diet and embrace a sustainable, back-to-basics lifestyle that puts an emphasis on family, friends, rest, and relaxation—and raising chickens. "Diet alone is not going to save you," she writes.
But this book might. Sign me up.
— Rene Lynch,
or
Not Currently Available for Direct Purchase