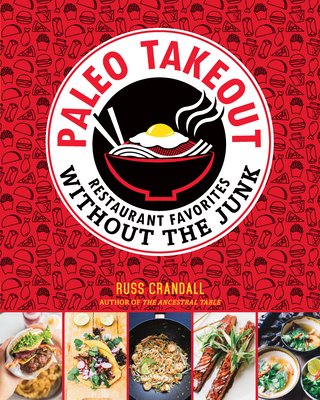 Paleo Takeout (Paperback)
Restaurant Favorites Without the Junk
Victory Belt Publishing, 9781628600872, 320pp.
Publication Date: June 23, 2015
* Individual store prices may vary.
Description
Wildly popular food blogger and critically acclaimed author of The Ancestral Table returns with over 200 weeknight-friendly recipes that taste so good, you'll finally throw out that emergency stack of takeout menus hiding in your kitchen drawer Even though we know full well that most restaurant foods are made using ingredients laden with chemicals and additives, most of us can't seem to shake the desire for even just a taste. Not to mention that nothing is easier than picking up takeout, hitting the drive-thru, or ordering delivery--but at what cost? Paleo Takeout: Restaurant Favorites Without the Junk delivers much healthier but equally satisfying alternatives, offering delectable recipes that mimic the flavors of our drive-thru and delivery favorites--Paleo style Russ Crandall teaches you step-by-step how to prepare meals in under an hour--leaving no sacrifice of taste or time. Our modern lives are hectic: We all face the challenge of creating meals at home that are as quick and flavorful as those from our neighborhood takeout restaurants. It's hard to beat the convenience of restaurant food, even when we know full well that it's seldom a healthy choice. In Paleo Takeout: Restaurant Favorites Without the Junk, celebrated author Russ Crandall re-creates everyone's favorite takeout meals, made in record time using wholesome ingredients, giving you all of the gratification and none of the regret Inspired by beloved restaurant experiences, Paleo Takeout features more than 200 recipes expertly culled from Chinese, Korean, Japanese, Thai, Vietnamese, Indian, Italian, Mexican, Greek, and American cuisines. Inside, you'll find everything from Chow Mein to Moo Shu Pork, and Thai Red Curry to Buffalo Wings, all with a focus of "fridge to face" in under an hour. Also featured is an indispensible meal-planning guide to help you put everything together for a doable, lasting approach to cooking and health. Paleo Takeout: Restaurant Favorites Without the Junk proves that eating right in a way that satisfies even the choosiest of healthy eaters is not only possible, but also a lot of fun.
About the Author
Russ Crandall is the talented home chef behind The Domestic Man, a leading food blog in the Paleo, gluten-free, and whole foods communities. In his 20s he suffered a number of life-threatening illnesses, was diagnosed with a rare autoimmune condition--and was sent home with a lifetime's worth of medications. Disenchanted with modern medicine, Russ started searching for his own answers and quickly discovered that eating a gluten-free, nutrient-rich diet instantly alleviated most of the medical issues that had plagued him for years. Taking cues from traditional cuisines, The Domestic Man inspires readers to look to historical recipes for that ever-elusive key to health. His work has been featured in People Magazine, Food & Wine, and was nominated by Saveur Magazine as one of the Best Food Blogs of 2013. He released his debut cookbook, The Ancestral Table: Traditional Recipes for a Paleo Lifestyle, through Victory Belt Publishing in February 2014.