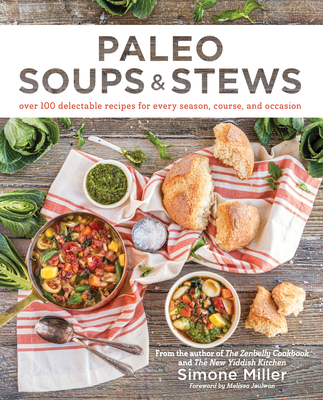 Paleo Soups & Stews
Over 100 Delectable Recipes for Every Season, Course, and Occasion
Paperback

* Individual store prices may vary.
Description
Paleo Soups & Stews features more than 105 nourishing recipes, from foundation broths to a wide variety of soups and stews that cater to every taste, season, occasion, and course. It's all here--from refreshing cold soups like gazpacho and summer borscht to savory pureed soups like Moroccan carrot and wild mushroom bisque to hearty options like matzo ball soup and pork chile verde. It even includes dessert soups and cookies to pair them with, like roasted plum soup with cinnamon roll cookies and chocolate soup with graham cracker marshmallow dippers. This all-encompassing cookbook also offers the one thing Paleo eaters have been missing with their bowls of soup: bread and noodles Paleo Soups & Stews includes chapters dedicated to breads and noodles to dip into, serve in, serve on, or accompany your favorite hearty soup recipes. Paleo Soups and Stews goes beyond the bowl, offering expert preparation tips, recommended substitutions for special diets, and make-ahead suggestions, along with a drool-worthy full-color photo to accompany each recipe. Whether readers prefer to use the stovetop, a pressure cooker, or a slow cooker or want to mix it up, Miller guides them every step of the way toward achieving the perfect meal.
Victory Belt Publishing, 9781628601077, 288pp.
Publication Date: October 25, 2016
About the Author
Simone Miller is a self-taught chef who has been working in the food industry for seventeen years. She worked at several restaurants in New York and Connecticut before relocating to San Francisco in 2007. Once in the Bay Area, Simone worked as a personal chef while working to launch a catering company. Shortly after getting Zenbelly off the ground, she learned what was behind her constant headaches and lethargy: a pretty serious sensitivity to gluten. Discovering that she had food allergies put the brakes on her business, but only long enough for her to pivot. She couldn't imagine serving people food she hasn't tasted and recognized the tremendous need for gluten-free catering. And who better to do it than someone who couldn't imagine living a life restricted by food allergies? Simone is a chef on a mission: to prove that gluten-free and Paleo cuisine can be just as gourmet, refined, and artfully presented as what can be found in a fine bistro. She draws on her holistic nutrition education to bring true nourishment to her cooking and belies the notion that healthy food can't be delicious enough to impress the most serious gourmand. She offers a chef's perspective to Paleo recipes on her blog, zenbelly.com. There, she shares her grain-free recipes that have made believers out of some of the most die-hard gluten eaters and has encouraged countless people to roll up their sleeves and have fun creating simple, delicious, healthy food.