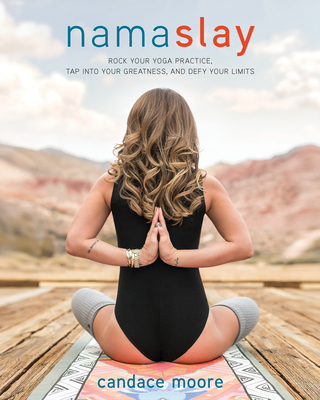 Namaslay (Paperback)
Rock Your Yoga Practice, Tap Into Your Greatness, & Defy Your Limits
Victory Belt Publishing, 9781628601121, 416pp.
Publication Date: October 25, 2016
* Individual store prices may vary.
Description
Candace's approach to yoga, which combines old-world principles with a modern-day perspective comes from her own experience fighting back against a dangerous illness and depression. Her focus on perseverance and overcoming adversity transforms Namaslay into a powerful, motivational guide to help you live your most authentic life.

With a distinct visual format, Namaslay guides readers step by step through more than 100 yoga poses. The poses are broken down by experience level into a series of progressions and include modifications for those who can't quite achieve the full expression of a pose just yet. Full-color photos and tips on overcoming common mistakes helps people get the most out of every pose.

Namaslay also features three 30-day yoga programs that focus on: de-stress, core strengthening, and back pain. You will also find specific yoga sequences that are customized for everyone from the office dweller to the endurance athlete.

Written with heart, humor, and swagger, Namaslay is a book for everyone, from beginners to advanced practitioners and even the simply curious.

Namaslay's high-quality, edgy yet beautiful photographs add an artful flair that puts it in a class of its own—as appropriate for a coffee table as a yoga studio!
About the Author
Candace Cabrera Moore is an entrepreneur and the creator of Yoga By Candace, one of the top yoga blogs. She is a certified yoga instructor and a certifiably crazy dog lady. She runs a popular YouTube channel (YouTube.com/yogabycandace) and has a yoga app (YogaByCandace Official App, itunes.apple.com/us/app/yogabycandace-official-app/id1019379957?mt=8). She also founded YBC Mantra Box, a subscription service for high-quality healthy-living products from small businesses. She is happiest when lifting weights, singing in the car, and practicing yoga without the confines of a mat. She lives her life by the Namaslay philosophy and encourages everyone to do the same—leading with love, kindness, gratitude, and an unwavering belief in one's intrinsic capabilities; being gentle, determined, and strong; doing no harm; and taking no shit.