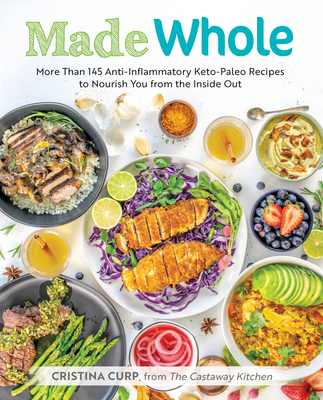 Made Whole
More Than 145 Anti-lnflammatory Keto-Paleo Recipes to Nourish You from the Inside Out
Paperback

* Individual store prices may vary.
Description
Cristina Curp, the creator of the popular food blog and wellness site The Castaway Kitchen, delivers everything you need to do away with diets and discover the right nutritional path for you in her new book, Made Whole.

Made Whole is a comprehensive cookbook and resource guide that combines the Paleo approach with the low-carb/ketogenic diet, using only whole, natural, unprocessed ingredients. Cristina includes all the tools you need to be successful on a ketogenic diet, along with advice and how-tos for using the keto template to eat intuitively and develop a personalized nutrition plan based on your unique needs. Each recipe is free of grain, gluten, sugar, and dairy, along with nuts, starches, nightshades, and alcohol—making this a perfect cookbook for those following keto, Paleo, low-carb, AIP, or allergen-free diets.

Cristina's eclectic and mouthwatering recipes draw inspiration from international cuisines to keep cooking fun and exciting. You will feel like a gourmet chef with easy-to-make meals prepared from accessible ingredients that you can find at your local grocer using just the one master list that she provides in the book!

Made Whole is a user-friendly guide to cooking beautiful food, eating well, and enjoying every last bite, while reaching your health and fitness goals.

Sample recipes include:

• Chewy Chocolate Chip Cookies

• Turkey Falafel with Tzatziki Sauce

• Spaghetti and Meatballs with Roasted Beet Marinara

• Toasted Coconut Salmon

• Savory Flax Waffles

• and many more!

Made Whole will teach you that healthy food doesn't have to fit into a certain label, box, or idea of what it should be. Once you begin to forget about what you can't eat and embrace the wonderful and delicious things you can eat, you will find freedom and pleasure in fueling your body with the most exceptional sustenance that nature has to offer.
Praise For Made Whole: More Than 145 Anti-lnflammatory Keto-Paleo Recipes to Nourish You from the Inside Out …
"One of my biggest gripes with the keto lifestyle is that people can still eat crap and technically be in ketosis. Eating trash and having high ketone levels is not healthy. Cristina does an amazing job at making a keto diet nourishing by using clean, anti-inflammatory ingredients that promote health and ketosis."

- Anthony Gustin DC, MS, CSCS Founder Perfect Keto, Equip Foods

"Made Whole is a must-have for anyone that has ever struggled to find their way in the keto, paleo world. Whether your goal is healing from the inside out, or weight loss, this book has you covered. With delicious recipes, and comprehensive resources, this book is a one-stop-shop. Cristina is a forward thinker, a master tinkerer, and a flavor profile genius. This book is an absolute masterpiece! I am so proud to call her a friend and a peer."

-Kyndra Holley, International Best-selling Cookbook Author and Founder of Peace, Love and Low Carb

"Cristina has turned "food-as-medicine" into a delicious lifestyle that adapts to your body and your family's needs. As a functional medicine practitioner who prescribes elimination diets with an emphasis on a paleo approach to keto, I am often limited in the resources available to encompass my whole foods approach. This book takes you on a journey of clean eating and gut restoration focusing on removal of AIP ingredients while ensuring an abundance of therapeutic nutrients and antioxidants. Careful attention is put into each dish, preventing roadblocks with chefs notes and substitutions allowing you to tailor it to fit your body's needs potentially adjusting ingredients as your body becomes more resilient. Each recipe takes an innovative approach to combine clean ingredients to nourish your body and heal from the inside out from Hard Cheese with cauliflower gelatin base to Roasted Beet Marinara my mind is buzzing with the healing potential and my belly says ooooo yes!"

- Ali Miller, RD, LD, CDE, functional medicine dietitian of Naturally Nourished and author of The Anti-Anxiety Diet

"For anyone looking to heal their body, Made Whole is the perfect place to start. We go years of our lives without thinking about the foods we are putting into our bodies and how they impact us, but with Made Whole you learn that real, whole food can be delicious, rich in nutrients and restorative all at the same time. Cristina makes a healthy lifestyle approachable for everyone, which is why this a staple book in our household. She reminds us that most of our symptoms and lifestyle choices all tie back to the foods we eat, and her dedication to others and passion for cooking come through in each page. The best part about this book is that it feels like it was written for us and when you hold it in your hands you will understand the feeling. From the section where she shares "secrets" from her mother's kitchen to all the detail and thought put into each recipe, you'll feel like Cristina is right there in the kitchen cooking alongside with you!"

- Megha Barot + Matt Gaedke, Authors of Keto Made Easy and Founders of Keto Connect

"I love Cristina's passion in the kitchen and her dedication to her health and delicious food."

- Teri Turner, Founder of NoCrumbsLeft

"Anybody who's interacted with Cristina has felt the authenticity and unapologetic optimism she radiates…. This relentlessly vivacious spirit has become Cristina's calling card- and is the common thread that runs throughout this book, her greatest creation yet. Made Whole is an absolute knockout. Just like it's author, it's approachable, easy to relate to and prioritizes what matters most: making damn good food that's good for you…. It's like a Primal Swiss Army Knife."

- Mark Sisson, Bestselling author of author of The Keto Reset Diet & The Primal Blueprint
Victory Belt Publishing, 9781628602944, 432pp.
Publication Date: July 17, 2018
About the Author
Cristina Curp is a certified Nutritional Therapy Practitioner and former restaurant chef with a BA in Anthropology. Her love of food, and particularly using real food to heal inspired her popular food blog and wellness site, TheCastawayKitchen.com. Author of Made Whole cookbook, co-host of Kitchen Table Talks Podcast and food as medicine advocate. She is a Miami native with Cuban roots who is currently living in Virginia, or wherever her husband's Navy career takes them. At 29 years old and 2 years postpartum, Cristina hit rock bottom with her health. On top of an inflammatory skin condition she had lived with for years, Hidradenitis Suppurativa, she began to experience many mystery symptoms and inflammation, Cristina took to the kitchen to find wellness. Using her culinary prowess and love of research, she began to discover the connection between her symptoms and the food she ate. This ongoing experiment birthed her blog, which is a collection of inventive, allergen-friendly, low carb, whole-food recipes that have helped her reverse autoimmune disease, lose weight, and take control of her own health and well-being. Cristina is relentless in her mission to spread the food as medicine message, she has witnessed the power of it with her own family, her readers and her nutritional therapy clients. Empowering people to heal from the inside out is her life's work! With a mix of grit, sass and a lot of love, she continues to do just that through her books, her social media platform and her NTP work.