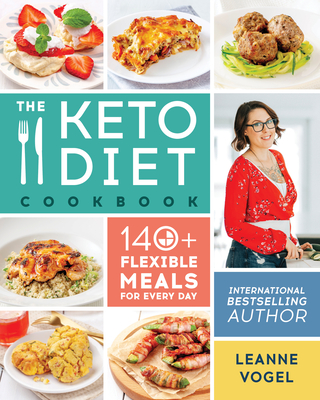 Keto Diet Cookbook
Paperback

* Individual store prices may vary.
Description
From the bestselling author of The Keto Diet comes this all-new cookbook featuring 140 low-carb, high-fat recipes designed to help make the ketogenic diet work for each individual's unique needs. Leanne Vogel (HealthfulPursuit.com) is well aware that keto is not a one-size-fits-all way of eating; she offers a wealth of advice for customizing the diet to keep people from giving up because of frustration and feeling "stuck." Her goal with The Keto Diet Cookbook is to teach people how to eat keto with foods they have in their kitchens and show them how to make keto work with the resources they have available right now—simple and easy! The book begins with an overview of how, and why, to keto. Leanne walks readers through the steps of setting macros, getting into ketosis, becoming fat-adapted, and figuring out which foods make them feel good and help them hit their goals. Following that is a varied and delicious collection of recipes for breakfasts, lunches, dinners, sweet and savory snacks, drinks, and condiments. The recipes are packed with handy extras that make them even easier to use and adapt, from portion sizes to comprehensive nutrition information to substitutions for those with dietary restrictions, such as vegetarians and people with food allergies. They include: Keto Breakfast Pudding All Day Any Day Hash Mexican Meatzza Epic Cauliflower Nacho Plate Creamy Spinach Zucchini Boats Sweet Beef Curry Crispy Pork with Lemon Thyme Cauli Rice Bacon Avocado Fries Edana's Macadamia Crack Bars Coffee Bean Shake And much more! With The Keto Diet Cookbook, readers will find dozens of mouthwatering ways to honor, trust, and nourish their bodies. When we do that, we start to feel good, make better decisions for our health, and naturally and effortlessly progress toward our goals.
Praise For Keto Diet Cookbook…
"Leanne is a pioneer when it comes to communicating the essence of a quality ketogenic diet and loving it every step of the way. The Keto Diet Cookbook's recipes are superb. What I love most, though, is that the book goes beyond the food and the info, and it refreshingly brings about the winning mindset that is truly the most important ingredient."

— - Dr. Anthony Gustin, DC, MS, CSCS

"Leanne Vogel is a highly respected, essential voice in the ketogenic community, and her latest book again shows why. The Keto Diet Cookbook offers an incredible array of easy, delicious recipes anyone can make and enjoy, but it doesn't stop there. Leanne illuminates the versatility of keto with suggested adaptations for different health and hormonal circumstances. The result? The Keto Diet Cookbook makes keto more accessible than ever to many who could benefit the most from keto's healthy potential."
— - Mark Sisson, New York Times bestselling author of The Keto Reset Diet

"The Keto Diet Cookbook is an excellent resource filled with real food and sound advice. Leanne's passion for helping others shines as she guides you through changing your life for the better."
— - Suzanne Ryan, international bestselling author of Simply Keto

"Leanne has an uncanny knack for making the complex simple. This book fills a huge void in the keto space by providing practical and easy-to-follow guidelines and recipes. The Keto Diet Cookbook is a must-read for ANYONE ready to take back their health or elevate to a higher level—even those who have tried keto in the past!"
— - Lisa Saff Koche, MD, medical director, Spectra Wellness Solutions, and bestselling author of Get Lit
Victory Belt Publishing, 9781628603422, 384pp.
Publication Date: April 9, 2019
About the Author
Leanne Vogel is a nutrition educator and the founder of Happy Keto BodyTM, the ultimate 12-week online keto program for fat-burning women. Leanne has gained worldwide recognition for her unique "no-limits," Paleo-friendly approach to the keto lifestyle and is the go-to resource for people looking to achieve health, happiness, and body confidence through a high-fat, low-carb keto diet. Leanne found keto through her personal struggles with health and weight loss. It transformed her life, and she immediately set out on a path to help others find the same success. With her top-10 health podcast, The Keto Diet,she provides daily motivation, tips, and advice for getting started with keto and overcoming hurdles, along with maintenance plans. Leanne received her Holistic Nutrition Certification from the Canadian School of Natural Nutrition in 2007 and lives a nomadic life on a sailboat with her husband, Kevin, and their three fur children, Lexy, Pebbles, and Coconut. Her recipes and healthy-living strategies have been featured in Martha Stewart Living, The Huffington Post, Women's Health,AgainstAllGrain.com, Low-Carb Conversations, The Diabetes Summit, and more. For more information, please visit www.healthfulpursuit.com