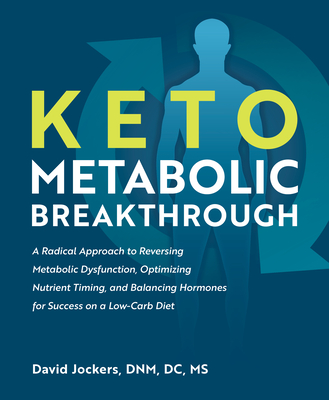 Keto Metabolic Breakthrough
Paperback

* Individual store prices may vary.
Description
In his new book, The Ketogenic Metabolic Breakthrough, Dr. David Jockers delivers a revolutionary new approach to transforming your health by using the principles of the ketogenic diet to reset your metabolism. Chronic illness, degenerative disease and obesity often appears as a direct result of metabolic dysfunction. Using the principles of the low-carb, high-fat ketogenic diet, Jockers will show you how remedy these health problems on finite level by changing your metabolic state. Throughout his book, Dr. Jockers brings you a wealth of expertise, and walks you through step-by-step how to begin and sustain a ketogenic diet. He also highlights and debunks the most common myths circulating about the keto diet and offers the real science behind this nutritional plan that - with the right approach - can forever change your life! This book is also designed to help people trouble shoot common challenges they may experience as they go through the process of keto adaptation so they know what to expect and what to do if they are struggling through this phase. Jockers also incorporates best practices for how to transition from the standard American diet and into the keto diet and lifestyle in a way that is gentle on the body and provides exceptional resources for how to shop, set up refrigerator and pantry and meal plan to ensure success!
Praise For Keto Metabolic Breakthrough…
"The ketogenic diet is getting a lot of attention, and for good reasons. Being in ketosis provides wide-ranging health benefits, especially as it relates to chronic degenerative conditions that are so pervasive in our modern world.

Keto Metabolic Breakthrough eliminates the confusion surrounding this healthful dietary approach by revealing not only how to engage a ketogenic program, but more importantly, how to sustain what at first blush may seem challenging. Jockers does a terrific job taking the reader through potential areas of confusion surrounding the ketogenic diet and delivers the keys to unlock health and longevity for everyone."


— David Perlmutter, MD Author, New York Times #1 bestseller, Grain Brain and Brain Wash

"A real food ketogenic diet is a great way to stimulate fat burning and reduce inflammation and prevent chronic disease. In this book, Dr David Jockers does a great job of dispelling common keto myths while laying out the best strategies to flood your body and brain with healthful ketones through diet, exercise and supplementation to overcome weight loss plateaus so you get breakthrough results in your life and health."


— Jordan Rubin, New York Times Bestselling Author The Maker's Diet Founder of Garden of Life, Beyond Organic and Ancient Nutrition

"A nutrient-dense keto diet is a great way to reset your metabolism, burn fat and reduce your risk of chronic disease. Dr David Jockers is one of the top thought leaders in this area this book gives you a great strategy to gently transition your body into ketosis. You will learn how to troubleshoot digestive, adrenal and hormonal challenges and break through weight loss plateaus on your way to extraordinary health! I highly recommend this book!"


— Dr Josh Axe DNM, DC, CNS Founder of DrAxe.com and Ancient Nutrition Author of "Eat Dirt" and "Keto Diet"

"Dr. Jockers continues to make health understandable and easy to attain. In the Keto Metabolic Breakthrough, David explores the causes of our current health crisis and offers the ketogenic nutrition plan as a solution. I loved the chapters on weight loss hacks and how to promote good digestion. This book is a must read for health practitioners and anyone interested in living a long, healthy life."


— Dr Jack Wolfson DO, FACC Author of "The Paleo Cardiologist" Host of "The Healthy Heart Show" Podcast

"Dr. Jockers has been an innovator in the field of intermittent fasting and ketogenic diet applications and one of the most respected minds on these health approaches. This new book will reveal these time-tested strategies."


— Mike Mutzel MS Author of "The Belly Fat Effect" Host of "High Intensity Health" podcast

"The new bible for Keto. Dr. Jockers has done an amazing job breaking down the science of the ketogenic diet. His new book is a must read for anyone looking to attempt the keto diet in a safe and effective way. Highly recommended read!"


— Dr. Peter Osborne International Best Selling Author Author of "No Grain No Pain"
Victory Belt Publishing, 9781628603675, 384pp.
Publication Date: January 28, 2020
About the Author
Dr. David Jockers is a doctor of natural medicine, a functional nutritionist and corrective care chiropractor. He currently owns and operates Exodus Health Center Kennesaw, Georgia and runs one of the hottest natural health websites in DrJockers.com with over 1 million monthly visitors and his work has been seen on popular media such as the Dr Oz show. Dr Jockers is a world-renowned expert in the area of ketosis, fasting and the ketogenic diet. He is the developer of the the bestselling "Navigating the Ketogenic Diet" E-course and the host of the Popular Keto Edge Summit.
or
Not Currently Available for Direct Purchase