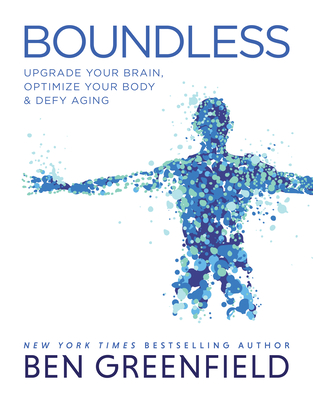 Boundless
Upgrade Your Brain, Optimize Your Body & Defy Aging
Hardcover

* Individual store prices may vary.
Other Editions of This Title:
Digital Audiobook (1/31/2020)
Description
What if the ability to look, feel, and perform at peak capacity wasn't the stuff of lore but instead was within easy reach? In a perfect world, you would be able to have it all: complete optimization of mind, body, and spirit.

In Boundless, the New York Times bestselling author of Beyond Training and health and fitness leader Ben Greenfield offers a first-of-its-kind blueprint for total human optimization. To catapult you down the path of maximizing cognition, mental clarity, and IQ, you will discover:
• How to rewire your skull's supercomputer (and nine ways to fix your neurotransmitters)
• The twelve best ways to heal a leaky brain
• Eight proven methods to banish stress and kiss high cortisol goodbye
• Ten foods that break your brain, and how to eat yourself smart
• How to safely utilize nootropics and smart drugs, along with eight of the best brain-boosting supplement stacks and psychedelics
• The top nutrient for brain health that you probably aren't getting enough of
• Six ways to upgrade your brain using biohacking gear, games, and tools
• How to exercise the cells of your nervous system using technology and modern science
• Easy ways to train your brain for power, speed, and longevity
• The ultimate guide to optimizing your sleep, maximizing mental recovery, and stopping jet lag

To ensure that you look good naked and live a long time, you will learn:
• Sic ways to get quick, powerful muscles (and why bigger muscles aren't better)
• How to burn fat fast without destroying your body
• The fitness secrets of sic of the fittest old people on the planet
• The best training program for maximizing muscle gain and fat loss at the same time
• One simple tactic for staying lean year-round with minimal effort
• A step-by-step system for figuring out exactly which foods to eat
• Fourteen ways to build an unstoppable immune system
• Little-known tactics, tips, and tricks for recovering from workouts with lightning speed
• The best tools for biohacking your body at home and on the road
• How to eat, train, and live for optimal symmetry and beauty (and how to raise kids with superhuman bodies and brains)

And to help you live a fulfilling and happy life, you will learn:
• Twelve techniques to heal your body using your own internal pharmacy
• What the single most powerful emotion is and how to tap into it every day
• Four of the best ways to heal your body and spirit using sounds and vibrations
• Six ways to enhance your life and longevity with love, friendships, and lasting relationships
• How to biohack the bedroom for better sex and longer orgasms, and the top libido-enhancing herbs, supplements, and strategies
• The perfect morning, afternoon, and evening routines for enhancing sleep, productivity, and overall happiness
• Twenty-eight ways to combine ancestral wisdom and modern science to enhance longevity, including the best foods, herbs, supplements, injections, medical treatments, biohacks, fasting strategies, and much more
• The four hidden variables that can make or break your mind, body, and spirit
• The exercise that will change your life forever (and how to reverse-engineer your perfect day)

Boundless guides you every step of the way to becoming an expert in what makes your brain tick, your body work, and your spirit happy. You can flip open the book to any chapter and discover research-proven, trench-tested techniques to build muscle, burn fat, live longer, have mind-blowing sex, raise robust children, and much, much more!
Praise For Boundless: Upgrade Your Brain, Optimize Your Body & Defy Aging…
"Ben has always been at the bleeding edge of health and fitness but in Boundless he takes the newest and best information and synthesizes it to address all aspects of performance, health and longevity."
— Robb Wolf, New York Times bestselling author of The Paleo Solution and Wired to Eat

"This head-to-toe playbook is required reading for those who seek to not only add years to their life, but life to their years. Very few cut through the noise and clutter for the fitness, biohacking and longevity space like Ben Greenfield. This fantastic read is as addictive as it is comprehensive."
— Jayson Gaignard, Founder of Mastermind Talks

"Boundless means living without limits and this book will show you how. If you are looking for limitless energy, health and how to live your best life, this book is for you."
— J.J Virgin, New York Times bestselling author of The Virgin Diet

"No one does a deep dive into human health and performance like Ben Greenfield. He leaves no stone unturned as he explores all the recent (and ancient) science surrounding optimal health. No matter where you are on your longevity journey, there are many concepts in this book that, if implemented, will likely change your life for the better."
— Mark Sisson, New York Times bestselling author of The Keto Reset Diet and founder of the Primal Blueprint and Primal Kitchen

"As someone who has always had a hard time sleeping, I'm grateful for Ben's willingness to be his own case study. I learned so much and will be incorporating some of his suggestions in my sleep life. No one has the time to drill down and get as granular on important self-care techniques, but Ben and his new book Boundless provide very detailed solutions that are thankfully spelled out and comprehensive."
— Gabby Reece, American professional volleyball player, sports announcer, fashion model and actress

"Most comprehensive book on the planet for health, nutrition, and biohacking! Miracles are normal now! Ben has done it again! The world will teach you that you are a finite, small, feeble and a weak organism. Ben rebukes that idea and when you start to apply the tools and techniques in this book you will see how boundless you've been all along! I've upgraded almost every routine in my life thanks to this book and his work."
— Drew Canole, Founder of Organifi

"Ben Greenfield masterfully combines science, practical experience, recipes for life, and entertaining stories of his extreme experiments to produce an epic book that is inspiring, informative, and life-changing."
— Mark Divine, Founder, President & CEO at Unbeatable Mind & SEALFIT

"There are few people in the world who have had a bigger impact on my health and my family's health than Ben Greenfield. We're grateful for him every day. Ben's both a walking encyclopedia of Optimizing wisdom and a radiant embodiment of what actually living these ideas look like. In this book we get a guide to how he does it. If you want to change your life and become the best, most Boundless version of yourself, I think you'll love it."
— Brian Johnson, founder + leader of Optimize
Victory Belt Publishing, 9781628603972, 640pp.
Publication Date: January 21, 2020
About the Author
Ben Greenfield is a former bodybuilder, Ironman triathlete, pro obstacle course racer, human performance consultant, speaker and author of thirteen books, including the New York Times Bestseller Beyond Training. Ben has been voted by the NSCA as America's top Personal Trainer and by Greatist as one of the top 100 Most Influential People in Health And Fitness. He works with individuals from all over the globe for both body and brain performance, and specializes in anti-aging, biohacking, and achieving an ideal combination of performance, health, and longevity.

A frequent contributor to health and wellness publications and a highly sought after speaker, Ben's understanding of functional exercise, nutrition, and the delicate balance between performance and health has helped thousands of people around the world achieve their goals and improve their quality of life—from high-level CEOs to exercise enthusiasts, professional athletes and beyond. He is the founder and owner of KION, a nutrition supplements company that combines time-honored superfoods with modern science to allow human beings to achieve peak performance, look amazing, defy aging, and live an adventurous, fulfilling, joyful, and limitless life. Ben coaches and trains individuals all over the world for general health, anti-aging, weight loss, lean muscle gain, holistic wellness, and both body and brain performance, both at conferences and getaways and also via online training and consulting. In college, Ben competed in tennis, water polo, and volleyball, then moved on to over a decade of competition in endurance sports, including as a top ranked triathlete, 13-time Ironman triathlete, multiple Ironman Hawaii finisher, and member of the pro Spartan team. Ben resides in Spokane, Washington with his wife, Jessa, and twin boys, River and Terran, where he enjoys fiction, guitar, ukulele, spearfishing, bowhunting, plant foraging, and cooking.