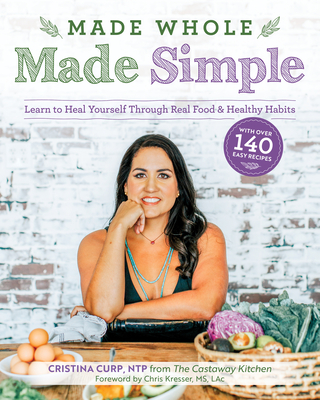 Made Whole Made Simple
Learn to Heal Yourself Through Real Food & Healthy Habits
Paperback

* Individual store prices may vary.
Description
Made Whole Made Simple is not about any particular diet; it is about walking away from fad diets and putting the focus on you—the individual. It is everything but diet and all about learning to UNDIET.

Made Whole Made Simple will be your companion to navigating self-healing through real food and healthy habits. This book tackles nutrition in a straightforward way, focusing on how the body uses food to create energy and why metabolic flexibility (the body's ability to utilize whatever fuel it is given) is so important. The first section of the book covers some biochemistry basics, walking you through a nutritional therapy approach with actionable tips to get your body back in balance. "Knowing how it works" is the first step in figuring out "how it works for me." The foundations of health are broken down into four sections: digestion; hydration & mineral balance; blood sugar regulation; and fatty acid balance. Each foundation features a Farmacy graphic listing which nutrients support that system of the body and why, giving you the information you need to target those areas that are in need of healing.

This book makes using food as medicine easy and approachable with 140 allergy-friendly recipes, all of which are free of grain, gluten, soy, and nightshades. Minimal amounts of dairy and nuts are used, and many of the recipes are coconut-free, egg-free, and AIP compliant as well. For added convenience, many of the recipes can be made in one pot, on a sheet pan, or in a slow cooker or pressure cooker—and some require no cooking at all. Icons mark those recipes that use five ingredients or less or take 30 minutes or less to prepare. All of these easy recipes are nutrient-dense, using the entire Farmacy to nourish you and your family so that you can lose weight, reverse inflammation, and feel your best without having to slave away in the kitchen or sacrifice flavor. Made Whole Made Simple is complete with cutting-edge information on stress management, metabolic flexibility, fasting, immune health, and hormone balance with actionable steps that can be put in place on day 1.
Victory Belt Publishing, 9781628604030, 384pp.
Publication Date: March 10, 2020
About the Author
Cristina Curp is a certified nutritional therapy practitioner and former restaurant chef with a BA in anthropology. Her love of food, and particularly using real food to heal, inspired her popular food blog and wellness site, TheCastawayKitchen.com. She is the author of Made Whole , co-host of Kitchen Table Talks Podcast, and a food-as-medicine advocate. She is a Miami native with Cuban roots who is currently living in Virginia, or wherever her husband's Navy career takes them.

At 29 years old and 2 years postpartum, Cristina hit rock bottom with her health. On top of an inflammatory skin condition she had lived with for years, hidradenitis suppurativa, she began to experience many mystery symptoms and inflammation, so Cristina took to the kitchen to find wellness. Using her culinary prowess and love of research, she began to discover the connection between her symptoms and the food she ate. This ongoing experiment birthed her blog, which is a collection of inventive, allergen-friendly, low-carb, whole-food recipes that have helped her reverse autoimmune disease, lose weight, and take control of her health and well-being. Cristina is relentless in her mission to spread the food-as-medicine message, and she has witnessed the power of it with her  family, her readers, and her nutritional therapy clients. Empowering people to heal from the inside out is her life's work! With a mix of grit, sass, and a lot of love, she continues to do just that through her books, her social media platform, and her NTP work.
or
Not Currently Available for Direct Purchase